News
PGA Championship 2018: Adam Scott rides the wave of low scores to a Friday 65, and grabs some confidence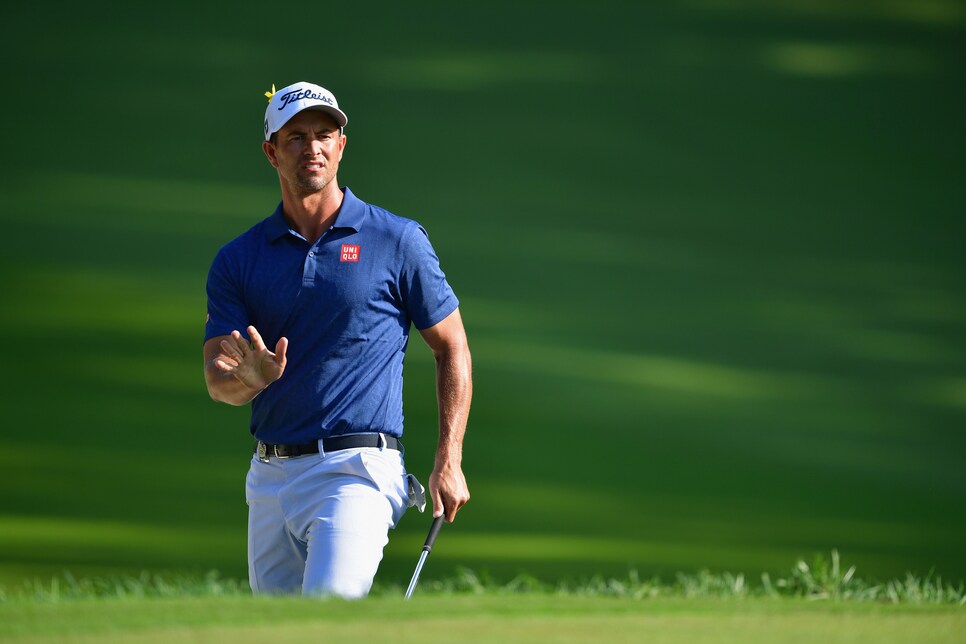 Stuart Franklin/Getty Images
ST. LOUIS – I'm close. You hear it all the time from tour players. It is as cliché as any cliché there is, yet also the type of positive self-talk golf is filled with. It also beats saying I suck.
But as Adam Scott noted on Friday, at some point a little frustration isn't necessarily a bad thing. Good shots and putting help, too.
Friday morning at Bellerive, Scott carded a tidy five-under 65 to climb into (sort of) contention five shots back after the morning wave at the PGA Championship. He took just 26 putts in benign, ideal conditions along the way with a handful of them testy par saves.
"It's definitely moving in the right direction," Scott said of his game. "I kind of said [Thursday] night I felt like there was a 65 in the way I was playing, and just have to do it. I made a couple of extra putts for par today to keep the momentum going, and that's probably the difference between most of my golf generally over the last 12 months."
It has been 2½ years since the Aussie last won a tournament. In 2014, he reached No. 1 in the world—currently, he is 76th. He's also 119th in the FedEx Cup standings and in danger of not qualifying for the playoffs for the first time in his career.
A good finish this week will help with that. It's not just about playing good golf, but getting good results, too.
"I feel like I've been doing all the right stuff, and I just haven't been doing it on the golf course," Scott said. "There's no excuse. It's one or two extra putts from 10 feet for par or birdie. This just changes the momentum of your round so much when that one goes in or not."
The second round at Bellerive was a perfect example. After sticking his approach to 11 feet on the par-4 fifth (Scott's 14th hole of the day), he missed the birdie try low, leaving him to shake his head and mutter to himself a word that rhymes with suck.
But he bounced back for a birdie on the next, pouring in an 18-footer on the par 3 before adding another birdie at the par-5 eighth. He bogeyed the last but is in good position heading into the weekend of the year's final major.
"Whether it's a poor shot through technique or a poor shot through lack of discipline or mental, a mental block, I've been doing it a lot, and today I didn't," he said. "Everything's kind of felt good here for the last two days. I'm trying to not think about it too much and keep the good vibes going, and hopefully there are a couple more low ones on the weekend."