News
PGA Championship 2017: Brooks Koepka's explanation for his success in majors sounds too simple to believe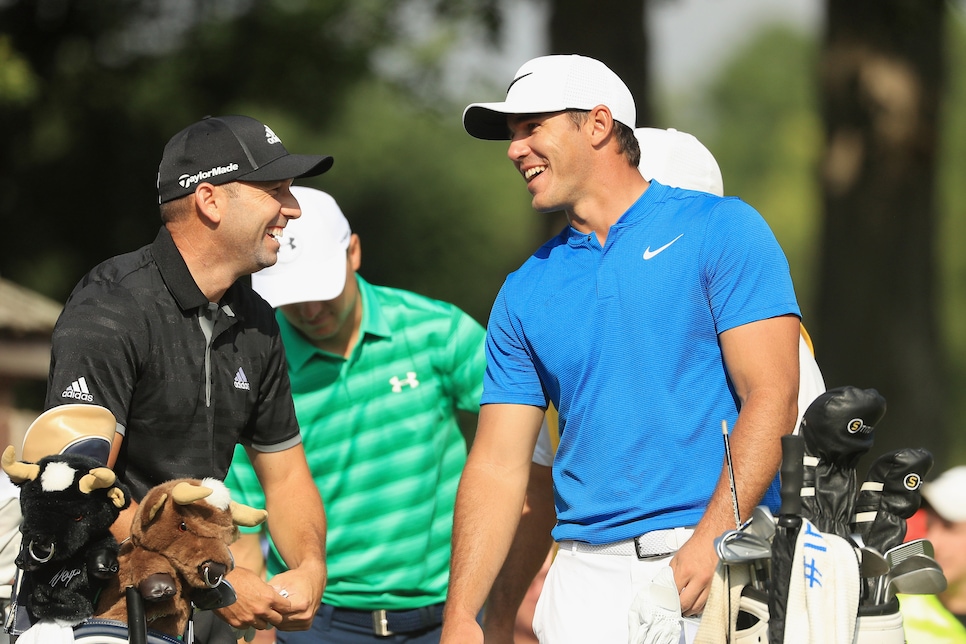 CHARLOTTE — Here's how well Brooks Koepka is playing in majors. During the first round of the PGA Championship, when the putter that has become a secret weapon this season (he ranks 10th in strokes gained/putting) surprisingly was nowhere to be found, Koepka suddenly started to hit his driver straight. In turn, the bomber's accuracy off the tee set up a few can't-miss chances that left the U.S. Open champ with an opening-round 68 and a spot atop the leader board at Quail Hollow Club.
"They tell me I hit 10 fairways, which is really impressive for me," Koepka joked after his round, his No. 159 ranking in driving accuracy on tour backing him up. "I was hitting it off the center of the face, controlling shots off the tee."
Success at majors has become the norm for the 27-year-old. In his past 13 starts in the game's biggest events, Koepka has six top-10 finishes, including his win at Erin Hills in June and T-5 and T-4 showings at the 2015 and 2016 PGAs.
Even so, Koepka knew the opening round at Quail Hollow was going to be different early on. Starting on the 10th tee in the marquee pairing with Masters champ Sergio Garcia and Open winner Jordan Spieth, Koepka hit his approach to four feet, only to miss the putt. "Terrible," Koepka said. "And that was kind of my day."
Confounding Koepka was the speed of Quail Hollow's greens, both in how fast putts were rolling as well as how far balls were stopping on approach shots.
"With some of the pin locations, these greens are the fastest greens I've ever played. And the thing is, they are only going to get faster and firmer," Koepka said. "If you miss it just by a couple feet from the flag, you can hit a great shot in there and then wind up 30 yards away."
He then kick-started things with a chip-in birdie on the third hole, his 12th, and played the final five holes in three under.
"The finish on the front nine is a little easier," Koepka said. "So I just kind of felt like I cruised it all day. Wasn't really anything that impressive."
Given his track record in majors—he finished inside the top 10 in 35.2 percent of his major starts compared to 27.3 percent of his career PGA Tour appearances—it's only natural to ask Koepka why he's played them so well. The answer seems to contradict itself, but at the same time makes sense. Koepka admits that he focuses more on the big events but tries not to make them out to be too big a deal.
"I think it just comes down to, you know, preparation," Koepka says. "We do a lot of work, and you know, we focus in on these majors, and that's when you're trying to peak, trying to play your best. Sometimes it's a lot simpler than people think. I think people kind of psyche themselves out quite a bit in a major, put too much pressure on themselves. It's the same game I've been playing for 23, 24 years. All you've got to do is put the ball in the hole and move on."
Simple isn't it. Well, Koepka certainly makes it look that way.