Wells Fargo Championship
After 8 straight missed cuts, Peter Malnati feels like he's finding his swing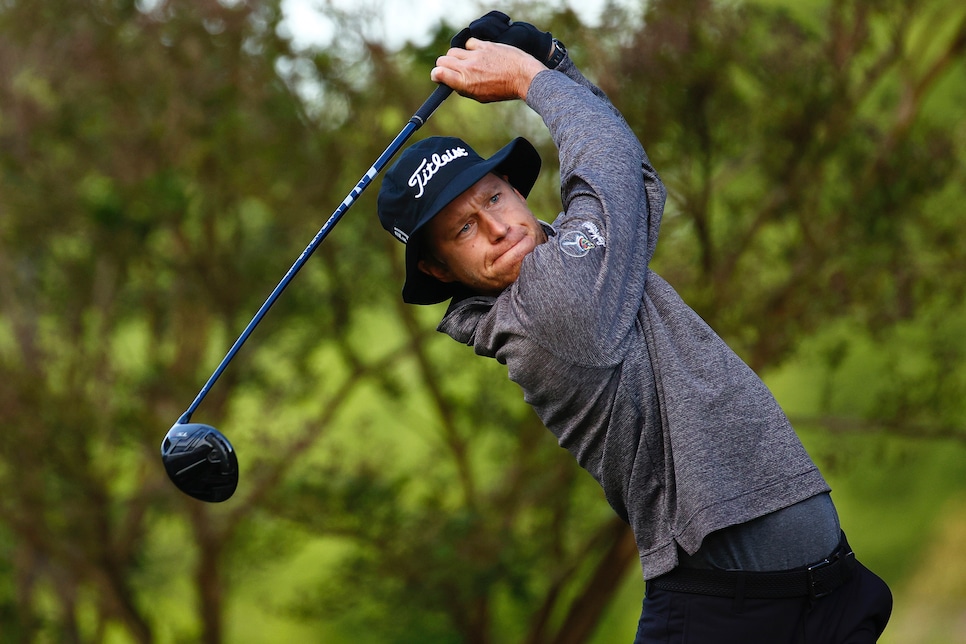 Peter Malnatiplays his shot from the second tee during the first round of the 2021 Wells Fargo Championship.
Jared C. Tilton
CHARLOTTE — There are guys out here who can play crappy and still make cuts. Tiger Woods didn't have his "A" game for 142 consecutive weeks. It's that his "C" game was still enough to guarantee a Saturday tee time.
Peter Malnati is not one of those guys. (His words, not mine.) Coming into this week's Wells Fargo Championship, he hadn't played well for four months. As such, he'd missed eight cuts in a row. Even for maybe the nicest player on the PGA Tour, a guy with an ever-present smile and KIND on his shirt, that kind of stretch ain't easy.
"I've had some Friday nights and Saturday mornings when I was just really bummed, really down," Malnati said. "It stinks. But at the end of the day, I get to wake up every morning and I'm playing golf on the PGA Tour."
The cool thing about the PGA Tour—or, at least for a guy with full status—is there's usually a next week, another tournament, another opportunity to turn the corner. For Malnati, the fortunes finally turned Thursday at Quail Hollow.
The 33-year-old played bogey-free golf around this meaty track, adding four birdies for a 67 that has him near the top of the board on a cloudless day in Charlotte. (K.H. Lee was out front early with a 66.)
"It did feel really good to go around this track and never be severely out of position," Malnati said. "I hit a bad drive on 7 actually, now that I think about it, but other than that, to never really be out of position on this golf course is a big accomplishment, and it felt really nice."
On Wednesday, Justin Thomas—fresh off a putrid putting week at the Valspar—posted an Instagram with the caption: "Seems you're never as far off as you think in this game of golf." Malnati concurs.
"I'm pretty honest with myself," he said. "There's times when I know I'm awful. I've been way off for the last couple months frankly, but here in the last three or four weeks I've started to hit some really, really good shots. They've been flanked with awful ones and that's why my scores stink, but the really, really good shots are there, and they mean something.
"You don't hit good shots if you're not doing something right. So to me, trying to get back to playing good golf has been more about elimination than addition. The good is there, I've got to get rid of some of the bad. I don't exactly know how to do that; if I did, I wouldn't ever play bad, but I'm moving in the right direction right now."
Malnati avoided panicking on this recent barren stretch, in large part because his strong start to the season all but assures he'll retain his card for the 2021-22 season. Thanks to two top-5 finishes in the fall and another top-10 at the Famers Insurance Open, he sits 50th in the FedEx Cup standings—one spot above Rory McIlroy, for what that's worth.
Rory, by the way, has long been one of those guys who can make cuts without his "A" game—but he's missed the weekend in each of his last two stroke-play events. No one is immune from the dreaded Slump. Not Rory, and not smiling Peter Malnati.