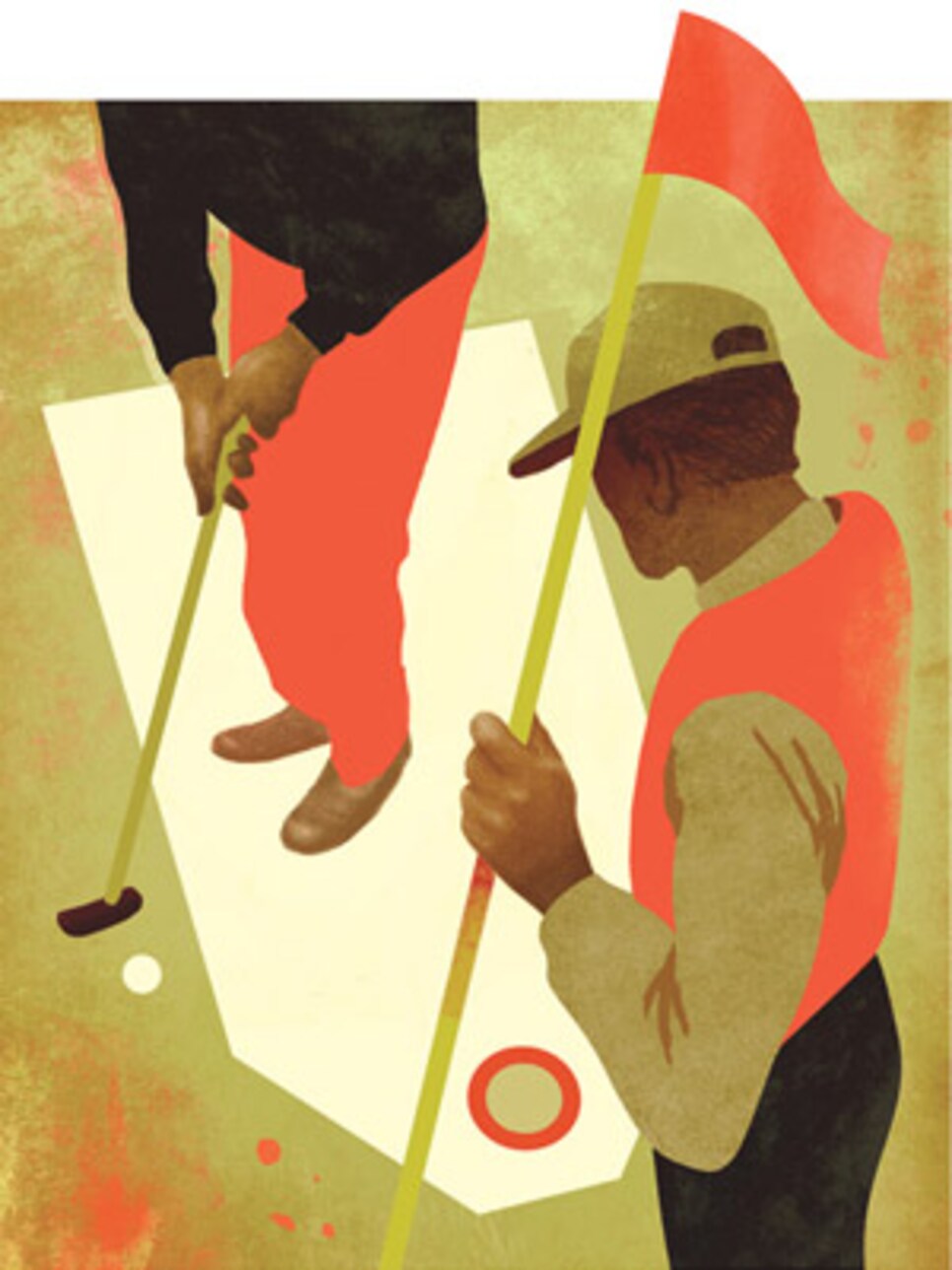 I had the good fortune to play the No. 2- ranked public course in Kansas one recent Friday. As I handed over my $41 nonresident green fee, I got to thinking about where that money went. Did most of it go to salaries? Paying down an enormous debt? Lining some bureaucrat's pockets?
Because Sand Creek Station Golf Course is owned by the City of Newton, its finances are public. Last year it had golf revenue of $1.1 million. The management firm KemperSports, which operates the course, provided its spending breakdown in the chart at right.
By far the biggest expense is maintenance. It gobbles 46 cents from every $1 in golf revenue. Looking at it another way, roughly $19 of the $41 I paid was for mowing, fertilizing and pest control. About $11.50 went toward making sure the golf shop was stocked and in good order and my cart was clean and functional (with GPS!).
Sharp-eyed readers might notice that the numbers in the chart total $1.13, not $1. That's because golf revenue alone doesn't cover all of Sand Creek Station's operating expenses. It would run a deficit of 13 cents on every dollar if not for its food and beverage and merchandise business. "We do about $320,000 a year in that little room over there," says head pro Chris Tuohey, nodding toward the club's grill area. "Our gross margins there are around 33 percent."
Though those margins are higher than most, Sand Creek Station's finances are fairly similar to other courses, according to the National Golf Foundation. In its most recent survey, the NGF found that the average daily-fee course had 2009 revenue of $1.5 million and expenses of $1.3 million.
Wait--so the typical daily-fee course actually makes a profit? "I'd be careful using the word 'typical,' " says Richard Singer, director of consulting services for the NGF. "It doesn't apply when you're talking about governments. There are about 3,000 municipal courses in the U.S., and all of them are run differently." He adds: "I think it's fair to say that most courses are earning enough to cover their day-to-day expenses, leaving a little for repairs, taxes and debt service."
That last bit is a killer for a lot of courses. If it had to make its interest payments, Sand Creek Station would be in the red. Instead, Newton issued $6 million in bond debt to build the Jeff Brauer-designed course and its modest clubhouse in 2006. That is supposed to be paid off with a surcharge on the housing lots surrounding the course and a portion of the city and county property tax on any homes built there.
When those sources don't produce enough cash, Newton can dip into its general fund. Big surprise: With home construction lagging, it has had to do so every year since 2008, taking a total of about $1.5 million from the general fund. Municipal courses like Sand Creek Station have another advantage that for-profit courses lack. They don't have to pay property tax or, in many cases, income tax. This is controversial, and some privately owned daily-fee courses have been campaigning to change state laws to ease their tax burden.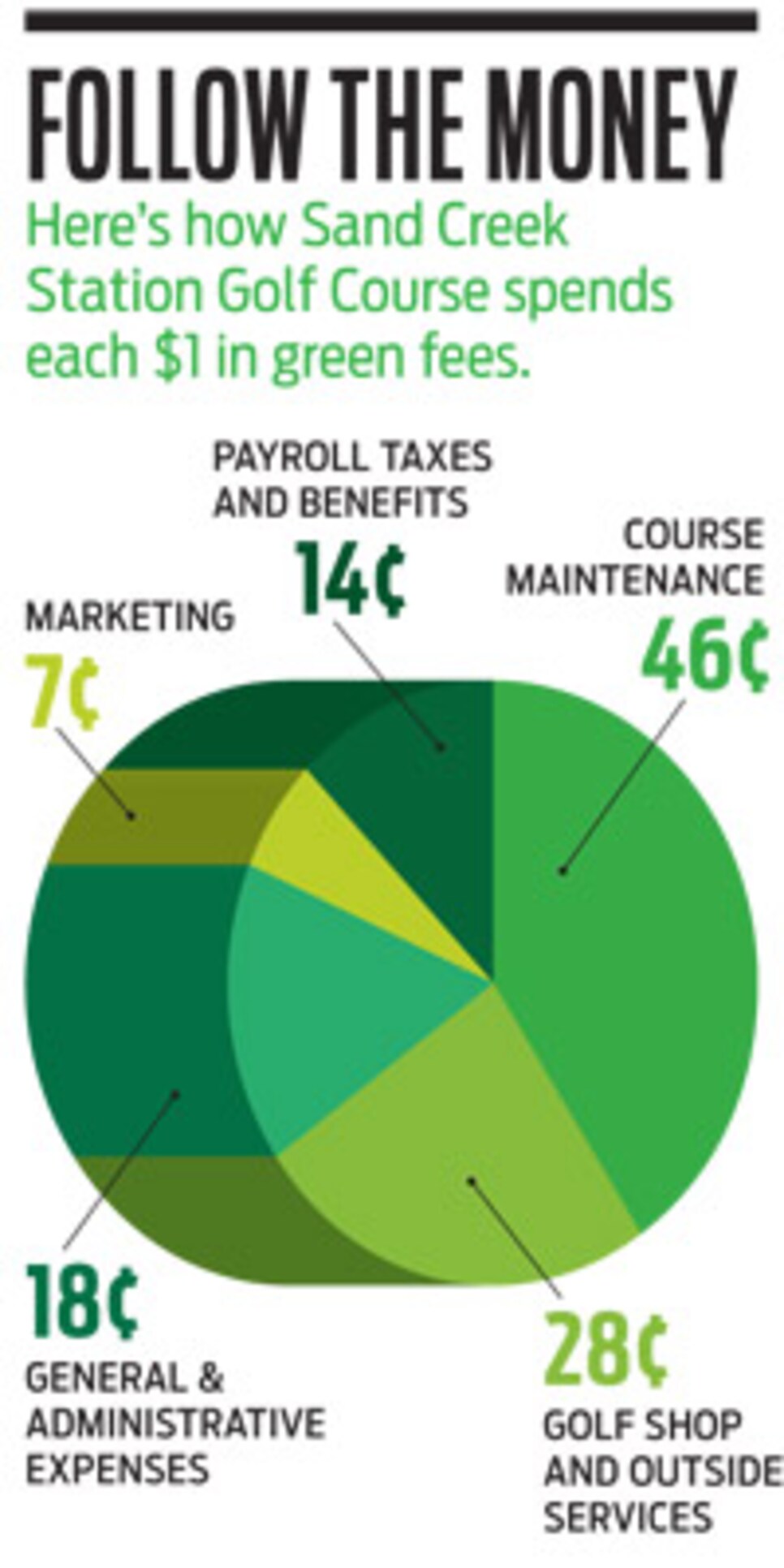 Sand Creek Station, which will host the 2014 U.S. Amateur Public Links, is a really good course. Yet its peak nonresident green fee is $51. Locals pay just $46 on the weekend, or they can buy annual passes that make it far cheaper. What's its secret? Here are four keys:
Tournaments and group outings are a marketing focus. Last year, about 8,000 of its 30,000 rounds were in groups. This keeps the average revenue per round high, and because meals are bundled with many events, the grill stays busy.
Of the course's 176 acres, about 30 are "natural areas" that don't get mowed, fertilized or treated with pesticides, says Tuohey. The course also uses treated waste water, which it gets from the city for free.
It has only 10 full-time staffers--"We probably would've had twice as many 10 years ago," says Tuohey--which means they all do a lot of pitching in.
City Hall sees the course as an economic driver and, as such, is willing to take the long view. An uptick in housing development would allow it to pay back the general fund's money, says assistant city manager Tim Johnson. In the meantime, "it's made Newton famous."
For a growth-minded town of 18,000 in central Kansas, that might qualify as a pretty good return on investment.