The Loop
I received a press release about the latest and greatest from Pete Dye in French Lick, Ind. The picture and the information were worth passing on. I also called Mr. Dye and asked a few follow up questions. He was on site and in the snow in French Lick. Scroll down to the quick Q&A at the end of the release.
New dramatic Dye course will open April 24, 2009
French Lick, IN--Not since the opening of Whistling Straits in Wisconsin has there been a more anticipated golf course opening in the Midwest. Hall of Fame architect Pete Dye is responsible for both. The new Pete Dye course at French Lick Resort will open to the public on April 24, 2009.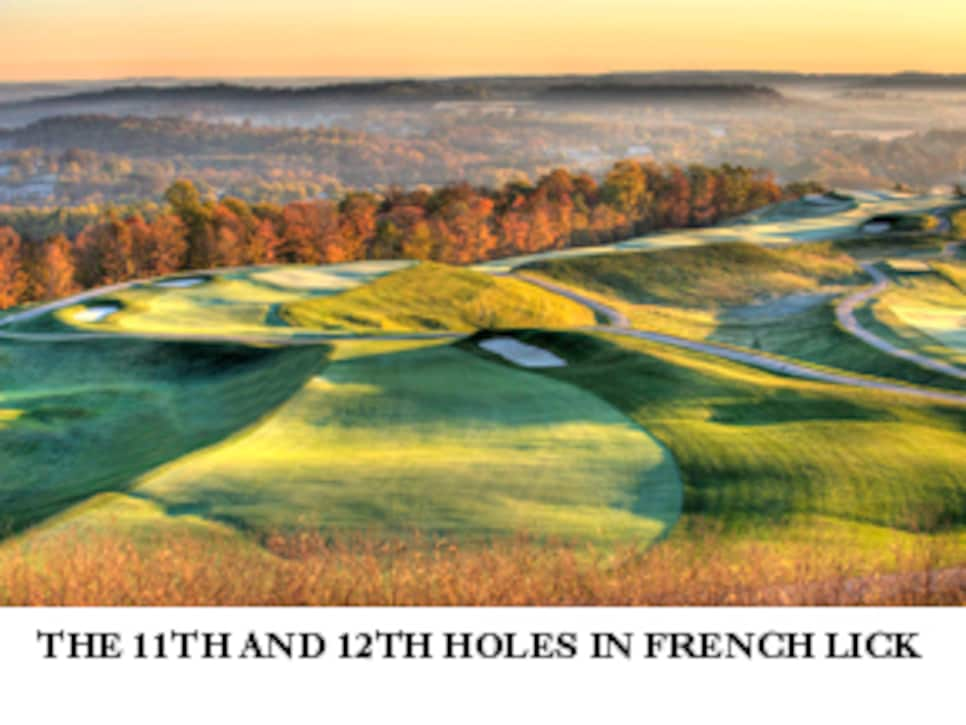 French Lick Resort, one of America's premier resort destinations, is situated on rolling hills overlooking the Hoosier National Forest in southern Indiana. The historic resort is located in the small town of French Lick, where for over two centuries the Pluto Mineral Springs has attracted visitors. (It's also known as the hometown of basketball legend Larry Bird.)
Since the early 1900's, golf has been an integral part of this resort area. Tom Bendelow designed the first course here in 1907 followed by the great Donald Ross ten years later. In 2009, however, French Lick moves to an entirely new level with the opening of the spectacular new Pete Dye course.
Dye, an Indiana native who recently was inducted into the Golf Hall of Fame, is famous for his innovative course designs. In 1982, Dye introduced stadium golf at TPC Sawgrass in Florida. What followed were a series of Dye signature designs including the Ocean Course at Kiawah, PGA West in California, Whistling Straits in Wisconsin and now this new course at French Lick Resort.
"I've spent the past five decades designing golf courses all over the world, including courses on great coastal sites," Dye explains. "This new project at French Lick Resort brings great excitement to Alice and me because the course is on arguably the best inland site I've ever worked on."
Integrating the advances in modern equipment, golf balls and player fitness, Dye has designed a golf course that stretches over 8,100 yards from the professional tees. However, this new creation welcomes all levels of players. With five sets of tees, yardages begin at 5,100 yards from the forward tees. (Alice Dye always makes sure the courses play well for women.) Most players are expected to play from either 6,100 or 6,700 yards.
This new course is already gaining national recognition. In 2010, the PGA of America will play its PGA Professional National Championship on the new Pete Dye course. This is expected to be the first of several high profile professional events to be hosted here.
The new Pete Dye course will also mark the return of caddies to French Lick Resort for the first time in 45 years. The resort's new caddie program will give young people from the area the opportunity to learn the game and qualify for college scholarships. The resort will work with the Western Golf Association in developing the caddie program. While caddies will be an option, forecaddies will be required upon opening.
Complementing the new Pete Dye course at French Lick Resort is the historic Donald Ross course, which has just undergone a $4.6 million restoration project that has brought the course back to Ross's original plans.
French Lick is now the only resort in the world that combines the classic history of Donald Ross and the modern day design of the legendary Pete Dye. This combination is a spectacular opportunity for golfers to experience two of the best designers who ever shaped beautiful landscapes into golf courses.
For more information about the $500 million historic resort renovation and casino development go to: www.frenchlick.com.
Q&A with Mr. Dye (1.26.09)
You say in the release that it's arguably the best inland site you've ever worked on. Why?
It's built on the highest point in Indiana, which is about 900 feet. When you play the course you get some spectacular views and you can see for about 30 or 40 miles. We've worked on this for two years and most mountain courses you get a few good views but you can't walk them. I've walked this entire course today in the snow.
You're 83 and you walked the course today in the snow?
It was colder than hell, but I did it.
How did you go about getting the 2010 PGA Professional National Championship before you opened the course?
Well, they gave Kiawah the Ryder Cup before we even broke ground. [Laughs.] Kerry Haigh came out here in the fall. It wasn't playable, but he could see where we were going.
I see the tips could play as far back as 8,100 yards. Did you ever imagine building a course that big?
No. Never. I had enough room out here for 9,000 yards. The back tees are ridiculous, but how do I know what people are going to do in 10 or 15 years? So there's room to keep going back if necessary. The white tees will play at about 6,100 yards. The blue tees will play at 6,700 yards and the pro tees, which I call the gold tees, will play at 7,100 or 7,200 yards. But we could go back to 7,500 or 7,600 yards real quick.
Based on degree of difficulty and if I'm a 7.0 Index, which tees should I play?
The white tees. *[Laughs.] *I'm a seven handicap and that's where I would play. But the white tees can be played between 6,200 yards and 6,500 yards.
So there's a renovated resort and 45 holes including 18 by Ross and a new 18 by Dye? Can you say buddy trip?