News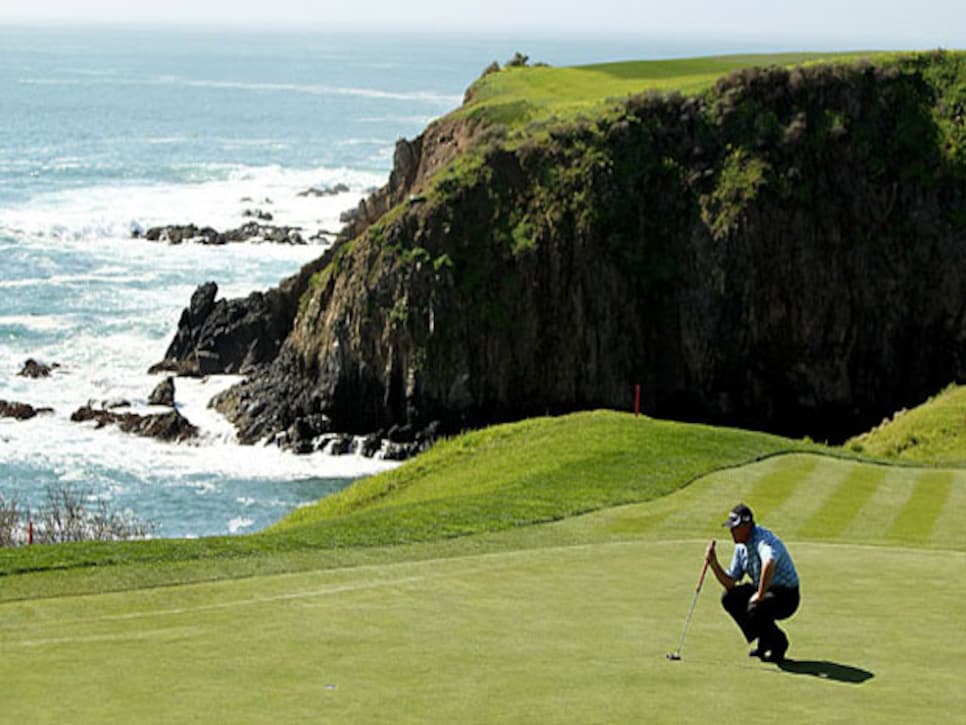 The eighth at Pebble Beach starts a stretch of three straight par fours on the coastline.
PEBBLE BEACH, Calif. -- Where's Monet when we need him?
This thing is a watercolor, a swirl of mist and romance, an impressionist's muse, some of God's best work.
Well, OK. It's just three golf holes.
But they're the eighth, ninth, and 10th at Pebble Beach.
I'm near the eighth green, looking back up the fairway.
Only I see more than a fairway. That's a cliff. It's a hundred feet high, rising from the Pacific Ocean. Those tiny figures in red at the top -- they're people rendered small by the mighty bluff. They're standing near where a professional golfer's good drive comes to rest -- it's a par-4, 428 yards -- at the edge of a chasm that demands the next shot be a hero's rocket across an abyss to a long, slender green that offers no forgiveness for the smallest of errors. Before the shot, an anxious player might read the signs at the cliff's edge:
The warning is meant not for that player but for the oblivious $495-greens-fee tourist motoring straight ahead in his cart unaware he's about to be DQ'd from life. "The legend was that two Japanese gentlemen drove off the cliff to their deaths," my colleague Tom Callahan said. "Not so. But I was told that someone did forget to set the cart brake and an unmanned cart took itself over a cliff at the sixth."
Every time I come to Pebble Beach, I'm astonished. It's as if all other golf courses are pretenders, pale facsimiles of the real thing, all those poor places with no ocean's roar, no fairways tilting toward surf crashing against rocks a billion years old. Where else, I ask, will you pass a house for sale inside the golf course at $5,995,500 (with a guest house, to be true, though that structure was advertised at 335 square feet, the approximate size of John Daly's old pants). There also was a new home high above the 15th fairway -- either a home, library, or university, it was hard to say which. Nothing like it at Goat Hills, is all I know.
Anyway, I walked out to the eighth hole, ostensibly to begin a reconnaissance of the three holes that a champion must play well (I believe that anyone who plays that 1,428-yard stretch in even par for four days will win this U.S. Open). But, really, I just wanted to see again the wonders of a landscape that Robert Louis Stevenson once called the world's greatest meeting of land and sea.
I met a Californian out there, Rob Caughell, 56, newly retired from local government work in San Leandro. Though he's never played Pebble Beach -- "Four hundred bucks is pretty steep" -- he first came to the course maybe 45 years ago, a rite of passage conducted by his father. "I keep coming back," he said, meaning for the Crosby and the Opens and the AT& T, "because there's no place like this. Just the pure beauty of it, let alone the kind of golf it takes to play here. You see how good you are here. I'm a 13.2, and if I could break 100, I'd be happy. Break 90, I'd be ecstatic."
The ninth hole is persistent peril, a par-4, 505 yards, with a canted-right fairway that leaves the good player a sidehill, downhill, 200-yard shot to a green too small for such demands.
The pro Ty Tryon put a drive in the first cut of the left rough. From here, he hit maybe a 6-iron. "Oh, my God," he said, and then hit a second ball, after which he said to his caddie, "You see how that thing bounced?" and followed those with third and fourth attempts, none of them reaching the green.
"Impossible," Jared Powell said when I asked what he thought of the ninth.
He's tall, lean, and 14 years old. He'd been at the course since 5:30 Wednesday morning. He sat near the ninth green with a Pebble Beach souvenir flag on which he had gathered dozens of players' autographs.
"Dustin Johnson. Poulter. Vijay. Watson." He traced his fingers over the names. "Crane. Hamilton. Phil Mickelson!"
"Yes, sir. Him and Tom Watson."
"I've been putting it in front of everybody at the 10th tee," he said. "Everybody signed it -- except Tiger. He ignored me, except for saying, 'After the round.' After the round, he just left."
Halfway down the 10th fairway, I stood with two women from Sacramento, Barbara Mills and Faye Wolfe.
I said, "I need a woman's perspective on what makes Pebble Beach so remarkable that it seems to exceed even the greatest of our expectations."
"Just the beauty," Wolfe said.
"And the toughness," Mills said.
Near the tee, I'd noticed another warning sign, this one on a toilet building: "Please hit tee shot before using facilities." The idea, I guess, is to speed up play, though, knowing the demands of the 10th, one might be well advised to get comfortable before the 495-yard forced march along the cliffs of doom high above the Pacific.
Mrs. Mills asked one thing of your columnist, who is always eager to please.
"I'm here," she said, "and my brother, Jim Potts, is in Phoenix."
"I want to make him envious," she said. "He was always so mean to me when we were little -- not really, but y'know -- and I want him to know I'm here and he isn't."
There came to her handsome face such a big ol' Pebble-lovin' smile.
"Put my name in there," she said, "and I'll love you forever."
And that, my friends, never happens at Goat Hills, either.