News
Pebble Beach's course record was broken this weekend by a collegiate golfer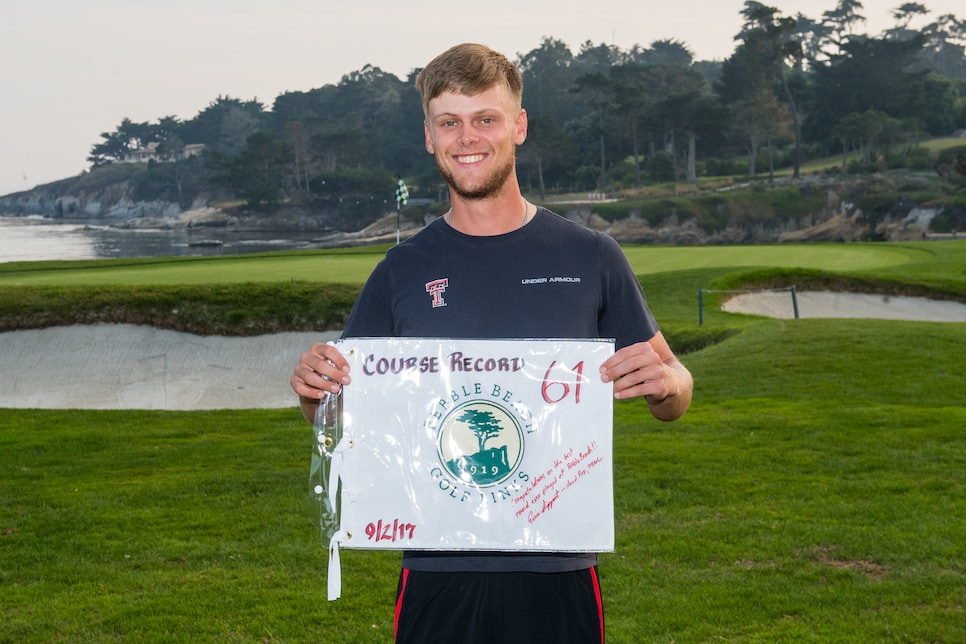 Holding any part of history at a storied golf course such as Pebble Beach is an accomplishment. Shooting the course record -- as a collegiate golfer -- at any club, let alone the most famous public course in the country, is something a golfer can only dream about.
That's exactly what Texas Tech senior Hurly Long did on Saturday, shooting a second-round 61 in the Carmel Cup while representing the Red Raiders. His 11-under-par 61, including a 45-footer for birdie on the par-3 17th and an 11-footer for birdie on the par-5 18th hole puts Long above Tom Kite and David Duval atop the Pebble record books.
"It's very surreal," Long told PebbleBeach.com. "It's taken me until now for it to kick in. Pebble Beach is just a special place. I was talking about it with my teammates: Where else in the world would you want to have the course record? Maybe Augusta National? It's a huge, huge honor."
Here's Long's scorecard from the feat:
Long, who's originally from Mannheim, Germany and started his collegiate career at Oregon, had a bunch of highlights in the historic round, including a hole-out eagle at the par-5 sixth and 10 birdies to go along with a lone bogey at the iconic par-4 eighth.
And here's video of Long's birdie on 18:
Amazingly, his score for three rounds (69-61-67), though a Texas Tech team record, was matched by Oklahoma State's Hayden Wood, and Long needed to birdie the 18th hole for a second straight day to send the two into a playoff, which Long won on the first hole.
Taking home the individual title only adds to the special weekend at Pebble Beach for Long—though it'll be remembered most for the historic 11-under-par round on Saturday. And it'll certainly be a moment that Long will remember for the rest of his life.