The Loop
Payback for San Diego, an apology to Brandt Snedeker, Phil Mickelson's magical hybrid, and playing golf in heels
Welcome to another edition of The Grind, where we've been tired of hearing about how great the weather is in San Diego. Apparently, once you become a San Diegan, as my parents did five years ago, part of your civic responsibility is to remind everyone how great your weather is on a weekly basis -- and the frequency of those messages is supposed to increase as the weather gets crappier for everyone else. Well, this past week, for once, it was NOT postcard weather at Torrey Pines.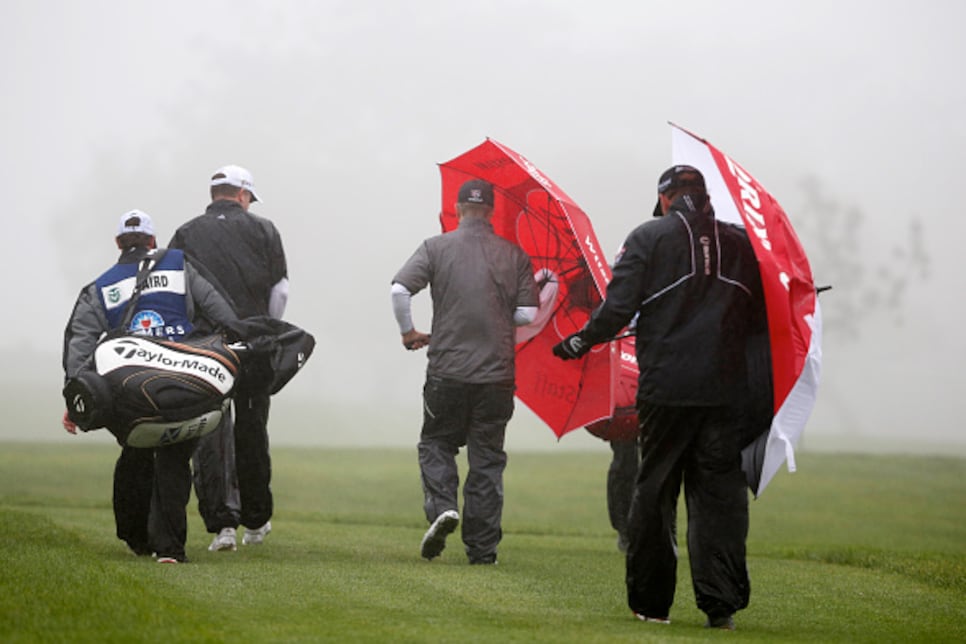 And my parents? Well, they missed the rare storm because they were in Hawaii. Perhaps, I should be listening to them more . . . Anyway, here's what else is on our mind this week.
Brandt Snedeker's play: Sneds wound up waiting nearly 24 hours to pick up his eighth PGA Tour title, but his final-round 69 became an instant classic. Pros and pundits gushed about the only sub-par round (by three shots) of the two-day finish, hailing it as the round of 2016. It was almost like he was oblivious to the bad weather around him.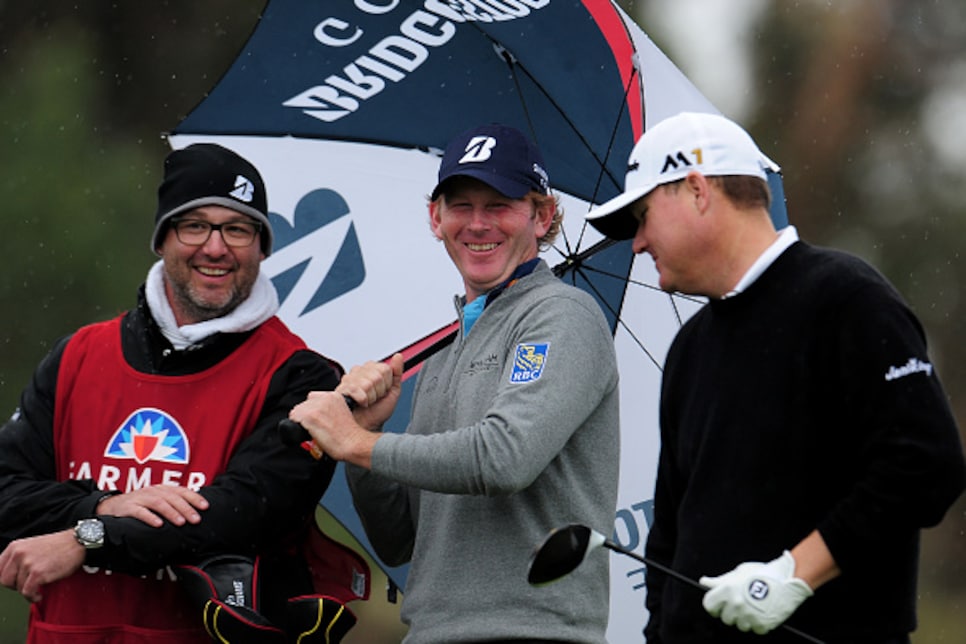 We're not oblivious to Snedeker starting 2016 with 3, 2, 1 finishes.
Phil Mickelson's hybrid: No matter the distance (148 yards to 223 yards), no matter the surface (rough, bunker, FENCE), Mickelson wielded this club like a magic wand on Friday, pulling off shots that even left longtime caddie Jim (Bones) Mackay shaking his head.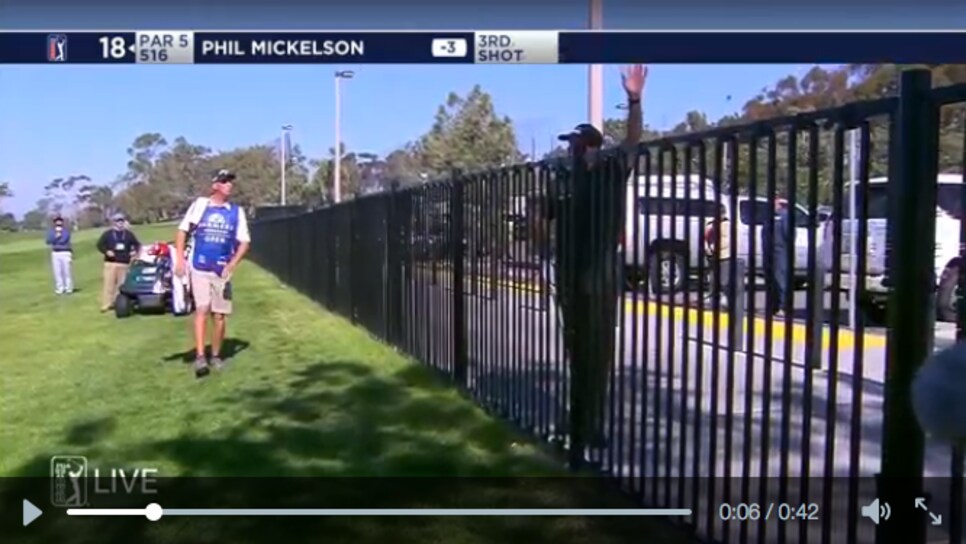 Ryan Armour: Neat story with this first-time winner from the Web.com Tour. Armour, who turns 40 next month, has bounced around a lot the past two decades, but finally earned his first pro win more than 22 years after a heartbreaking loss to Tiger Woods in the final of the 1993 U.S. Junior. Armour told PGATour.com after, "It just proves that if you keep grinding and keep working, believing in the process . . . the process will get you there."
Tour pro Twitter spats: Patrick Reed didn't deal with Sunday's bad weather at Torrey Pines, withdrawing due to an ankle injury. And Graham DeLaet, who was supposed to play with Reed in the final group off the 10th hole, did not appreciate it:
We're not taking sides here because we have no clue how Reed's ankle felt. We just appreciate the feistiness. Hmm. Is it possible Graham DeLaet is the Secret Tour Pro?
Brandt Snedeker's timing: Co-worker Joel Beall and I thought highly enough to take Sneds in the second round (17th pick) of our fantasy draft. That's the good news. The bad news? The league doesn't start until this week's Waste Management Phoenix Open. What. A. Dagger.
Jordan Spieth's schedule: For a couple of weeks, Spieth has been open about his current world tour taking a toll on him, even at the young age of 22 (Gary Player is chuckling to himself somewhere). If that's the case, Spieth needs to conserve his energy better for the big events (No offense, Singapore Open), something he indicated he'll do in the future. So how did a fatigued Spieth fare with his agent filling in as caddie? Solo second. Yeah, he's pretty good.
Phil Mickelson's driver: Did you see where he was hitting all those hybrid shots from?
The PGA Tour heads to TPC Scottsdale for the Waste Management Phoenix Open, aka that tournament where fans are known to get pretty, um, rowdy.
Random tournament fact: TPC Scottsdale's 16th hole is a par 3 that's set up like a big amphitheater. Bet you didn't know that!
RANDOM PROP BETS OF THE WEEK
-- Phil Mickelson didn't enjoy playing that shot under/through a fence: 1 MILLION-to-1 odds
-- What will be higher, Emmanuel Sanders' receiving yards in the Super Bowl or Tiger Woods' opening score at the Masters?: Even odds (Actual SB prop bet)
-- Brandt Snedeker won't win again now that he's playing for my fantasy team: LOCK (Sorry, Brandt)
PHOTO OF THE WEEK (INTERNATIONAL DIVISION)
Singapore Open winner Young Song got to take a selfie with the man he beat, Jordan Spieth. Very cool.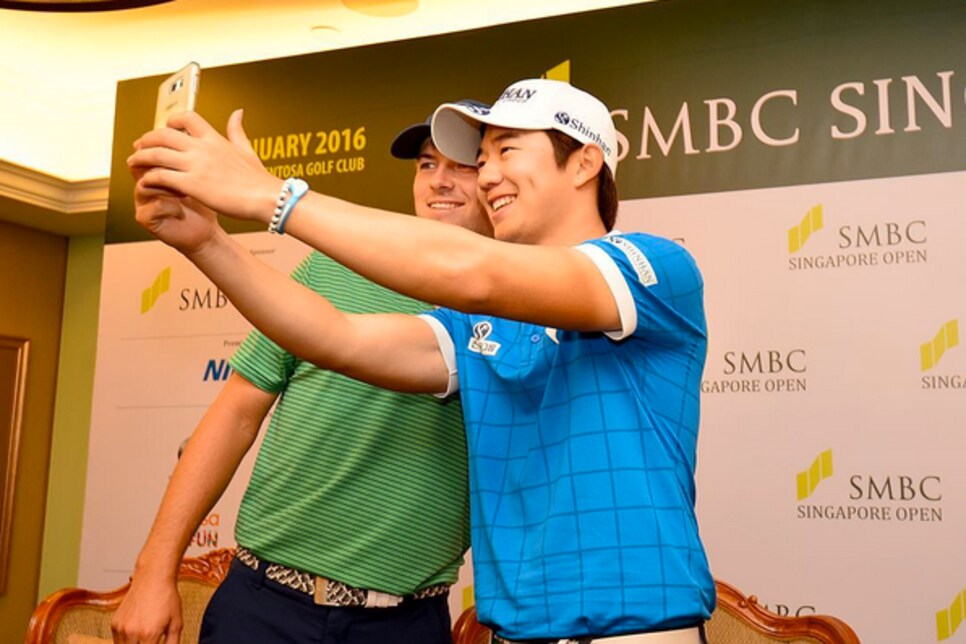 PHOTO OF THE WEEK (U.S. DIVISION)
It seems Rickie Fowler and Jason Day are now BFFs -- in sickness and in health.
VIRAL VIDEO OF THE WEEK (PGA PRO DIVISION)
This is definitely the most impressive "three-putt" we've ever seen:
VIRAL VIDEO OF THE WEEK (PGA TOUR PRO DIVISION)
Apparently, Sergio Garcia was working on his birdie dance during the off-season:
THIS WEEK IN NATALIE GULBIS RORY MCILROY LUKE DONALD(?!) MAKING US FEEL BAD WITH HER HIS TRAINING
Just "messing around," eh? Looking good, Luke. Looking good.
THIS WEEK IN PHIL BEING PHIL
We already covered his hybrid heroics. Again, one word: FENCE.
THIS WEEK IN PAIGE SPIRANAC BEING PAIGE SPIRANAC
Here's Paige doing her best Phil Mickelson impression:
And then doing her best Amy Mickelson(?) impression:
THIS WEEK IN QUESTIONABLE GOLF ATTIRE
Introducing Jordan Wolf, a golfer at Jacksonville University who possesses tremendous balance.
But are those heels acceptable on the course? We're giving her a pass with that swing.
"I hate watching this stuff cause I have no control." – Brandt Snedeker. You know what Tom Petty said, "The waiiiiiiting is the hardest part."
Scott Brown had 11 consecutive holes of bogey or worse during his final-round 87 at Torrey Pines. Golf is hard. . . . Ha Na Jang made the first hole-in-one on a par 4 in LPGA Tour history. Congrats on the ace, Ha Na, but does 218 yards really count as a par 4? . . . Congrats to Wesley Bryan, who finished T-7 on the Web.com Tour with his brother George caddieing. You probably recognize them as the famed trick-shot duo, the Bryan Bros. . . . Branden Grace successfully defended his title at the Qatar Masters. More impressively, he was able to lift this trophy all by himself: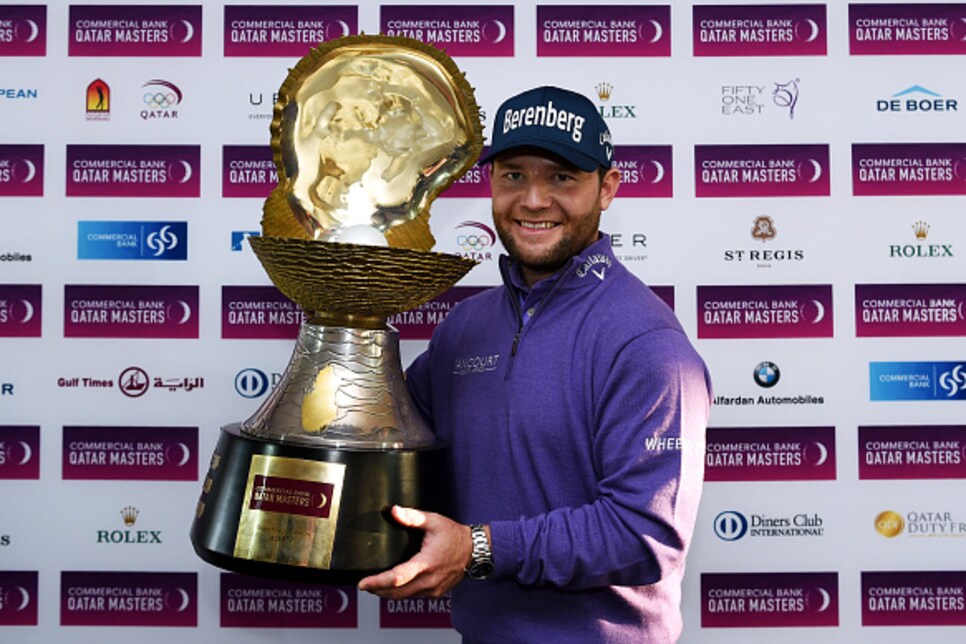 RANDOM QUESTIONS TO PONDER
Is Tiger Woods doing anything special for the Super Bowl?
What kind of a cut did Jordan Spieth's agent get for caddieing?
Can I fill in as Jordan Spieth's caddie sometime?