PICK A SIDE
Paul McGinley won't ridicule Ryder Cup mates who have taken the money, but insists they can't 'play both sides'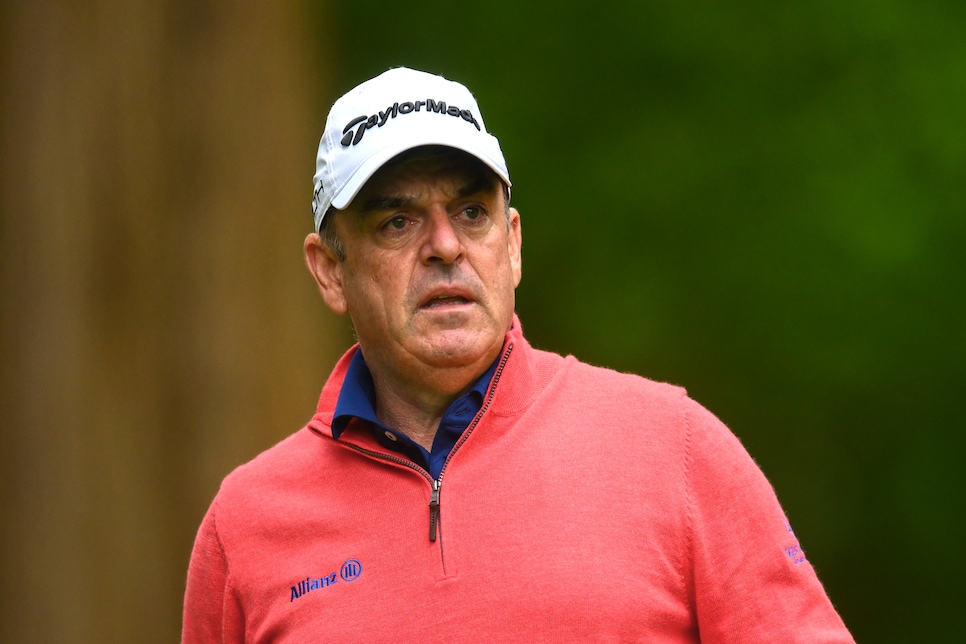 GLENEAGLES, Scotland — Almost eight years have passed since Paul McGinley captained his European Ryder Cup team to a comfortable five-point victory over the Americans at Gleneagles. A lot has happened between then and now for the 55-year-old Irishman, who so memorably holed the winning putt in the 2002 Ryder Cup at The Belfry before diving into the pond fronting the 18th green.
A member of the DP World Tour board of directors, McGinley is a familiar voice and figure on the London-based Sky Sports coverage of the Old World circuit as well as the latest sparring partner for Brandel Chamblee on Golf Channel's coverage of major championships.
All in all, the Dubliner has done well for himself.
Back at Gleneagles for this week's Senior Open on the King's Course that sits adjacent to the PGA Centenary layout that hosted the Ryder Cup back in 2014, McGinley was quick to play down his chances of playing success this week, even before he was understandably distracted by the news of Henrik Stenson's premature departure from all things Ryder Cup. By his own estimation, Tuesday's pro-am was only McGinley's fourth round of golf in the last two months.
"If I make the cut this week it will be good," he said with a smile. "I'm shattered after last week at the Open Championship. After working for NBC and Sky, I was walking up the 18th fairway on the Old Course at 11:45 p.m. every night."
Still, for McGinley this is a place that holds a host of memories, most of them good. Although for this emotional soul, there is more than a hint of melancholy whenever his active mind wanders from Ryder Cup triumphs toward the in-fighting that dominates professional golf today.
"Every time I come through the gates and up to the hotel, walk through the corridors, the memories come flooding back," he says. "That was there, that's where this was, that's where the team room was. The hotel creche, was our team room. Great memories, but with all the stuff going on in the world at the moment, there's a bit of sad reflection at the same time."
McGinley speaks with great fondness of the Ryder Cup. And no wonder. In four appearances as a player and captain, he was never part of a losing team. All of which only adds to his disappointment with the state of limbo the European captaincy now occupies. This is a man who cherishes the relationships he has formed in the biennial contest.
"In high-end business and high-end sport, we're talking billions of dollars," he says of the emergence of LIV Golf. "When money gets involved to the level it has done, people make decisions based on that. I'm not going to ridicule the likes of Ian Poulter or Lee Westwood and all they have done for the European Tour. Besides, it happens in every sport, not just golf.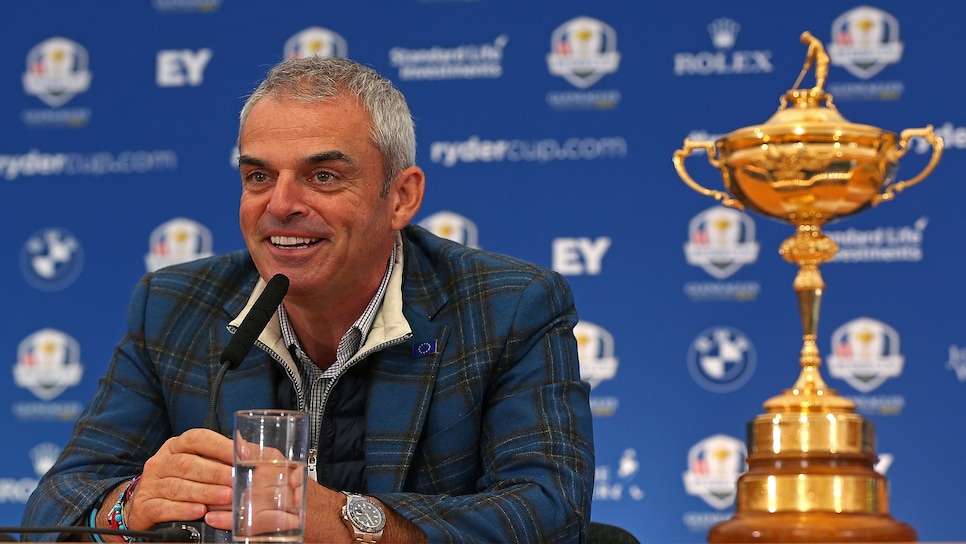 "Look at how many soccer players in their early 30s go to China, or Dubai, or Qatar and take a huge windfall of money. David Beckham did it when he went over to the MLS in the States. Golf is now no different. The tours had pretty much a monopoly on things, but now there is a bit of competition. That has created leverage for astronomical amounts of money. Guys late in their careers are getting this windfall and they're making decisions based on that. But they have to understand there are consequences and Ryder Cup captaincy is one of them."
Still, McGinley's empathy does extend as far as having his own doubts over what he might have done in the face of a multi-million dollar offer from the Middle East.
"I'm part of the establishment," he acknowledges. "I'm not sure what I would have done. I've done well in the game, but that's just me. I don't think it's my position to judge these guys. In a lot of ways I get it, but my view is the same as a lot of people's. 'Fine, lads, good luck, but don't try to come back and play both sides.'"
Enough of that talk though.
It isn't long before McGinley is back to 2014, back with the men he stood shoulder-to-shoulder with in Ryder Cups. He talks wistfully about those times, about the team spirit that bonded them so tightly in the contests with the big, bad Americans. Underdogs to a man, they fought for a common cause. But perhaps, no more, given the size of the schism that already divides former friends.
"It's important to me to maintain a friendship with all the players I have played with and led," McGinley says. "We had an unbelievable team spirit, everyone recognized that and could see that. We had a lot of fun as we always do, and I'd like to think that, in 2014, we brought out the best of all previous Ryder Cups I've been involved in and highlighted the players. I made them the focal part of part of what I was doing as captain.
"Everyone says I left 'no stone unturned' and all that stuff," he continues. "But it was just simplicity and it was clarity. It was engagement of the heart and getting them really focused. That's all I tried to do. Yes, I was meticulous behind the scenes. But that doesn't mean the players knew any of that. I did all of that and kept it from them. They knew only a tiny amount. It was simplicity and clarity. And structure. They needed to understand their positions within the team. And what their roles were. Nothing more. That was how I played my best."
Great times indeed. And, sadly, things we may never see again.