Patrick Reed gets overdue victory that also earns him U.S. Ryder Cup spot
FARMINGDALE, N.Y. -- Patrick Reed said Sunday night at Bethpage Black that it felt like he'd had "100 top 10s" this year. In reality, there were eight, including a pair of runner-up finishes.   He finally got what he felt was long overdue: A win.   Reed shot a one-under 70 in the final round of the Barclays to win by one over Sean O'Hair and Emiliano Grillo. The victory was the fifth of the 26-year-old's career but first since the beginning of 2015, a span of 55 worldwide starts including the Olympics.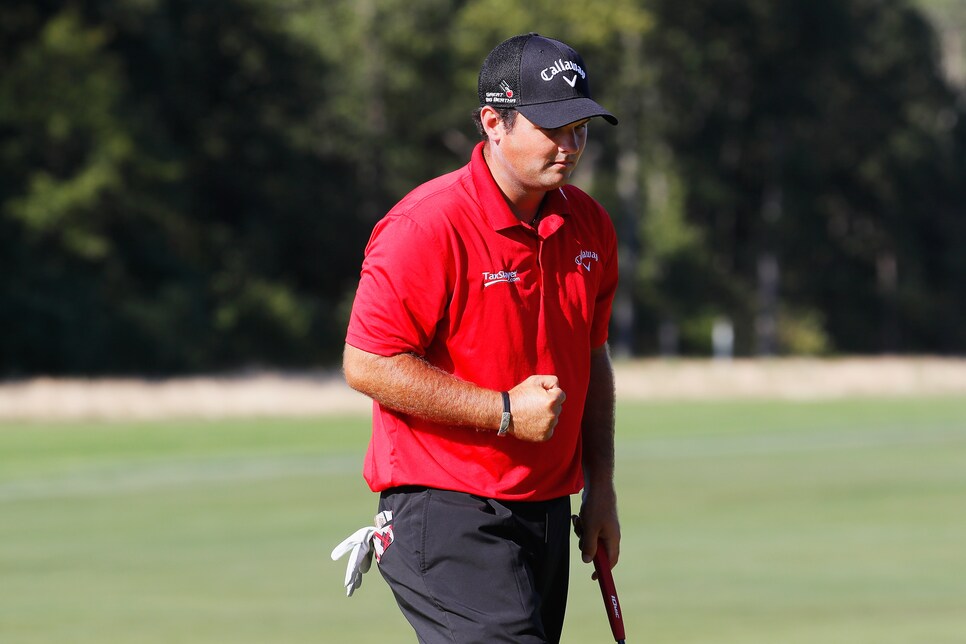 "It's been frustrating," said Reed, who also secured a spot on this year's U.S. Ryder Cup team in the process. "We all enter these golf tournaments to win golf tournaments. We're not showing up just to make cuts and slide by.   "It's been real frustrating, because I can easily just pinpoint through almost every event a three-hole or a nine-hole or a couple shots here or there that cost me, instead of finishing 10th or seventh or fifth into a W."   That included in the final round at Bethpage Black. After his third birdie in his first seven holes Sunday, Reed started thinking about the ones that had gotten away: Lipouts for birdie on each of the first two, a three-putt bogey on the third, a missed eagle putt from inside 10 feet on the fourth.   In Reed's mind, he should have been six-under on the day. His caddie snapped him back to the moment, saying those chances were behind them and to focus on hitting good golf shots.   "It was kind of creeping back in, just kind of going through my mind on events earlier this year that I had these kind of stretches that I should have been at a lot lower number than I was," Reed said.
RELATED: Winner's Bag: Patrick Reed, The Barclays   On the most difficult part of the golf course he did just that.   Facing a longish green-side bunker shot on the ninth, Reed got up-and-down to save par. One hole later, he again saved par with another lengthy up-and-down from just off the green.   Reed then took the lead for good on No. 11 when Rickie Fowler, who opened the day with a one-shot lead, made his first bogey since the ninth hole on Thursday. Reed, meanwhile, coolly two-putted for par from halfway across Long Island.   A few minutes later, the player who once declared himself a top five player in the world after three victories in a seven-month stretch at the outset of his career, stuck his approach shot from 180 yards to eight feet to set up a birdie on the 502-yard par-4 12th to increase the lead to two. He never looked back, eventually building the lead to three before two bogeys over his final three holes for the final margin of victory.   Fowler, meanwhile, is now 0 for 4 in his career with the 54-hole lead on the PGA Tour. Two of those came earlier this year, in Phoenix and then at Quail Hollow. His final-round scores in those four, including Sunday: 73-74-74-74.   For three days, he had scrambled his ball out of trouble around the difficult A.W. Tillinghast track, getting up-and-down 17 of 18 times through the first three rounds. But on Sunday, when it mattered most, he was just two of six.   "Disappointing back nine," Fowler said. "I didn't drive it the way I needed to. So yeah, very disappointing. Not the way I've been playing the back nine all week. Coming to the last eight holes, I made one bogey through the week.   "I don't know, like I said, just made a couple bad swings at the wrong time."   Indeed. Not only did Fowler fail to win the tournament, he played his way out of an automatic spot on the Ryder Cup team after closing in 39 with three bogeys, a double and one birdie over his final eight holes to tumble into a tie for seventh, three strokes back.   "I'm just trying to win the tournament really," he said. "If I win, then it takes care of both things. Obviously once Patrick got a little bit of a cushion, I still wanted to get the best finish I can.   "It will hurt, but it's only going to make it better for next week."