The Loop
Patrick Reed faces the media after on-course outburst: "I made a stupid error"
SHANGHAI, China -- Patrick Reed assumed a posture of necessary contrition Friday afternoon at the World Golf Championships-HSBC Champions one day after being caught on camera emitting a self-critical stream of offensive language that included epithets and a gay slur during Thursday's opening round.
Reed struggled to a 1-over-par 73 in Round 2 at Sheshan International Golf Club to fall 10 strokes behind playing partner Graeme McDowell, but he was a picture of composure both during play and afterwards as he faced a phalanx of international reporters eager for an explanation about his meltdown on the first hole, his 10th of the day, on Thursday.
After missing a five-footer for a three-putt bogey, Reed was overhead via greenside microphones chastising himself by the use of various F-words. Television commentators on Golf Channel swiftly apologized on behalf of the American firebrand, and Reed issued his own mea culpa on Twitter, writing: "I'm sorry for using offensive language today in China. My passion to play well got the best of me and my word choice was unacceptable."
I'm sorry for using offensive language today in China. My passion to play well got the best of me and my word choice was unacceptable.
— Patrick Reed (@PReedGolf) November 6, 2014 Until it was brought to his attention after the round, Reed didn't recall what he had said, just that he was upset with himself.
"Today I felt like I handled myself pretty well, and yesterday I did not," Reed, 24, said in a measured and matter-of-fact manner. "Yesterday I made a stupid error, that's for sure. Sorry for definitely the words that I said and everything that went on. Never should have happened. In this game of golf, it's a gentleman's game. … Unfortunately it happened to me and all I can do is just learn from it and move on, and you know, hopefully continue playing well and keep giving fans something to watch."
Reed said he had not yet heard from the PGA Tour. "But I expect to," he added, meaning he thought a potential fine was in the offing.
This marks the second time this year Reed's choice of words at a WGC event has raised eyebrows. In March, after winning the WGC-Cadillac Championship at Trump Doral Resort, Reed had the temerity to proclaim himself among the top five players in the world. Though it was Reed's third win in his last 14 starts, the comment was met with derision among some members of the media and fellow players.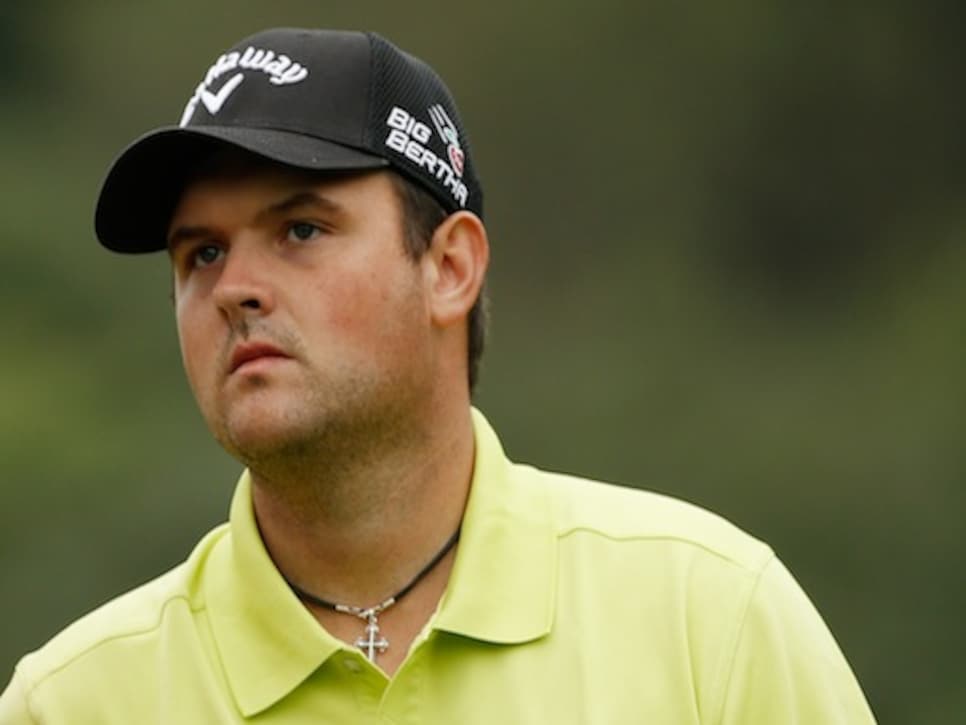 "I texted him last night and said, 'Hey, we all make mistakes, we speak out sometimes when we shouldn't, but it's a learning process,'" said Masters champion Bubba Watson, who was overheard on television using an obscenity - and was duly chastised for it - during the second round of the PGA Championship. "We've all done things we're not proud of, no matter if it's language or attitude, whatever."
"You have to be careful of the microphones out there. I'm sure he (Reed) is well aware of that. He's made a big mistake," said Ian Poulter, who last month was the object of sexist comments directed at him via social media by then PGA President Ted Bishop. That episode, in which Bishop referred to Poulter as a "Lil girl," resulted in Bishop's removal from office a month before his two-year term expired.
McDowell said he's heard from the ultimate authority - his mom - when he's been caught swearing during a golf telecast. But Reed crossed a line, and was going to have to take his lumps in the court of public opinion.
"It's a dangerous old world now. It's very good and very bad at the same time," said the former U.S. Open winner, who did not hear Reed's under-his-breath utterance. "You see a video clip like that end up on CNN this morning … yes, he shouldn't have said it, but is he unfairly dragged across the coals? Who knows? Guys say things all the time out here. He uses one word that is very politically incorrect and here we are.
"We saw a couple of weeks ago you use sexist terms bad things can happen. Of course you don't want to be using anything that's not PC these days. It's a very sensitive universe now."