Monday Superlatives
Anyone who criticizes Patrick Mahomes today is a damned fool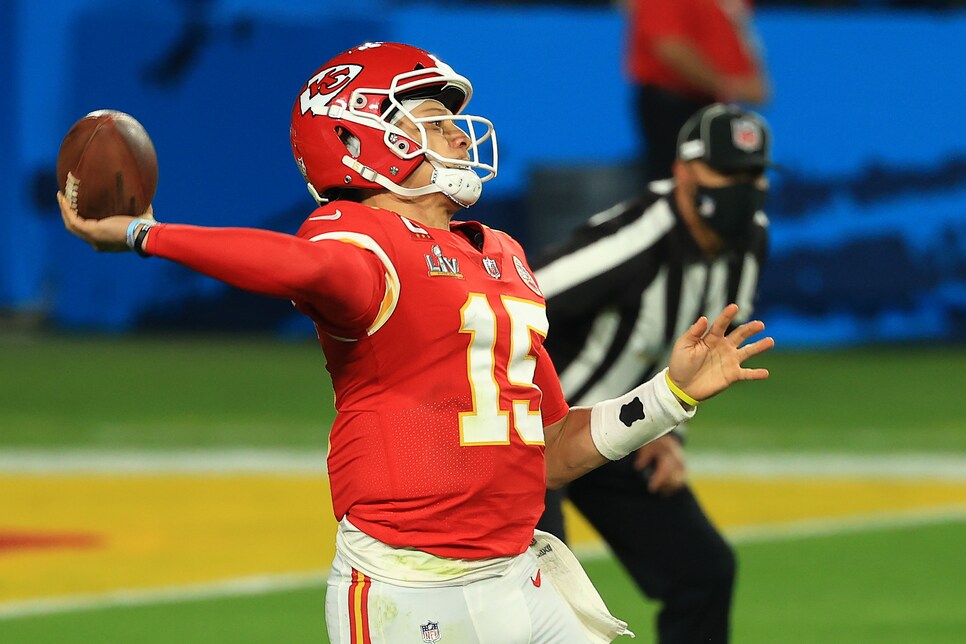 Tom Brady is a wonder, a miracle, an inevitability, and a juggernaut. I'm astounded, I'm convinced, I have seen the light, etc. etc. etc. We'll never see his like again.
BUT. I couldn't help but wonder, toward the end of last night's game, what he would have done if he played for Kansas City in the Super Bowl. Imagine that on every single play, he was being blitzed from all angles, and imagine his injured line broke down from the start and, far from figuring things out, got progressively worse as the game went along. Imagine that his receivers had trouble getting open, and that even when they were open, he would barely have enough time to spot them before getting trucked by someone like Ndamukong Suh. Finally, imagine he had to do it all with a case of turf toe so bad that it would require surgery after the season, and that had him limping around.
What could he have done? Well, that's the situation Patrick Mahomes dealt with Sunday night, and he still did stuff like this:
Genuinely, that is one of the most athletic things I've ever seen. I mean, look:
Thirty yards! And it hit his receiver in the face mask and should have been a touchdown!
The Internet was on fire with jokes about what he was trying to pull off, and for good reason—the dude was basically Sisyphus last night, absolutely doomed but still pushing that boulder up the hill. The fact that he could generate anything at all while being sacked like a defenseless Roman town over and over and over again with a bum foot tells you everything you need to know about the guy and his outrageous skill and resilience.
And still, some people were saying this was a "bad" game from Mahomes. Insane! He was put in an impossible situation where the stats were doomed to look horrible, but there is literally no other human on the face of planet Earth who could have done more with this situation. He was spectacular in his failure, and the fact that he scrambled and dodged and fought until the bitter end shows what kind of character he has. I don't think I've ever seen an athlete look more impressive in emphatic defeat, and for me, all he did on Super Bowl Sunday was to cement the fact that he's one of the best players the NFL has ever seen.
To call it a failure because of a couple tipped interceptions and the final score is to miss the fact that no other player could have avoided a complete meltdown for as long as Mahomes did. He's a genius, and last night was no refutation; it confirmed it, time after time. The game was hopeless, but the quarterback was a marvel.
Hot Take: The Super Bowl Halftime Show Has Always Been Trash, but This One Was Kinda Good
"Blinding Lights" is a killer song, but The Weeknd's halftime show was generally perceived as crap, at least if Twitter is an indication. This is not a surprise, because in my lifetime, there has never been a good halftime show. It's always either a pop act with poor acoustics or some legendary group...with poor acoustics. There are trained cheerleaders pretending to be fans, weird outfits, and, many times, glow sticks. And it always sucks. It's incredibly difficult even for experts to produce compelling live music footage, and concerts are the ultimate "it's so much better in person" event. In that sense, they are the opposite of an NFL football game, which is interminable and dull in person but way better on TV.
The start of The Weeknd's performance last night was typically kind of awkward, spectacle without heart, but the "Blinding Lights" portion? With all the red dancers in white masks occupying the whole field? Sorry, but that was really good. Watch this and tell me it's not a banger:
The "What Now?" Answer of the Week: IT'S TENNIS TIME
Oh hell yes. Are you dying to watch Pierre Hugues-Herbert play some qualifier from Latvia at 3 a.m. eastern time? Then my friend, do I have the content for you. It's the Australian Open, and with its start "today" (I have no idea what day it is in Australia), our long tennis drought is over. I woke up this morning to news that Shapovalov nearly got beat, Djoker advanced but will probably assault a kangaroo before too long, Serena's through and my girl Aryna Sabalenka, who I swear is on the brink (I will be insisting on this for the next seven years or so), blitzed her way into the second round. A few American men even won!
Football is over, the NBA and NHL are in their doldrums, and baseball is months away, but for at least two weeks, tennis has our backs from the land down under. Praise.