The Loop
Pat Summerall, the voice of the Masters, dies
Pat Summerall was not necessarily destined to enjoy a long and distinguished career in golf broadcasting. When the opportunity presented itself, he had to pass muster with two powerful obstacles, one of them called the Ayatollah, the other called the Pope.
The Ayatollah (a nickname for which Summerall was responsible, incidentally) was legendary CBS Sports producer Frank Chirkinian, who was not thrilled that the network "sent me this football player" to work golf telecasts, he told the New York Times. "I thought the people in New York had lost their minds."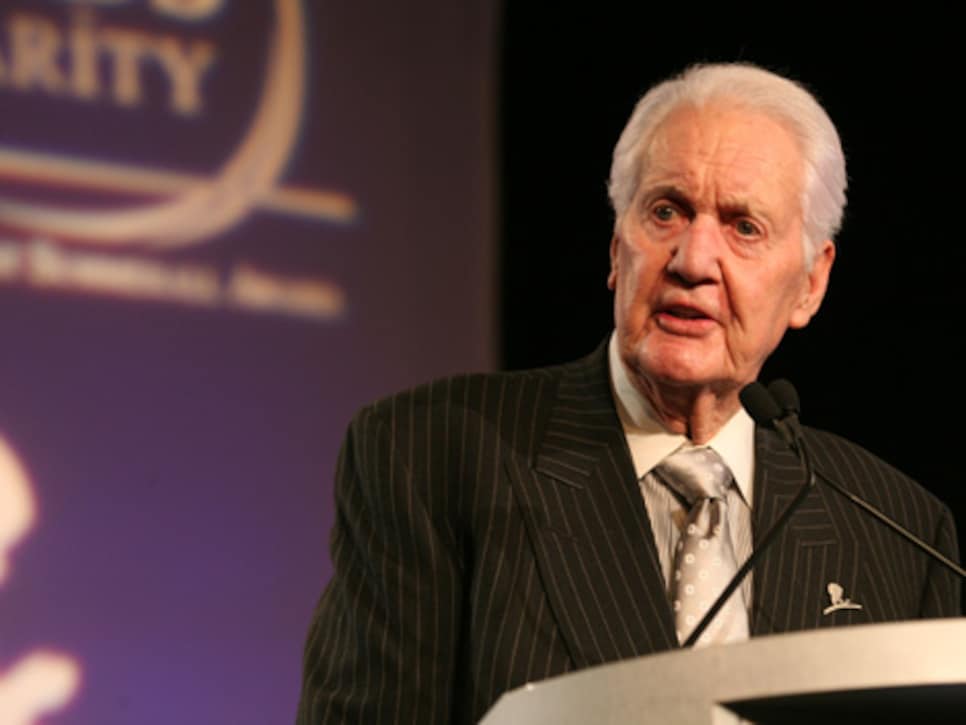 The Pope was Clifford Roberts, co-founder (with Bobby Jones) of the Augusta National Golf Club and chairman of both the club and the Masters. Every potential broadcaster had to meet with Roberts' approval, according to Curt Sampson's book, "The Masters: Golf, Money and Power in Augusta, Georgia."
Summerall recounted to Sampson his initial conversation with Roberts:
"You know you're better known as a football player," Roberts said.
"Yessir, I know that," Summerall replied.
"It's 12 or 13, Mr. Roberts."
"Well, the best golfer we've had has been Chris Schenkel, who was an eighteen. So you should be all right."
He was, it turns out, substantially better than that. Already an established football broadcaster on CBS, he became the voice of golf at the network and was part of 27 Masters telecasts before leaving the network in 1994.
Summerall, a former NFL placekicker who is in several sportscasting halls of fame, died on Tuesday, while in the hospital recovering from hip surgery. He was 82.
Among his colleagues on golf telecasts at CBS was Vin Scully, the legendary Los Angeles Dodgers broadcaster, who worked the Masters from 1975 through 1982.
"Pat had been a professional athlete, he was a good golfer and he related to either the golfers or to the football players," Scully said Tuesday afternoon, as he was preparing for yet another Dodgers' radio broadcast. "On the air he came across as what he was, the master of the understatement. Pat was the perfect man to work with whomever his partner was, to tie in with the analysts, because his statements were so understated."
This was a sentiment echoed by another Hall of Fame broadcaster, Jack Whitaker, who worked Masters telecasts with Summerall from 1968 through 1973.
"It was amazing that he and Frank Gifford had been on the same team [the New York Giants] and both traded football in for broadcasting and both became very successful at it," Whitaker said. "His great strength was that he didn't talk too much. He got out of the way and let his color man do the job. He was as good as there was at doing that."
Summerall's golf broadcast career ended when CBS lost its NFL rights in 1994. "I didn't want to give up golf," he told the Times. But after he joined Fox Sports to continue broadcasting NFL games, CBS declined to allow him to continue on doing golf broadcasts.
"I'm very saddened that he's not leaving under his own terms," Chirkinian told the Times. "He is CBS Sports. I thought he could work here until he was 75 or 80. He was loyal to CBS for 34 years."
Among the Masters broadcasts that stood out, he said in an interview with the Philadelphia Daily News in 1987, was his first, 1968, when Roberto de Vicenzo signed an incorrect scorecard, allowing Bob Goalby to win, and the '86 Masters, when Jack Nicklaus, at 46 won his sixth Green Jacket.
"Of all the events I've done," he said about the Masters in the same interview, "and that includes everything but a World Series, this one is still set apart because of the way it's run."
His successor as the voice of the Masters was Jim Nantz, who said in a statement: "Pat Summerall was a hero to me. I treasured the gift of friendship that I had with him. I was his understudy for 10 years. He could not have been more generous or kind to a young broadcaster. He was a giant and one of the iconic figures in the history of the CBS Television Network."