The Loop
Pat Perez on Tiger Woods: "He knows he can't beat anybody" (update)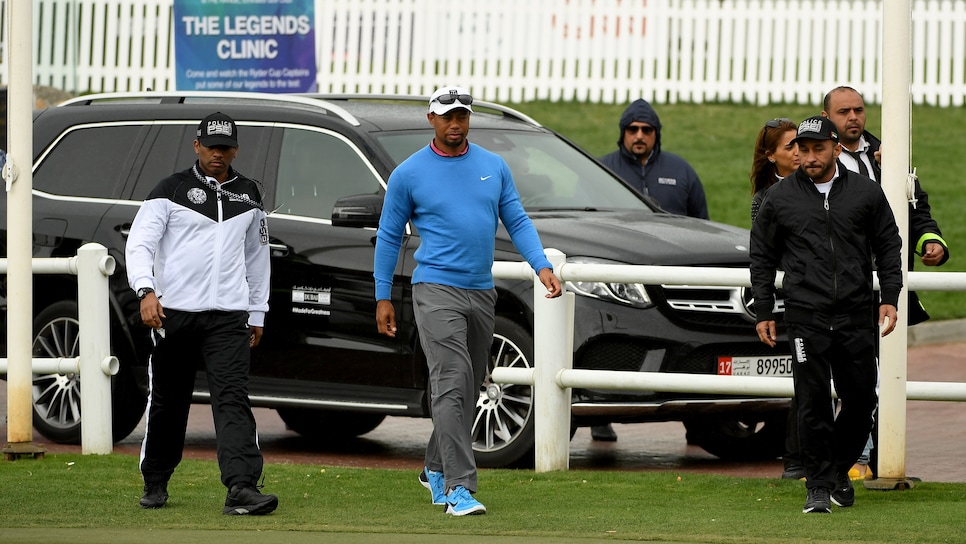 Pat Perez is one of our favorite golfers, mainly because he's never been one for political correctness. It's a much-needed disposition, adding color to the game's landscape. A sentiment that was on full display in Perez's show on SiriusXM PGA TOUR Radio.
The topic of Tiger Woods emerged in conversation, as it is wont to do. Perez, who has ripped the media for its coverage of the 14-time major winner, said he understood that Woods "moves the needle." However, Perez assessed the current state of the 41 year old, and didn't hold back.
"He knows he can't beat anybody," Perez said on the show. "He's got this new corporation he started so he has to keep his name relevant to keep the corporation going. So he's going to show up to a few events, he's going to try to play...he's going to show the Monster bag, he's going to show the TaylorMade driver, he's gonna get on TV. He's got the Nike clothes, he's gotta keep that stuff relevant.
"But the bottom line is he knows he can't beat anybody. He knows it. He shot 77! That guy can't shoot 77. What does he do the next day? 'Aw my backs gone.' He knows he cant beat anybody!"
Perez doubled down on his statements, saying that if Woods doesn't play in the Masters, his season is likely over.
"Personally, I don't think you'll see him again this year," Perez said. "The guy can't show up to an interview!"
UPDATE: When reached by ESPN.com on Thursday, Perez, who has competed with Tiger Woods since their days growing up in California, made it clear he's rooting for the 14-time major champion: "It's our radio show,'' Perez said of the SiriusXM show he co-hosts with Michael Collins. "We're just two guys talking about the stuff we always talk about. I had an opinion on Tiger, and I said it. No one wants to see Tiger come back, compete, and win again more than me. I was the one saying that none of these guys out here today can hold a candle to what Tiger has done or still does. But we're talking about when is Tiger gonna play again? I don't know. If the guy can't do a press conference, how's he gonna play golf?
"I'm getting killed by all these people, but I'm a Tiger fan who wants to see him back playing again. I just don't know when that would be. Now I know kind of how Fuzzy Zoeller felt, but I was praising [Woods], and I'm still getting killed by all these people for an opinion I had on our radio show."
Woods, who recently pulled out of the Genesis Open and Honda Classic due to back spasms, has not set a date for return. The 2017 Masters begins in six weeks.