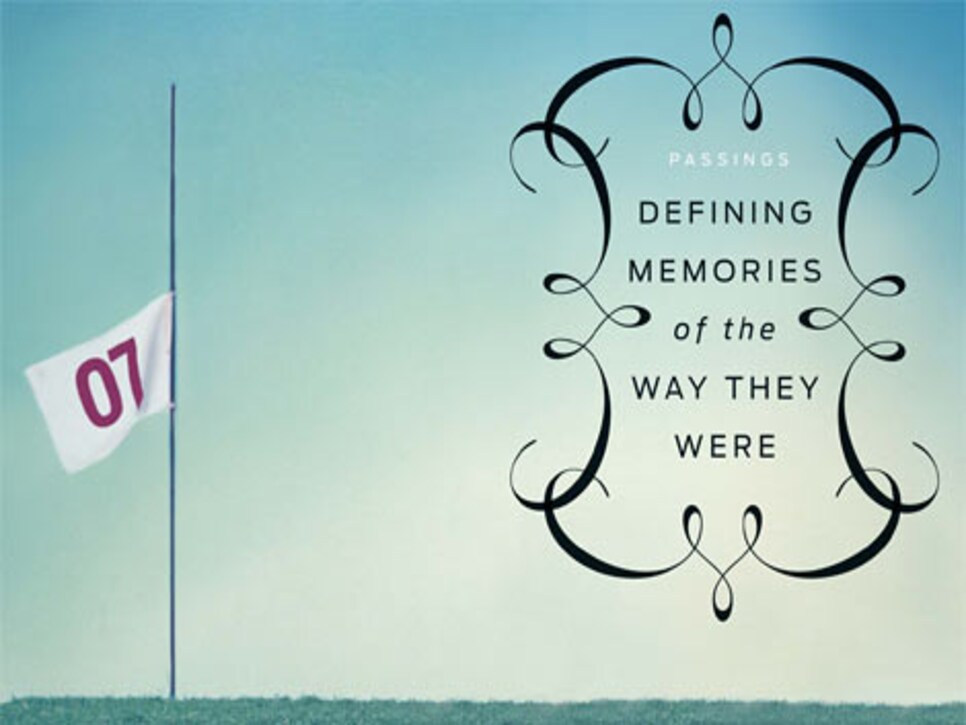 Discovering little nuggets of history and amazing anecdotes usually offsets the melancholy that emerges while researching the golf personalities who died the past year, and 2007 was no exception.
One example is Gay Brewer and Ruth Jessen, each an accomplished tour winner remembered for oddities in their technique who, by the way, authored articles for Golf Digest in the 1960s.
[Ljava.lang.String;@1f866b11
Photo: Golf Digest Resource Center
Gay Brewer Jr. had a distinctly loopy backswing, necessitated because of a broken elbow he suffered as a youth. He's in a league of All-time Dipsy-Doodlers with Jim Furyk, Miller Barber, Allen Doyle and Jim Thorpe. But Brewer had length off the tee and such overall skill that Jack Nicklaus said he was "as good as there was" in the 1960s.
Brewer, who died Aug. 31 at age 75, had one of the Masters' most well-deserved victories. After needing only to two-putt the 72nd green to win the 1966 tournament, Brewer missed a six-foot par putt and fell into a tie with Nicklaus and Tommy Jacobs. Nicklaus, the defending champion, won the playoff. But Brewer didn't wait long for vindication. After the loss, he decided he needed to improve his mental approach, so he studied Norman Vincent Peale's book The Power of Positive Thinking. Brewer even read it the night before he shot a final-round 67 in '67 to win by one stroke.
The course of his youth, Picadome Golf Course in Lexington, Ky., last June was renamed Gay Brewer Jr. Course at Picadome.
Ruth Jessen, who died Sept. 21 at age 70, won 11 times on the LPGA Tour and was well known for her putting stance.
Jessen began using her signature putting stance in 1964 when she started standing over putts with her feet as far apart as they could go with legs ramrod straight. "The wider my feet got, the better a putter I was," she said. Her stance was said to be "spraddle-legged," and it kept her steady.
Jessen, who had turned pro at age 19 in 1956, had a huge 1964 season, winning five times and placing second five times, including a playoff loss to Mickey Wright at the U.S. Women's Open. But Jessen was plagued in her playing prime by an incredible string of health issues: back, thyroid, rib, arm tendinitis and nerve damage, uterine cancer at age 32. She received the 1971 Ben Hogan Award for her comeback.
Jessen spent the last 30 years as a golf instructor in Arizona. Last September she suffered a stroke, and it was discovered she had advanced lung cancer.
A pair of Joes--Jimenez and Cheves--died within 11 days of each other, Joe Cheves on July 31 at age 89 and Joe Jimenez at 81 on Aug. 11. At the dawn of the Senior PGA Tour, the two met in a playoff with Manuel de la Torre to decide the 1978 Senior PGA Championship. Jimenez, a Texan who had been a club pro for 30 years in the Midwest, won with a first-hole birdie. Cheves gained notoriety for bettering his age more than 1,500 times.
Brian (Bud) Allin, 62, March 10: A much-decorated Vietnam War veteran (including two Bronze Stars) who did two tours of duty, Allin joined the PGA Tour with a stake of only $1,000 and won five times.
Ernie Amsler, 66, July 24: Longtime employee of Canadian Open site Angus Glen Golf Club.
Thomas (Tommy) Barnes, 91, Sept. 20: Barnes was in Bobby Jones' foursome in 1948 when the great man played his final round of golf at East Lake in Atlanta. Barnes was a standout at Georgia Tech, and at age 73, in 1988, shot the East Lake course record of 62.
Warren Birch, 74, Feb. 21: Former Augusta National assistant pro who went on to many club jobs in Massachusetts.
Ernie Brown, 93, Jan. 11: Brown designed golf courses in British Columbia in the 1960s and '70s, experimenting with covered areas on tees for rainy days.
George Burger, 50, Jan. 31: PGA Tour vice president of the FedEx Cup.
Don Click, 58, Jan. 19: PGA pro for 29 years who taught at the International Junior Golf Academy the last nine.
Richard (Dick) Donovan, 71, Feb. 18: Well-known collector whose two-volume The Game of Golf and The Printed Word, written with Joseph Murdoch, is the ultimate source for golf in print.
[Ljava.lang.String;@45db801a
Photo: Doug Benc/Getty Images
Kelly Jo Dowd, 42, May 24: Got to see her daughter Dakoda play an LPGA Tour event (the 2006 Ginn Open) at 13 before cancer cut Kelly Jo's life short.
Bill Flemming, 80, July 20: Announcer for ABC Sports beginning in 1961, his early golf work included the 1957 U.S. Open for NBC.
Donald R. Folsom, 46, Feb. 18: Winner of back-to-back New Hampshire Amateurs in 1986-'87.
Mal Galletta Sr., 95, Jan. 9: Galletta won the 1944 North & South Amateur and was club champion 19 times at North Hills in Manhasset, N.Y.
Shavenau (Shav) Glick, 87, Oct. 20: A Los Angeles Times sportswriter for 54 years. William Gundeck, 94, March 28: A Metropolitan Golf Association rules official and committee volunteer since 1978.
Robert Hahn, 72, March 5: St. Francis (Pa.) University golf coach for 37 years.
Johnny Hart, 76, April 7: Comic-strip cartoonist and creator of "B.C.," associated with the PGA Tour's B.C. Open .
Rev. Thomas P. Higgins, 75, June 9: Coach at Loyola Marymount for 32 years.
Robert L. Kay, 86, May 12: The head pro for 40 years at Wampanoag in West Hartford, Conn.
Milton (Babe) Lichardus, 81, May 25: Longtime club pro in the New Jersey area who won four New Jersey State Opens.
Michael Lunt, 72, May 22: Won the 1963 British Amateur and played in four Walker Cups for Great Britain & Ireland. Named captain of the Royal and Ancient Golf Club of St. Andrews in May 2006.
H. Harold MacNeill, 99, Jan. 5: Founder of the MacNeill Engineering/CHAMP company, makers of spikes and cleats.
Kathy Martin, 62, March 18: A former LPGA Tour player, she most recently was in its Teaching and Club professional division, working in the Eugene, Ore., area.
Don Massengale, 69, Jan. 2: The Texan won twice on the PGA Tour and lost the 1967 PGA Championship in a playoff with Don January.
Ken Mills, 65, May 3: President of the Irrigation Association in 2005-'06 and 43-year employee at Rain Bird.
John Mineck, 54, May 24, the co-founder of the Boston Golf Club in Hingham, Mass., died in a construction accident at the club.
John D. Montgomery Sr., 80, Sept. 12: Founded Executive Sports International, the largest tournament-management company in the world.
Rod Myers, 67, March 30: Men's golf coach at Duke since 1973 and seven-year coach at Ohio State.
Maureen Orcutt, 99, Jan. 9: Won more than 65 amateur events and competed in the first four Curtis Cups ever played, in the 1930s. Orcutt was good enough to beat Babe Zaharias in an exhibition (she said Babe didn't pay off the bet).
Russell Palmer, 81, March 16: Served 10 years as Connecticut State Golf Association executive director.
James Pernice, 95, May 4: The iconic club caddie at Oakmont, he looped for 84 years, starting in 1921.
Conrad Rehling, 87, April 3: A member of the Golf Coaches Association Hall of Fame (he coached Florida and Alabama from 1956-'88).
Ron Rhoads, 65, April 12: Rhoads played for the University of Southern California in the 1960s, was the USC coach from 1979-'83 and had head-professional jobs in California and Washington.
Stu Schneider, 52, May 29: Golf writer who was a close friend to his coworkers at Golf World and Golf Digest. He worked in public relations, online and editorial for the magazines; his latest assignment was as TV critic/columnist at Golf World.
Ed Seay, 69, Aug. 14: President of the American Society of Golf Course Architects in 1976-'77, Seay worked with Arnold Palmer in 1971 on a Japanese course and did joint ventures with him before they opened the Palmer Course Design Company in 1979.
Andy Sidaris, 76, March 7: An award-winning director for ABC Sports.
Douglas LaRue Smith, 89, June 16: Author of the club history, Winged Foot Story.
Taylor Smith, 40, July 21: Disqualified from the 1996 Walt Disney World Classic for using a putter with a nonconforming grip; died of acute toxicity.
Paul Stevenson, 78, Jan. 6: Former president of the Northeastern Wisconsin Golf Association.
Thomas Stouthamer, 78, April 22: Former collegiate player at Wisconsin won numerous state titles.
Eileen Stulb, 83, Feb. 26: Organized numerous women's golf events in her native Augusta, Ga., including the Titleholders.
Daniel Sullivan, 79, May 18: Played a major role in developing Sahalee Country Club in 1967, later the site of the 1998 PGA.
Albert (Duck) Swann Jr., 81, Jan. 28: The first American to win the British Senior Amateur (1983 at Walton Heath).
Richard Valentine, 78, June 1: Merion Golf Club superintendent from 1963-'90. Valentine succeeded his father, Joseph, who had been Merion's super for 45 years.
Jim Veno, 64, Feb. 21: Veno won a trifecta in 1962 never repeated: Maine's Amateur, Open and Schoolboy (Junior) titles in the same year.
Norman Von Nida, 93, May 20: Considered "the godfather of Australian golf," Von Nida was a pioneer with more than 80 titles around the world.
Dale Welker, 55, Sept. 11: A player at Columbus (Ga.) College and on the PGA Tour, Welker worked for 30 years as a sales rep for La Mode and Mizuno.
Nick Weslock, 89, Oct. 27: Won the Canadian Amateur four times and was the low amateur at the Canadian Open 16 times. Off the course he was a close friend of Canadian legend Moe Norman.
Louis Willie Jr., 84, Sept. 16: African-American businessman who was thrust into the spotlight as an honorary member of Shoal Creek, which was under fire for its restrictive membership policy prior to the 1990 PGA.
Ernie Wright, 67, March 20: Founded San Diego's Pro Kids Golf Academy & Learning Center.
Leo Zampedro, 66, Jan. 27: Teaching pro whose pupils included Barb Mucha and Salimah Mussani.
John Zoller, 82, Jan. 30: Vice chairman of the Monterey Peninsula Foundation, the sponsoring association behind the AT&T Pebble Beach National Pro-Am.
We cite Maurice Flitcroft (77, March 24), one of the most notorious names in golf. The journeyman crane operator who played to a 30-handicap tried several times to hoodwink the R&A into letting him enter qualifying for the Open Championship. One year, 1976, he did get onto the qualifying course, shooting 121, becoming an inspiration to hackers worldwide.
In an attempt to screen Flitcroft, an expert on forged signatures was used in the championship office and was able to recognize his handwriting. Flitcroft tried pseudonyms to fool the committee (he used Gerard Hoppy, a "Swiss pro," in 1983) and on a few occasions got at least nine holes in before officials yanked him off the course.
In the case of Maurice Flitcroft, the king of golf imposters was one in a million.
Additional reporting by Tara Fucale