BMW PGA Championship
Ryder Cup 2021: Padraig Harrington has a plan with his captain's picks, barring any late craziness at Wentworth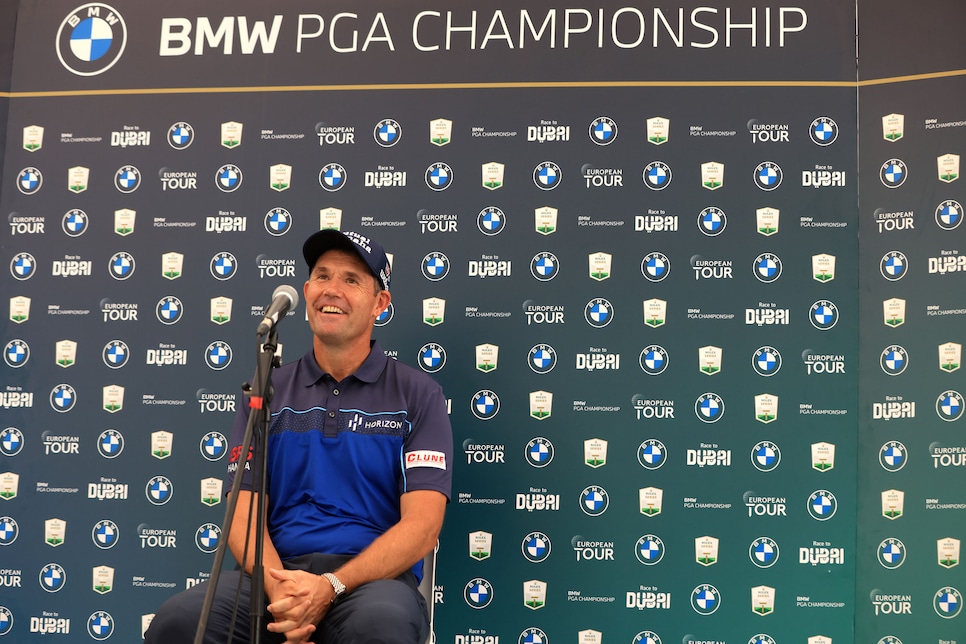 Padraig Harrington talks in a press conference on Tuesday ahead of the European Tour's BMW PGA Championship.
Andrew Redington
VIRGINIA WATER, England — He's down to six candidates, with the prospect of more emerging over the course of this week's BMW PGA Championship at Wentworth. The European Tour's flagship event doubles as the final qualifying tournament for the team that Padraig Harrington will lead against the United States later this month at the Ryder Cup. The Irishman offered no names, of course, but was prepared to concede that if nothing changes between now and Sunday evening, the three choices for captain's picks available to him are already in his mind. But that's a long way off and multiple possibilities are in play.
"There's a number of players who can push their way into the team and a lot of points to play for this week," said the three-time major champ, who celebrated his 50th birthday a week ago. "We wanted a bit of drama at the end and a bit of excitement, so it's going to be an interesting week. There are a lot of scenarios that I could go through at this stage, but we're going to have to wait until the tournament starts. By maybe Friday evening we'll start looking at that a bit more. And on Sunday we'll have to figure out what's there in front of us and who is going to be getting a pick."
The likeliest current scenario has been obvious for a while now, to the point that Harrington has been dropping large hints as to his intentions regarding at least two of his three selections. So, barring some strange happenings between now and decision time, it will come as something of a shock should Ian Poulter and Sergio Garcia not be taking their places at Whistling Straits.
The last pick is, potentially, at least a lot more complicated.
"I'm looking at like a punter at home, what could happen, what's possible," Harrington said. "Even though two players could finish fourth this week, one of them could be a 'good' fourth and one of them could be a 'bad' fourth. It's not just the finishing position and not just whether they get into the team. A lot of it will come down to how the picks balance up the nine players in the team."
"It was phenomenal," Harrington said. "She's so young but she is now one of Ireland's greatest golfers. She's right up there. What she's done is fantastic. It's inspirational. I can't tell you how important it is in Ireland for golf, for all sport in Ireland, for all people in Ireland. We love our sport, and we love people being successful. I think we are a better country than any for celebrating our successes. I really think Leona's golf will motivate young girls to get into the game and be a bit more competitive and carry it through. But I also think it will motivate all golfers and all people in Ireland, all sports people."
"What's not to take?" he continued. "I was watching it, and I was thrilled the way they went about it all. It definitely helps us. You want all the momentum you can get. Let's be honest, they dominated. They won fair and square. There was no luck involved. Sometimes you might think, oh, did they get lucky to win? But that wasn't the case. There were also a few things I looked at in the practical sense. There was a dominant U.S. crowd compared to our side. We will talk about things like that, adjust and certainly learn from."
There was no escaping the possible picks scenarios though. Harrington was asked if he will be using his heart or his head on Sunday evening, should his close friend, former Open champion Shane Lowry, require one of the three captain's selections.
"I'm sure you can't get away from your subconscious and your heart," Harrington said. "But I would hope myself and the vice captains would use our heads. Yes, stats are important. And we will look at stats, no doubt about it. But balancing up the team, that's incredibly important as well. So a number of factors will come into the decision. But the least of them will be my heart."