News
Padraig Harrington is another blast from the past on the Scottish Open leader board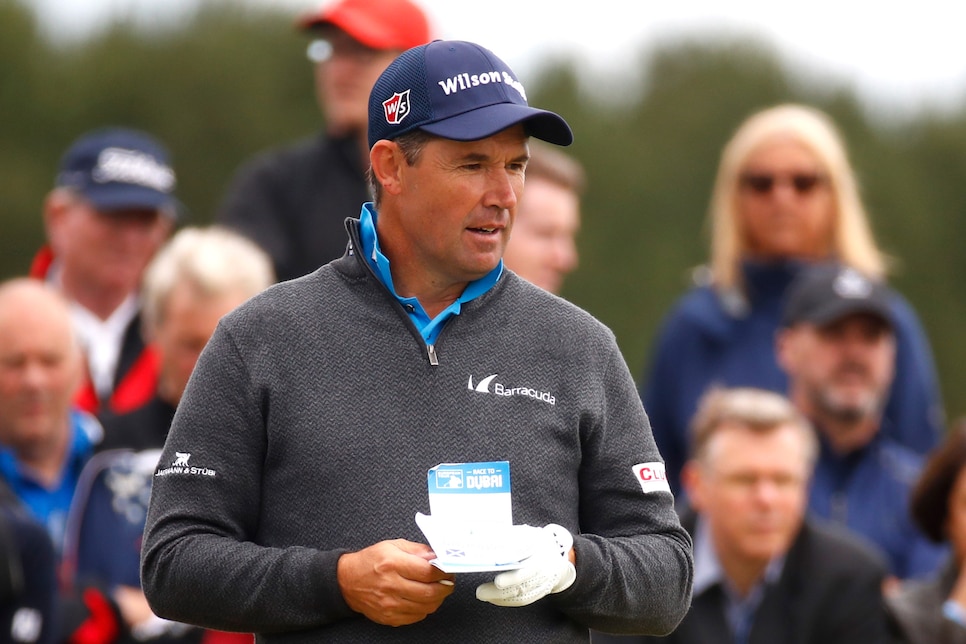 Gregory Shamus/Getty Images
TROON, Scotland — We can't say he didn't warn us. Padraig Harrington, speaking last April just prior to working Sky Sports' Masters broadcast while recovering from an operation on his neck, had this to say about his playing prospects for the upcoming season: "If I was a member of the general public, I would go out and find the most obscure bet I can find on me and put £1 on it. Whatever it is, I would do it. I'm an optimist. I have to create my own reality and believe it, even if it is no one else's."
For those faithful souls who took the 45-year-old Irishman at his word and backed him to win a tournament during 2017, these are potentially exciting times. Three months after what appeared to be a somewhat outlandish prediction, the ever-eccentric Dubliner added a second-round 68 to his opening 67. His nine-under-par score for two rounds at the Aberdeen Asset Management Scottish Open at Dundonald put him in a share of the lead. Suddenly, a third Open Championship victory next week at Royal Birkdale—where he finished first in 2008—doesn't seem quite so unlikely.
"Who knows what's going to happen over the next two days," said Harrington, returning to his theme. "But it's not a surprise to me. It's just part of the sequence, of the game's up-and-downs. And I'll just patiently wait for the ups.
"When I came on tour, I played with some of the elder statesmen. I used to watch them fighting it, and at times I asked why. They would say, 'Well, if I can win just one more tournament.' And I was thinking, 'You've already done everything you're going to do. One more tournament is not going to change anything.' So I'd hate to be one of those guys. I'd hate to be that guy the young lads are out there playing with and not enjoying."
There is little chance of that becoming Harrington's reality. Indeed, it is hard not to smile watching the three-time major champion, especially when his new "step-through" finish to his swing is in evidence. And, as he revealed during an entertaining and typically eccentric post-round press conference, many of the younger players on the European Tour are keen to pick his brains. Which isn't easy. Consider the following stream of consciousness:
"Sometimes I'll be frustrated with my golf and I'll finish the round and I might be playing with two young fellas and they haven't said anything all day and we sit down for lunch afterwards and they can't stop quizzing me with questions. In other words, I get a lot of respect from the younger players.
"If you're fighting it too much out there, that's not what they want to see. So yeah, I've kind of come to the conclusion, I've pretty much done what I've done in the game of golf. I will win tournaments. I enjoy being out here. You know, why bother beating myself up over it. I can do nicely. If I win another major, three majors, four majors, not a huge deal. If you told me I was going to win another six majors, well, OK, that might be a difference. But it's not going to change me, and there's no point in me fighting it at this stage. I'm enjoying what I'm doing and kind of letting it happen."
Moving right along, Harrington was moved to share his philosophy on why some European players tend to struggle playing on the PGA Tour. It was an explanation that began with him missing his flight from Ireland to Scotland on Monday evening, which led to him playing this week without the benefit of a practice round and, more importantly, enjoying more time at home with his wife and children.
"Playing in the States, I go on the road for three, four weeks," he continued. "The biggest problem, and this is why a lot of Europeans have struggled in the States at times, is if you miss the cut. You're finished on a Friday, and you've got Friday, Saturday, Sunday, Monday, Tuesday, Wednesday to kill before you get to play another tournament. But when you're playing in Europe, missing the cut on Friday morning can be a bonus because you're home for tea on Friday afternoon.
"That's the truth of it. I could see that this week, having the extra day at home was very refreshing. And I suppose at this stage of my career and the way the game has gone, I can handle playing not as much practice rounds. I'm getting too old to play practice rounds. It certainly brought me in in a good frame of mind I think."
Yes Padraig, we can tell.