News
Padraig Harrington is already sending strong messages about what he's looking for from his 2020 Ryder Cup team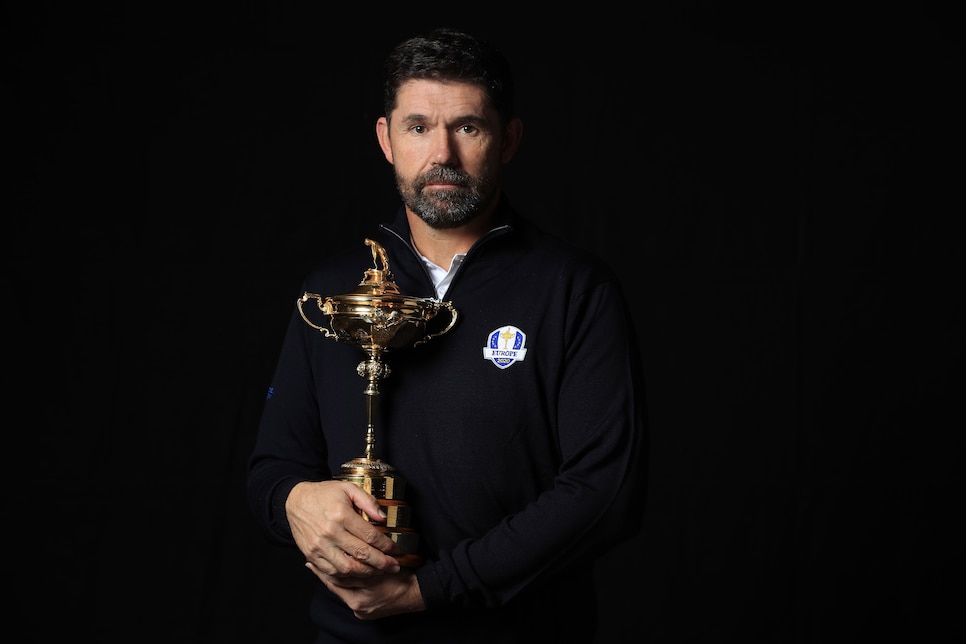 Photo By: Andrew Redington/Getty Images
FARMINGDALE, N.Y. — The owner of one of the more active minds in professional golf, Padraig Harrington has always been up for a good debate. Bad ones, too. As someone who knows the 47-year-old Irishman well says, "he loves to argue just for the sake of arguing. Often, he just wants to see if you will back down in the face of his inferior reasoning."
Which is not to say that Harrington isn't someone who, more often than not, makes sense. In his role as European Ryder Cup captain, the three-time major champion—he spent more than 300 weeks ranked in the world's top-10—has already made it clear he has his own views on how the 12-man side that will defend the trophy at Whistling Straits 16 months from now will be made up. In reducing his captain's picks from four to three, Harrington contends that the ninth-place qualifier is almost certain to be picked anyway, so why not give him the psychological boost that comes with earning an automatic spot in the squad?
As part of that same announcement, Harrington indicated that the year-long qualifying period for the European team will run between the 2019 and 2020 BMW PGA Championships at Wentworth. But here's the rub. Next year's version of the European Tour's "flagship event" will be played only one week before the Ryder Cup in Wisconsin. And, as it turns out, that proximity is not something arrived at haphazardly.
"I would be on the side of making the players jump through a few more hoops to be on the Ryder Cup team," Harrington said. "It is a huge deal to play in the Ryder Cup in terms of people's careers. Frankie Molinari won the Open last year, but the Ryder Cup 'made' him—and that just sums it up for Europe. It really did make him as a golfer.
"The players should understand and see that the Ryder Cup is a bigger deal than some people think. We play our individual game all the way through, but when you get to the Ryder Cup you realize it can make stars out of European players. For several, it's the pinnacle of their careers. Even players who were successful individually. It adds a huge dimension to who they are and the respect they get."
All of which led nicely into Harrington's strongest point: Any Euro needing one of his captain's picks next year better be teeing-up at Wentworth. On that, the man who represented Europe six times as a player was more than clear.
"Anybody who wants a pick is going to have to turn up," he declared. "Nobody has an excuse not to turn up at the BMW Championship in the U.K. They can't say they are playing another event or they are somewhere else. If you want a pick, you're going to have to turn up and play a big tournament with the other players who are interested in that pick so that I can make a definitive decision as late as a week before the tournament. I'm a believer in having players who prove they have a commitment and want to be in the Ryder Cup. Well, if you want a pick on my team, you're going to have to be at the BMW Championship. I'm not saying it's a guarantee, but I want to see commitment."
Harrington also expressed some understandable pleasure at the recent news that Rory McIlroy has re-joined the European Tour—only members are eligible for the Ryder Cup—after a few months in abeyance. A few years ago, Harrington was loudly vocal in his opposition to non-members (invariably those Europeans playing full-time on the PGA Tour) being able to represent what is, in essence, the "European Tour team." So it was no surprise to learn that he had spoken more than once with his fellow Irishman about returning to the Old World fold.
"I still think Rory would have qualified starting Jan. 1 next year," he said. "I know he loves it; you only have to see him in the team room during a Ryder Cup. He's only a young man, but it gives him an opportunity to play the captain's role, the leader's role in that team room. There's very few of us out there that don't relish the opportunity to be a leader. I can see that he wouldn't do anything to harm his chances of being in that team. I know that; I know he will be there and giving it 100 percent. But it is nice that he has taken membership and made things less complicated."
Even after all that, Harrington still had time to comment on how he feels about the PGA's move from August to what has so far turned out to be a chilly May on Long Island. Wearing his player's hat for a second, the 2008 PGA Championship winner approved of the resulting smoothness of the overall schedule. But he was quick to pay tribute to the PGA of America for taking what he called, "one for the team" in agreeing to the switch.
"To facilitate the world of golf, they have switched from what was probably a better date for them, but it's better for golf to have this event in May," he said. "I think the golfers appreciate it. We're happy with it. We like the run of things."
And, as is obvious in Harrington's case, he is one who enjoys running things, too. No argument there.