The Loop
Overheard in the gallery on Sunday at the 2016 PGA Championship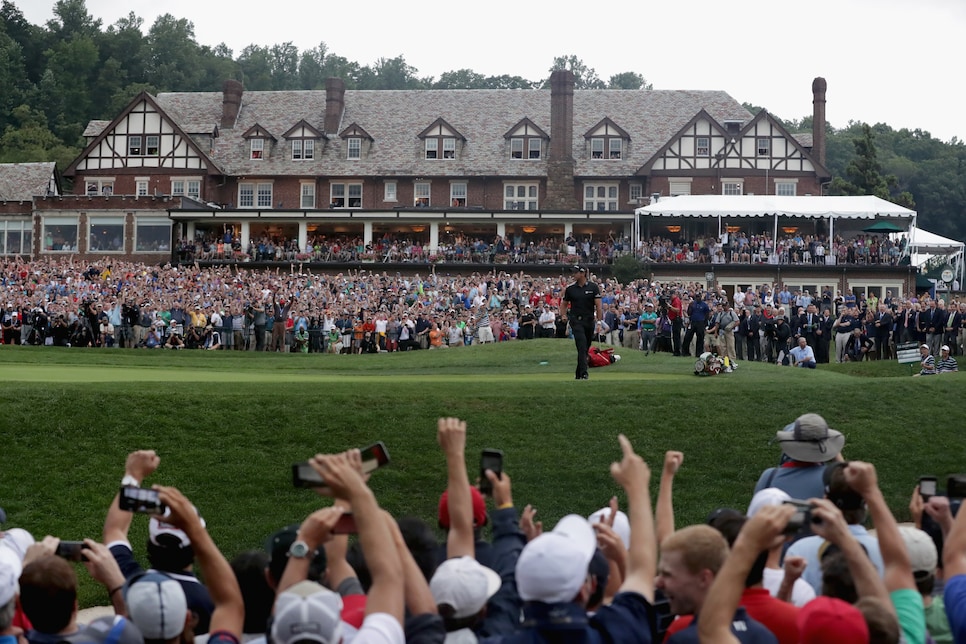 SPRINGFIELD, N.J. -- Oh, to be a fly on the wall as over-served New Jersey golf fans watched 13 hours of golf at Baltusrol Golf Club. Fortunately, we were. The crude humor didn't disappoint. There are some very knowledgable and gracious golf fans in the New York area. But there are plenty who left us scratching our heads at the dumb things they said. That's why Jersey seemed to be the perfect venue for a marathon day of golf Sunday.
A fan, his shirt and pants coated in mud, to his buddy: "I'm bummed out man. I could've done something totally cooler when I fell in the mud before. I have to live with that the rest of my life."
A guy to his group of friends, at the end of Sunday: "Man, golf is my favorite. Drink 1,000 beers, make hilarious jokes. Can we do this every Sunday?"
A girl to her group of friends: "We're using this as an excuse to go to Hawaii. It's apparently a great time to be out there. We're not even close with the bride or the groom. Not really sure how we got invited anyway."
A guy to his buddy, rushing to the tee to watch Jason Day tee off: "Think about how much we love golf? We're following the best at what we love to do in the world. Why wouldn't you want to do that?"
As Andrew "Beef" Johnston walks past, a guy to his friends: "Think "Beef" will let us pet his beard? How epic would that be?"
(That moment when you catch the tail end of a story) Guy to his group of friends: "Then we randomly found her Instagram and she was dating Afrojack. Like what the hell dude?"
Guy to his friends: "I'm actually surprised at how many good-looking girls there are here. I thought these things are big sausage fests." The response: "Low expectations. That's what keeps us going at night."
Guy to his group of friends: "They need to change this pants rule. I wanna see some legs out here." None of them disagree."
Guy to his girlfriend: "If I ever had the option of being best golfer in the world or CEO of a Fortune 500 company, I'd totally pick best golfer. These guys have it so good!"
Guy to friend: "That guy's cigar smoke is killing me." His buddy: "I'd prefer that to the mixture of body odor, sweat and manure mix we have going on."
__Guy yelling to his friends: "DUDE. You guys totally missed it. Tyrell [Hatton]came by." A friend: "Who was that? Pharrell? That's awesome!"
Belligerently drunk guy to a passing fan wearing a Notre Dame shirt: "Hey, Rocket Ishmail died. Go Miami!"
As the drunk walks away, the guy's wife: "I'm just amazed he can see straight enough to see the N.D. on your shirt. Her husband: "Assholes can see what they want to see."