The Loop
Overheard in the gallery during the weekend at Augusta
AUGUSTA, GA. -- Welcome to Augusta National, where a Adam Scott became the first golfer to win a major using a long putter. Oh, and he also became the first Australian to win a Green Jacket. A complete Masters experience involves eavesdropping on spectator chatter. Below, some of the odd exchanges we overheard in the gallery during the third and fourth rounds.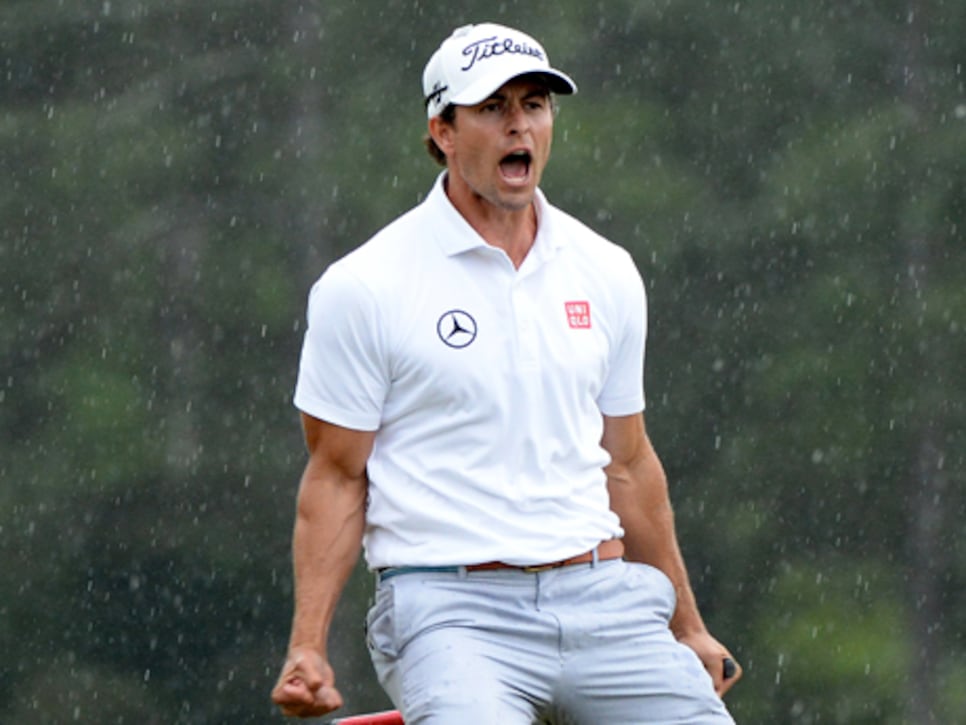 Adam Scott's reaction after making a birdie putt on the 18th hole. (Photo by Getty Images)
Man, pointing to the homes situated to the left of the tenth fairway: "See those homes over there? That's where Rory tugged his tee shot a couple years ago." Friend: "That's where the entire world fell in love with him."
Woman, to another: "Go, Dustin!" Other woman: "How do you know that's him?" Woman: "By the beautiful way he walks."
"How old is the kid on Langer's bag? Looks like he should be working on his World Studies homework." (Langer's caddie, Terry Holt, is slight and thin, but not young.)
Boy, asking for Tiger's score: "Do you know where Tiger's at?" Man, clearly tipsy: "He's standing right there."
Man, to another: "Look at that strut. it's the Tiger Strut. I'm gonna start walking like that." Friend: "No, don't."
Man, to woman: "A TV viewer called to point out Tiger's bad drop." Woman: "Really? Who do they call?" Man: "CBS, the USGA, people like that." Woman: "Losers."
Said in a deep, deep southern accent: "I was born and raised in Augusta, but this is my first time here. We was just at Amens Corner [sic] watchin' Phil go through. Man, it was better than the night I lost my virginity."
"This place makes you think about life and say, 'Man, you've GOT to do something different.'"
After Tiger's shot on the first hole of the final round ends up by a tree: "He's gonna pull off one of them drama shots now."
About Adam Scott, as he teed up his ball on the first hole of the final round: "He gets paid more to wear that shirt than I will in my entire life."
As soon as Adam Scott chips onto the first green, a man sings, "Check baby, check baby, 1, 2, 3."
Man, sitting in a green, folding chair: "I'm drinking beer and watching the best golfers in the world. Every day after this one automatically sucks."