The Loop
Report (including lunch) from the Olympic Club
Our golf course has just nine holes, and from the tips it's only a few inches longer than 5,500 yards, and if you want lunch you have to make it yourself. Nevertheless, the Sunday Morning Group managed to send two golfers -- Addison and Todd -- to the first United States Amateur Four-Ball Championship, which was held at the Olympic Club, in San Francisco, earlier this month: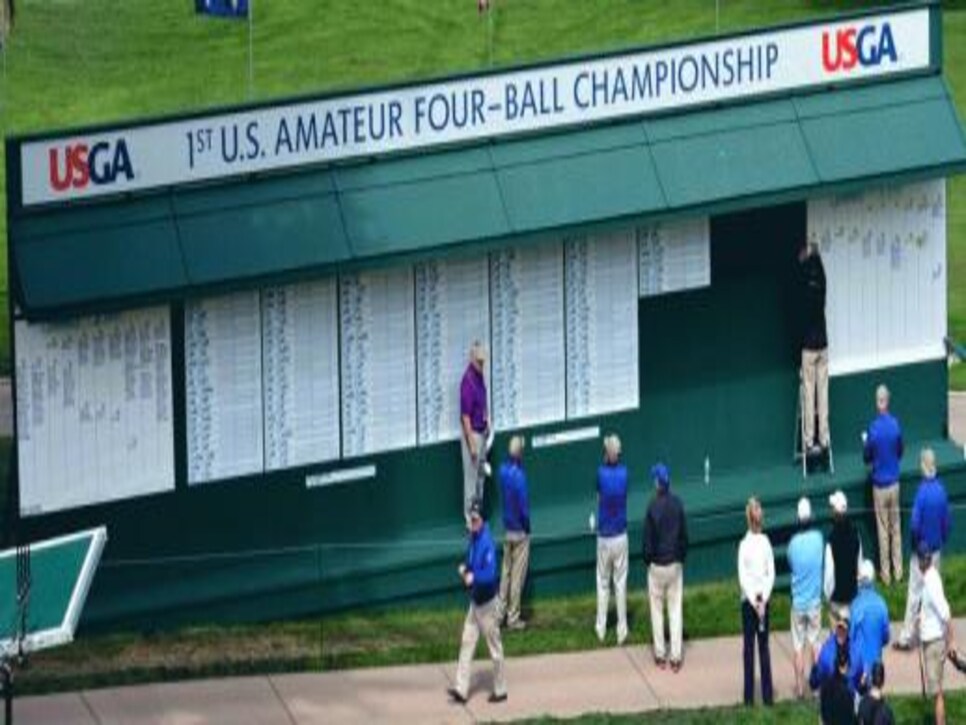 They qualified by shooting 65 at our state's qualifier, at Mill River Country Club, back in September. As a matter of fact, we really sent three golfers to Olympic, because the other team that qualified in our state (by shooting 66) was Ben D. -- an honorary SMG member by virtue of his having come on one of our annual golf trips to Atlantic City -- and his brother, Daniel. Addison, Todd, Ben, and Daniel played their practice rounds together. In the photo below, which was taken on Olympic's Lake Course, Ben is the one who didn't listen when the photographer told them not to look at the camera; the others, from left to right, are Todd, Addison, and Daniel.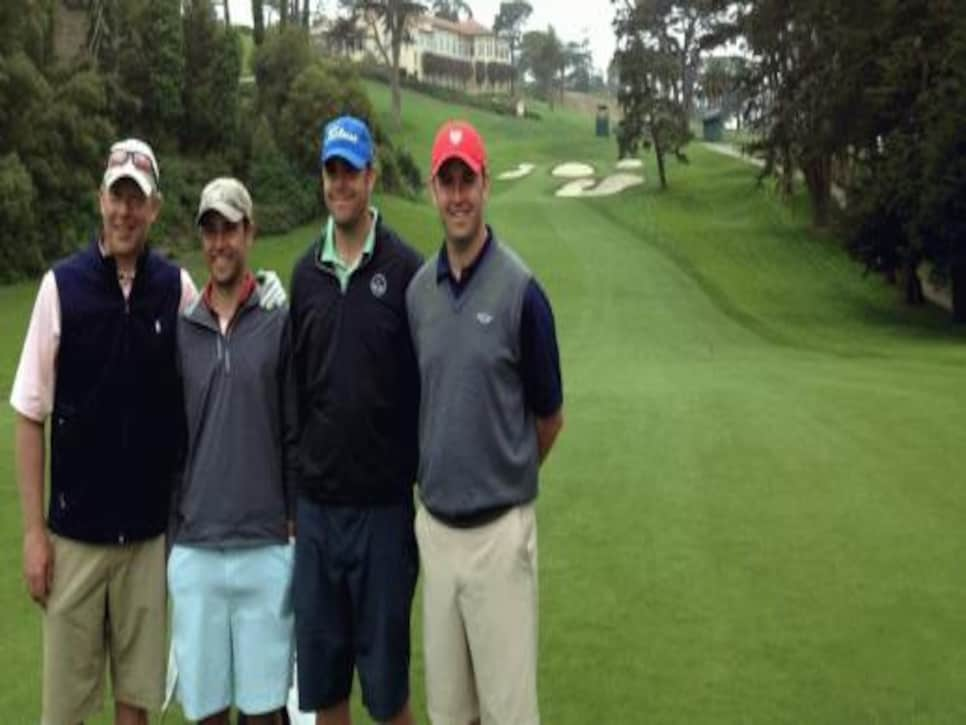 Addison and Todd didn't make it to match play, and Ben and Daniel lost their first match, but they all had a great time. Addison's mother, Vi, took lots of pictures. Here's Todd and his daughter Amanda, who caddied for him: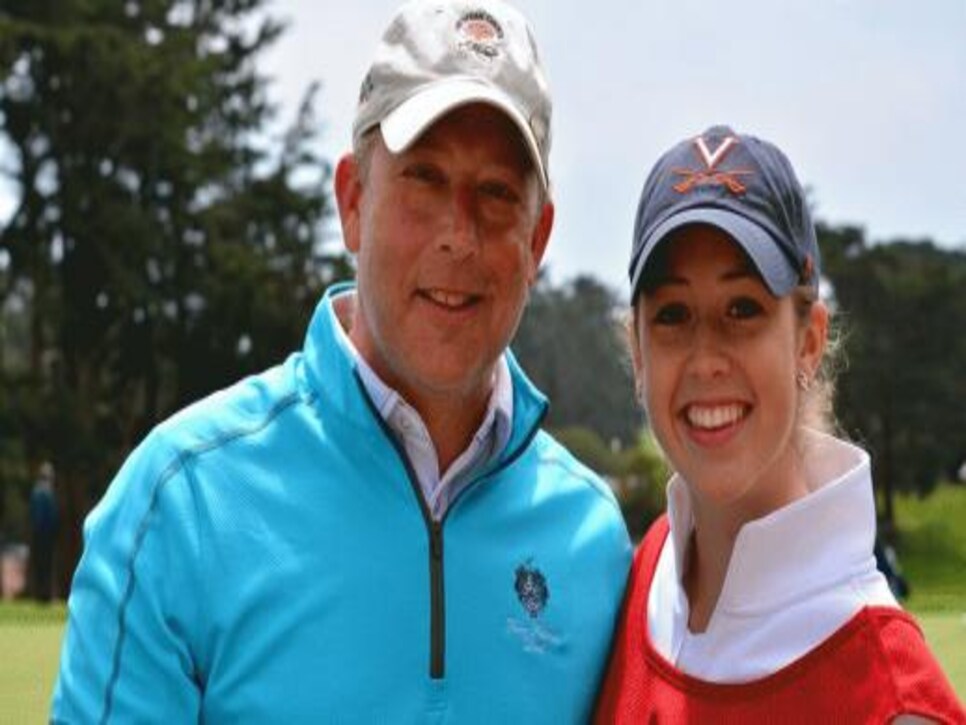 Addison's caddie was his Uncle Lance, who plays in our member-guest with Addison's father, Reese, and is therefore an honorary SMG member, too: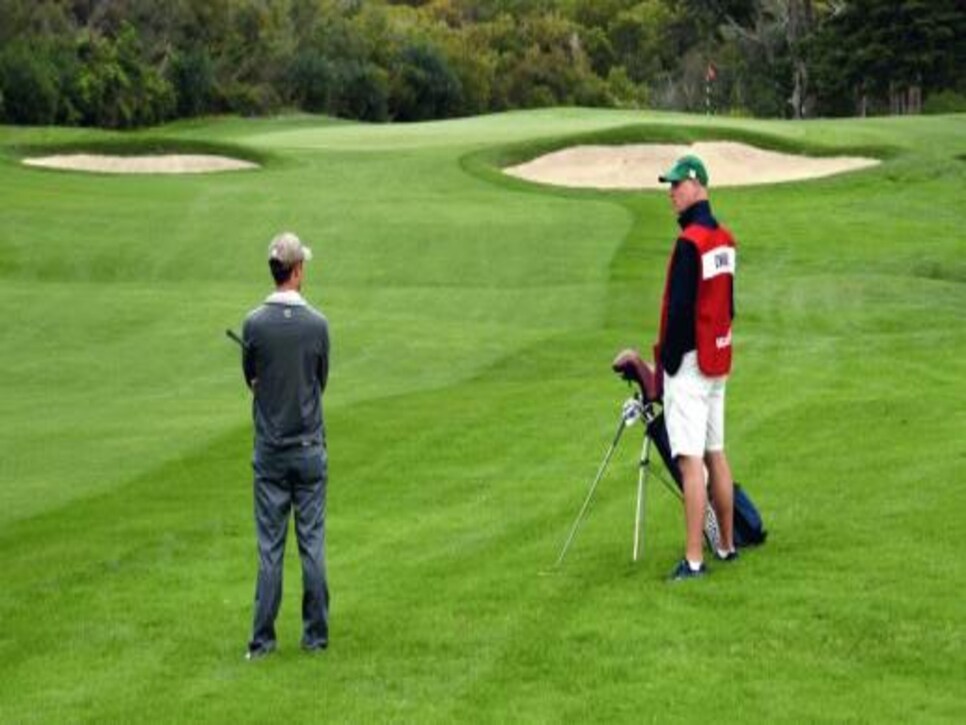 We were treated like pros by the USGA and the Olympic Club. They shuttled us back and forth between the hotel and the course, and we were able to use every imaginable amenity in the clubhouse: pool, steam room, hot tub, you name it. Everything was complementary except alcohol. We had our own lockers, and our shoes were always polished. The practice facilities were open from 7 to 7 each day, and the range balls were Pro V1xes. I should have just packed my sleeping bag and stayed in the locker room.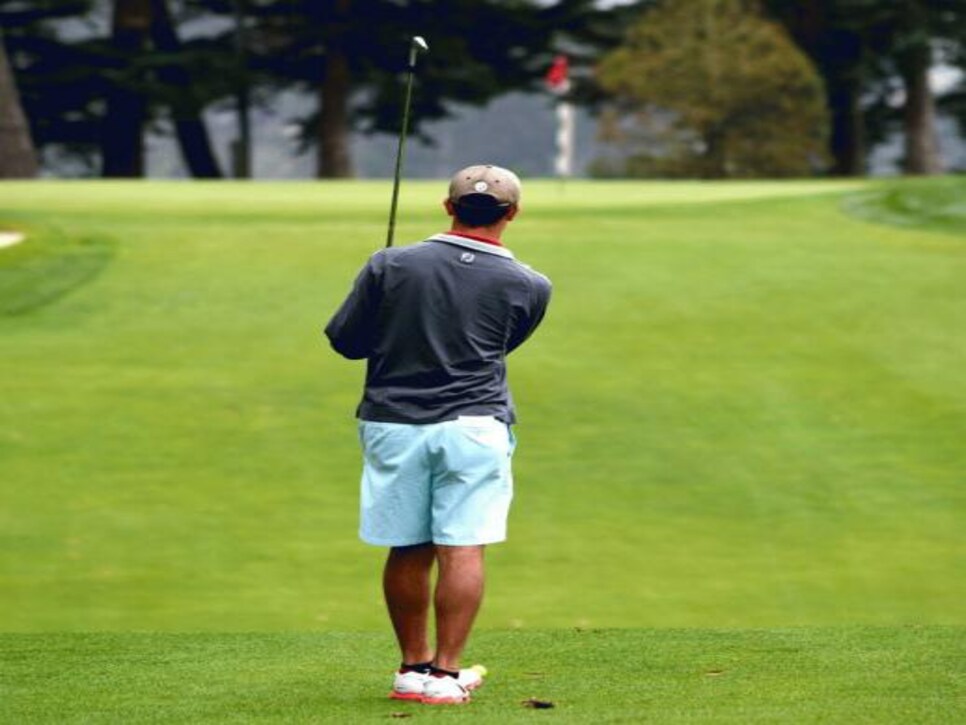 The trip gave everyone multiple opportunities to sample an Olympic specialty: the burger dog. It's a hamburger that's shaped like a hot dog and served on a hot-dog bun, and it was invented in 1950 by a man named Bill Parrish. It's served in a little bag, so you can eat it with one hand and not drip mustard on your shirt.
Todd says he's going to try to reproduce burger dogs the next time it's his turn to bring lunch for the Sunday Morning Group. Maybe add bacon?