The Loop
Our advice to Tony Romo: Quit football, concentrate on golf
The Dallas Cowboys -- in spite of just two playoff wins in 20 years -- endure as the most popular franchise in the country's most popular sport. And over the past decade, Tony Romo has been the wheel that makes "America's team" turn. Romo is synonymous with the club's famous star emblem, and with good reason. From his Cinderella story background, to prolific passing accomplishments and notorious postseason shortcomings, any conversation on the Cowboys has been a reflection of the quarterback, and vice versa.
Yet, Romo's enormous salary tag and mounting injuries -- along with the emergence of fellow field general Dak Prescott -- made Romo expendable this offseason. While it was expected, it was still jarring to see the Cowboys parting ways with their star field general, ending a 14-year relationship.
Though he'll be 37 years old this spring and hasn't played a full season in two campaigns, Romo remains in demand, with multiple teams lining up for his services. It can be tough to traverse such waters, especially after spending so much time with one team. As Romo and his family weigh their options, we offer our unsolicited advice:
Quit football and concentrate on golf.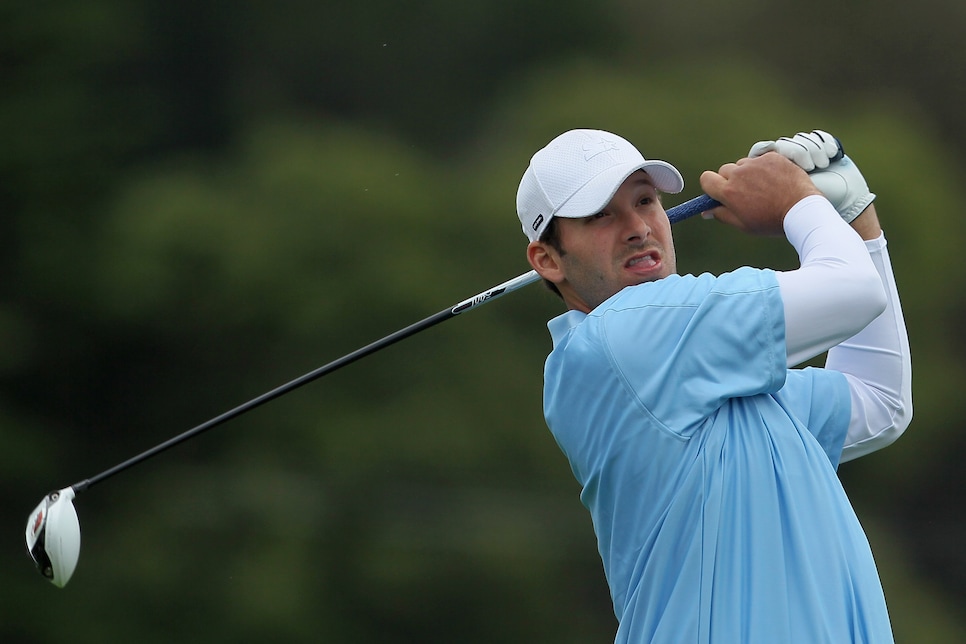 We aren't advocating Romo go that route, although the thought of the Pro Bowler manning your local course's pro shop, instructing/babysitting junior clinics and running the women's 65-and-over league delights us to no end. Rather, it's time the gridiron stopped interfering with his work on the greens. Romo sacrificed his game following back surgery, saving his body for the NFL season. That's all well and good, but football careers have finite lifespans. Golf resides on the other side of the spectrum, boasting no mandatory retirement. At least, potentially: if Romo keeps getting battered and bruised, he's running the risk of never teeing it up again.
Which is another reason to call it quits. With multiple past injuries to his back, shoulder, collarbone and ankle, Romo looks like the patient from Operation. We appreciate the man's toughness, but the human body can only withstand so much. You can fuel your competitive spirit without violence, a prerequisite that golf -- save for the occasional shank from your partner -- meets.
Sure, there's the matter of leaving millions on the table. But Romo's already banked high eight figures. Moreover, have you seen the possible destinations if he plays in 2017? Denver is filled with overpriced coffee shops and yuppies, the Houston Texans will always be the East Dillion Lions of the Lone Star state, and suiting up for the Washington Redskins means interacting with Daniel Snyder (no thanks).
Make no mistake, Romo's not going to transform into a professional-caliber golfer. John Smoltz is a better hacker than Romo, and we saw how those tour ambitions worked for the Hall of Fame pitcher. Conversely, Romo certainly has the talent and aptitude to be a club champion. Not exactly the same cachet as Cowboys quarterback, but close.
And even if he doesn't reach that level of performance, we can think of worse ways than spending your late 30s than on the golf course. Like playing for the Cleveland Browns.
We know you think you have another year or two in the tank, Tony. But sometimes the grass really is greener on the other side. Especially when that comparison involves football fields to fairways.