Golf Digest Schools
A simple key to boost your putting touch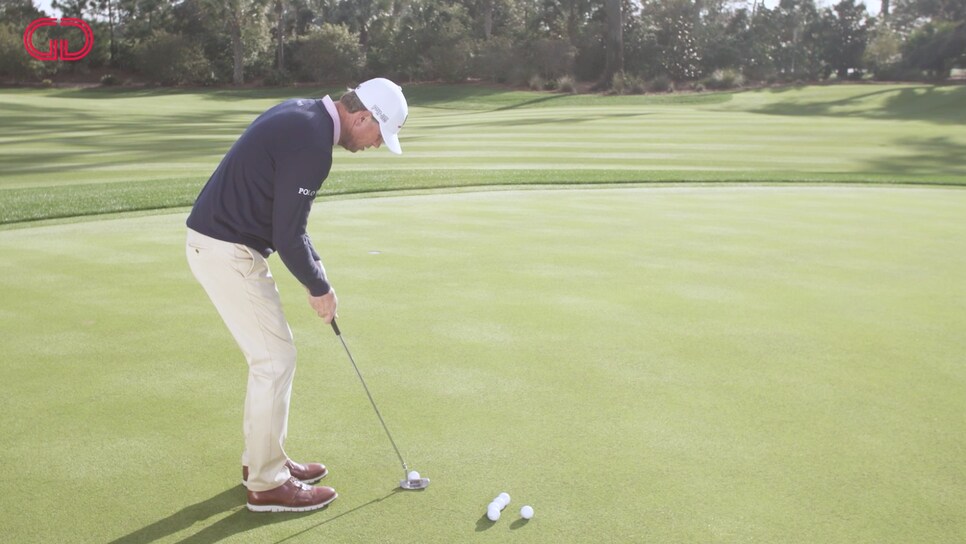 If you were to round up the best putters on the PGA Tour, you'd see a lot of different styles, but you might notice one common trait: When they stand over the ball, they spend most of the time looking at the hole. As a result, they're so dialed on speed and break—every putt looks like it's going in.
Most amateurs, by contrast, tend to stare down at the ground instead of where they want the ball to go. They might glance up at the hole once or twice, but with their eyes down, getting the pace and break right is really just a matter if chance.
As one of Golf Digest's 50 Best Teachers Todd Anderson explains in this video, nothing is more important than connecting to your target. Anderson, the director of instructor at the PGA Tour Performance Center at TPC Sawgrass, explains how: "I want you to use your eyes, use your sense of feel and touch to get out there, get into your target."
Anderson says the pre-putt routine should also include practice strokes that are true rehearsals. Once you determine the speed and where you want to start the putt, make a few strokes looking at your target. That target might be the apex of the break or the point where you see the ball entering the hole. Some golfers even trace the entire line to the hole, Anderson says. The point is, look "out there" to sharpen your feel for the putt.
Anderson explains how to putt like the pros in the video below:
Find out how to not only connect with your target, but how to build a full pre-putt routine in "3 Steps to Better Putting," now in Golf Digest Schools. In this 30-minute video series with Anderson, whose current and past students include Brandt Snedeker, Billy Horschel and Davis Love III, you'll learn what great putters get right, including the speed, the read and the roll.
"3 Steps to Better Putting" is one of more than 100 video programs in Golf Digest Schools. Take your game to the next level with instruction from the top teachers and players. And with the new Golf Digest Schools app, you can bring it all with you anywhere you go. Check out Golf Digest Schools, a revolutionary experience in golf instruction.