News
One-on-One With Natalie Gulbis
After working at Golf Digest for more than two and a half years, I finally got to chat with Natalie Gulbis, one-on-one, last Friday. I hate to admit this, but I'd always thought Gulbis was all glitz and little substance. Not anymore. Our 15-minute conversation shattered my presumption
Gulbis hosted an Evian event in New York City, just hours before flying out to France for the Evian Masters, which starts Thursday. The event, held at the posh Hudson Terrace, served two main purposes: to showcase Evian's latest commercial, which, with nearly 15 million views on YouTube, has gone viral; and to celebrate this week's primo LPGA Tour stop, which carries a $3,250,000 purse, one of the highest on tour.
Gulbis and I found a comfy sofa on an outdoor terrace, and we touched on several topics. She began by explaining the state of her golf game. Last year, she played with a ton of pain in her lower back, so she and Butch Harmon changed her swing during the off-season to ensure it'd inflict minimal impact on her back. So she now has a more quiet lower body to restrict over-rotation during the backswing, and she lifts her head right after impact, a move that Annika Sorenstam made famous.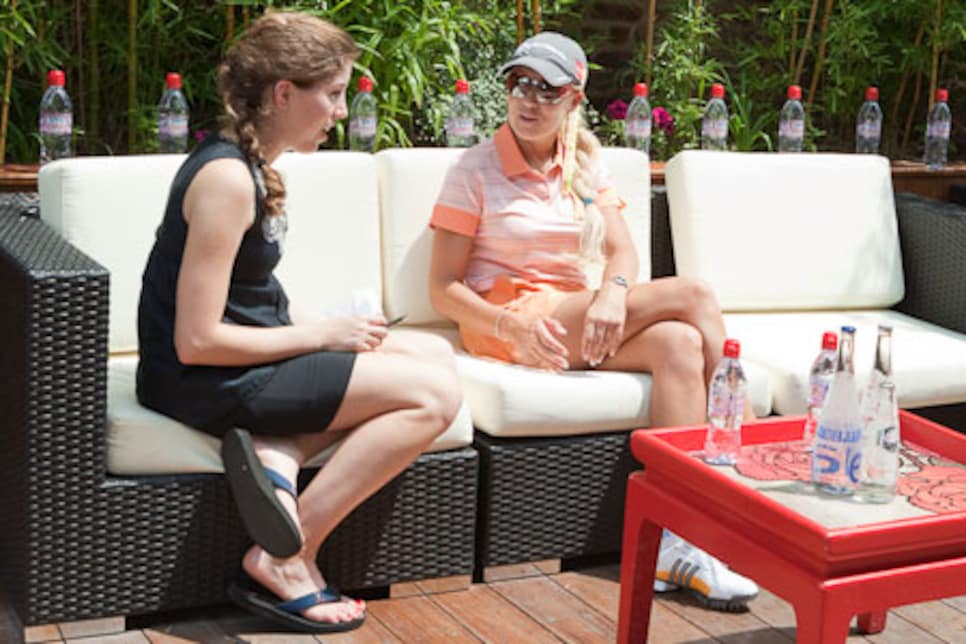 Then she shed a little light on the events that transpired a couple weeks ago, when several LPGA Tour players, including herself, signed a letter that called for Carolyn Bivens' resignation. She reiterated how much she likes Bivens, and that this certainly wasn't a personal attack. But she's proud to have been part of a movement that led to major changes among those who run the tour, and is pleased with what has happened. With a smile, she happily said that things are already turning around.
She was spot-on when she predicted that events will quickly start coming back: the LPGA announced yesterday that they signed a two-year contract with Sports Management Group to create the Acapulco LPGA Classic starting in 2010. The tournament, which will be played next spring at Tres Vidas Golf Club in Acapulco, will carry a $1.3 million purse.
Here's to hoping this becomes prevailing trend.