The Loop
One day provides Andy Zhang years of experience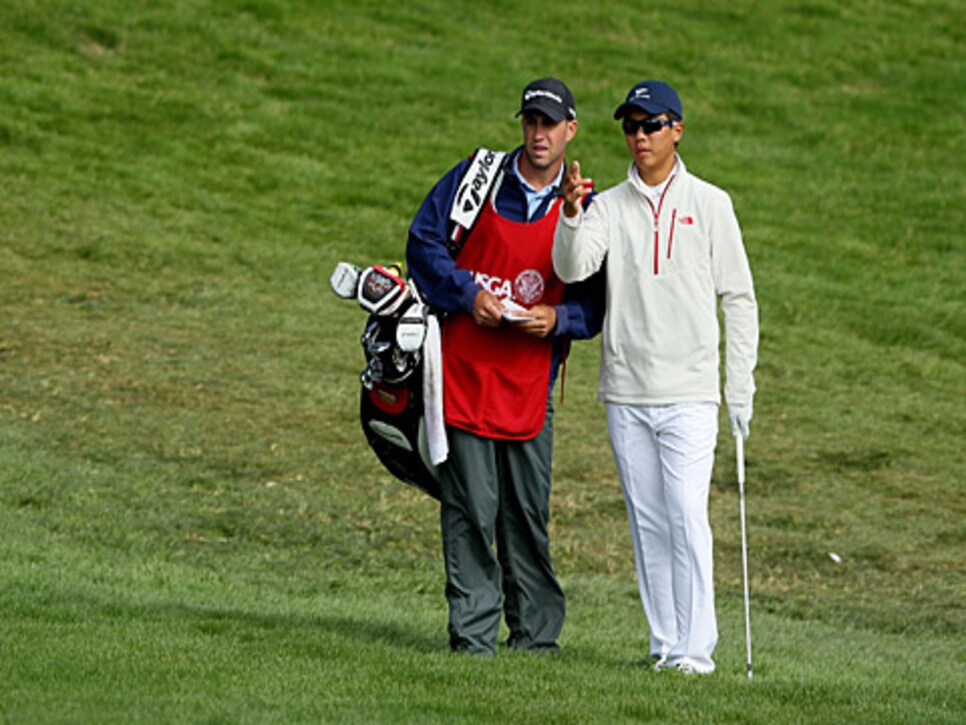 Andy Zhang with his caddie Chris Gold maneuvered their way around Olympic for an opening round 79. (Photo: Getty Images)
SAN FRANCISCO -- Andy Zhang stood in the 18th fairway at Olympic Club. To the flagstick, he had only 133 yards. But such is Olympic's extreme topography that the kid seemed to be at the bottom of an abyss.
To escape, he flew a pitching wedge toward the sun. That shot came to rest 15 feet from the hole -- but in the fringe, on a slippery slope above the hole, and sitting down in an indentation. Now came the real terror.
When struck, the putt would bump up into the air. Rolling, it would have topspin. On Olympic's mountainsides, the ball might not stop until it passed across the Golden Gate bridge. A cautious player would have left the flagstick in as a backstop in case a failure of nerve propelled the putt downhill at hyperspeed.
Andy Zhang is 14 years old.
Cautious isn't what kids do.
Zhang nodded to his caddie, Chris Gold, to take the stick out.
Then he knocked the putt in.
"If it doesn't go in," the caddie said later, again able to breathe, "it might go off the front of the green."
"Luckily," Zhang said, now laughing, "I caught the hole."
So on the first day of the rest of his life, 14-year-old Andy Zhang stood at the 18th green's edge and heard a noise he'd never heard before, a sustained cheer from thousands of fans clinging to hillsides and perched on bleachers. All day, he'd heard encouragement from the gallery. But of the roar at 18, he said, "I think that was the loudest one."
He said it the way a shy 14-year-old would, tentatively, not sure how far to go, the words coming softly. Only when he speaks, in fact, does he seem so young. He wears sunglasses that hide a kid's eyes. He's 6 feet tall, 185 pounds. To see him bring a driver against a tee shot is to see an adult at work, or, as a playing partner, the veteran pro Mark Wilson, said, "He looks older than he is. Hey, when I was 14, I was 5-4 and 135."
Zhang shot 79. Not good or bad. He beat a handful of professionals. He was one shot behind Bubba Watson. A better measure may be made by imagination. Imagine being 14 years old. Imagine you moved from Beijing to Orlando four years ago, knowing no one, not knowing the language, leaving behind the only world you knew for one you must learn. Imagine coming to the first tee at the U.S. Open. And you hear someone on a loudspeaker say, "Now .... the 8:21 starting time ... from the People's Republic of China . . . Andy Zhang." What do you imagine thinking at that moment? Here's what Zhang said he thought: "Just please don't hit a hundred-yard slice."
He hit a good drive, though into the left rough, 200 yards from the green. He had a decision to make: a full 6-iron from that iffy lie? Or a wedged escape to the fairway? The caddie, Gold, 25, an accomplished amateur player, wanted the careful play. But before he could get back to the bag -- he was checking yardage -- Zhang was over the ball with a 6-iron. He hit it so badly left that it scooted under bushes, unplayable. "When Andy's nervous," Gold said, "he gets quick."
That shot led to a triple bogey. At the second hole, a double bogey. The third, fourth, fifth -- more bogeys. Suddenly, the kid was eight-over par through five.
But at the 489-yard, par-4 sixth, Zhang finally hit a perfect drive, 282 yards, just short of a fairway bunker. From there, a 6-iron on. It was his first fairway hit, his first green in regulation -- after one hour and 39 minutes on the course. Zhang and Gold did a fist-bump celebration of the day's first par. Then, on the short seventh, Zhang lobbed a wedge from deep rough to 10 feet and made the birdie putt. Now it was fun.
"And then," he said, "I kind of kept playing golf a little bit."
More than a little bit, as he showed on the 11th. There a drive into the right rough left him behind a cypress tree with a low-hanging branch. The only shot to the green was a screaming fade, the kind of shot pros master only after years of failure. "A 7-iron, 176 to the hole, 150 to the front," Gold said, "and he did it perfectly." Two putts, a grown-up's par. After a dispiriting double-bogey at the 16th, Zhang was again in a kid's hurry on the par-5 17th. There, from the left rough, he thought to hit a 9-iron over a tree -- but this time, Chris Gold caught him with the club in his hand.
"Can you get it over that tree?" Gold said. A cypress stood tall 20 yards ahead.
"Wedge leaves you 130 in," Gold said.
"I like wedge straight at that bunker on the right," the caddie said. He later said the 9-iron was too much, that the risk the shot might roll into that bunker wasn't worth the reward of maybe another 10 yards.
Making a grown-up's decision, the kid handed the 9-iron back and accepted the wedge. Perfect layup, easy par.
The birdie at the 18th meant Zhang played his last 13 holes in one-over par. "He was never scared all day, just frustrated," Gold said. "If he'd been scared, he'd have shot 90."
Certainly, Zhang didn't much care about the numbers. The moment mattered more.
"I never had that big a crowd following me ever," Zhang said. " And I never played on a course like this before." What he liked most was walking the same mountainsides with Tiger and Mickelson and Bubba and all "those other guys that I watched on TV growing up."
That, of course, was way back in those days when he was 11 and 12 years old.