As you wake up Saturday, here's everything you need to know about the third round of the men's Olympic golf tournament
Look, he's no Hideki Matsuyama in Japan. That's for sure. Before these Olympics in Tokyo, there were no doubt millions of sports fans in the host country who had no idea that American Xander Schauffele's ties run deep here. How would they, considering that mouthful of a German surname?
But Xander's love for and appreciation of the nation and its life principles are clear. They have been imparted to him through the years by his mother, Ping-Yi Chen, whose family emigrated to Japan from Taiwan when she was young. The golfer's maternal grandparents still live in Tokyo.
In that, Schauffele carries his own weight of expectations, along with some enormous hopes into the final round of the Olympic men's golf competition. The World No. 5 had nothing close to his best stuff on Saturday, fighting a pull hook for much of a steamy day at Kasumigaseki Country Club. He didn't hit a fairway until the eighth hole, but the putter more than made up for a number of gaffes, and Schauffele shot four-under-par 68 to get to 14 under and hold a one-stroke lead over Matsuyama heading into a final day of competition that will end with a gold medal draped around someone's neck.
The leader board is all you would want for an international championship. The 27-year-old Schauffele is heading for his first Ryder Cup appearance this fall and has accomplished much in his young career, other than nailing down some close calls in majors. Mexico's Carlos Ortiz, 30, who is two behind, can win the biggest title in the men's golf history of his country. Same for Colombian 28-year-old Sebastian Munoz, who is only three off the lead. Then there's 44-year-old Englishman Paul Casey, at 12 under, trying to give Great Britain a repeat of men's gold, following Justin Rose's triumph in Rio. And after a 67, Ireland's Rory McIlroy lurks at three behind.
Oh, and there is that guy who won the Masters in April and made his already golf-hungry country simply ravenous. Matsuyama, admirably, has somehow overcome the pressure to contend. He lost a bit of steam on the back nine in the 100-degree heat on Saturday, but made a nervy par putt at 18 and held on for a 67 to stand one back.
The only melancholy thought at all is how tremendous the atmosphere would be around Kasumigaseki if fans were allowed on-site. The Masters-Olympic double would be incredible and memorable, but even more so accompanied by roars.
Schauffele could expect to be getting his share of attention. To close the third round, the San Diego native hit his approach stone dead to the hole on the par-4 closer and made a critical birdie that put him alone in first. In a nice twist of drama, Schauffele will again be paired with Matsuyama in a rematch of the Masters final round in which the American battled with the eventual champ until making a triple bogey at the 16th.
The Olympic circumstance, leading by one, will definitely test whether Schauffele has overcome the underdog mentality that he believes has held him back in majors, in which he's got six top-fives but no wins.
"It's a matter of reprogramming my brain to think of myself as ahead rather than behind," Schauffele said before June's U.S. Open, where he tied for seventh. "When you're leading a tournament, that can't be a new realm you're in."
It's certainly new in his first Olympics. Given his wobbly third round salvaged by the flatstick, it will be fascinating to see how he responds.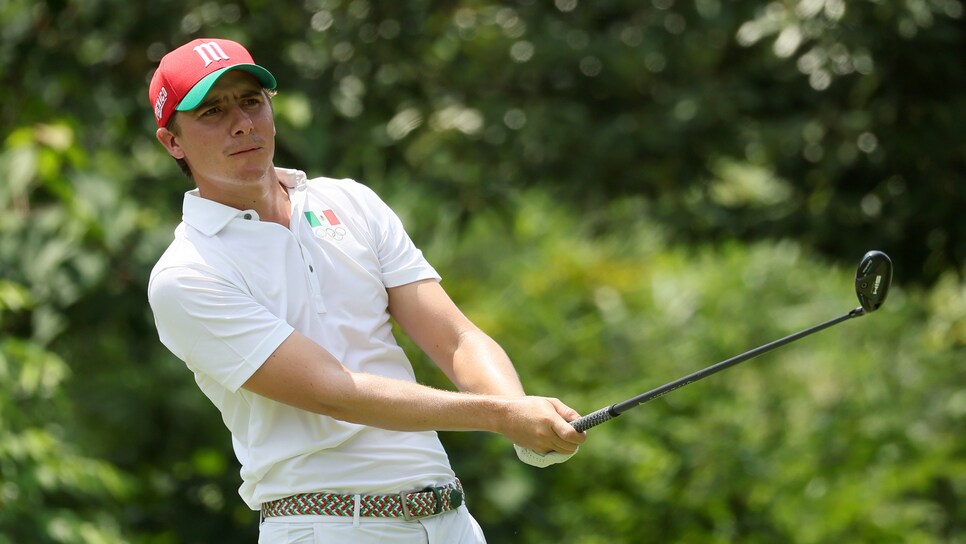 Carlos Ortiz watches his shot from the second tee during the third round of the Olympics.
Mike Ehrmann
Mexico in the hunt for gold
The woman's name was Soraya Jimenez, and Carlos Ortiz remembers her. In 2000, Jimenez, a 5-foot powerhouse, became a national hero in Mexico when she won a weightlifting gold medal in the Sydney Olympics. The triumph was historic. No Mexican woman had captured gold, in any sport.
Sadly, Jimenez died of a heart attack in 2013 at the age of 35, but the memories of her live on among her nation's people. Ortiz knows this, and it's why his shot at winning gold in the Tokyo Olympics means so much.
"That's the beauty of these Games," Ortiz said. "I never followed weightlifting, right, but I remember this girl [Jimenez] that won a gold medal for Mexico like 10 years ago, and I still remember her name. … And I think that's why everybody gets excited [when] you're representing a country. And being from Mexico, we don't get really [earn] a lot of medals. It's huge when you can have an accomplishment like that."
Going into these Olympics, Mexico had won a total of 71 medals since its first Olympics in 1900—13 of them gold. The country's biggest medal sport: diving.
Ortiz and Abraham Ancer (66 in the third round, nine under overall) both have a chance to deliver a medal or two to Mexico in a sport whose greatest star from the country is a woman—Lorena Ochoa.
"I think that's awesome," Ancer said Saturday of the opportunities he and Ortiz have in front of them. "We play every single week out there on the tour, so I feel that we push each other quite a bit, we motivate each other. We both came in here playing some good golf, and throughout this year we played really solid. It's not a surprise that he is up there and, yeah, obviously you want to stay up with your peers and your buddies, so it would be so some if we both can just finish it off with a great round and see what happens."
Golf at the top level has come a long way in a country with few public courses that aren't part of resorts. Ortiz already is a trailblazer. When he won the 2020 Vivant Houston Open, he became only the third Mexican-born player to win a title on the PGA Tour, following Victor Regalado and Cesar Sanudo. Only two Mexicans have played in the Masters—Carlos and his younger brother Alvaro.
Ancer, 30, born in Texas and raised in Mexico, has yet to win on the PGA Tour, though he's got one sizeable international title—the 2018 Australian Open.
Somewhere, Soraya Jimenez will be rooting for both of them.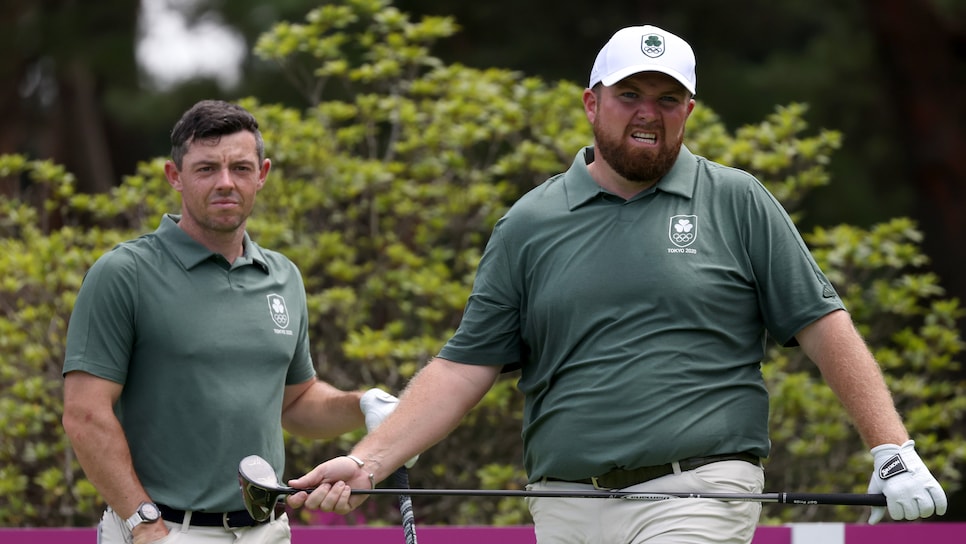 Shane Lowry (right) and Rory McIlroy have a chance to win gold for Ireland.
Chris TROTMAN
Irish teammates McIlroy and Shane Lowry were grouped together for the third round, and despite looking drab in shirts that could be described as militaristic green-gray, they've given their own land a chance for medals.
McIlroy missed some opportunities, but still shot 67, and he made an incredible par save at the par-4 11th with a 30-yard draw around trees after driving onto the tee of another hole.
Lowry, trying to win his first title of any kind since taking the 2019 Open Championship at Portrush, had tree troubles of his own. His ball stuck in a Japanese pine after a wayward drive at the 12th. Lowry was fortunate enough to spot and identify his ball, and so he didn't suffer a penalty and eventually saved par. He shot 68 to be four back.
Playing alongside McIlroy, Lowry had an interesting observation about a change in the demeanor of his countryman, who made it fairly clear that he wasn't all that excited to be in Tokyo at the Games' outset.
"You can see Rory as the week's gone on the more excited about the Olympics he's getting and the more it means to him," Lowry said. "So I'm sure he's going to go out there all guns blazing tomorrow and try to win a medal and I'll do the same."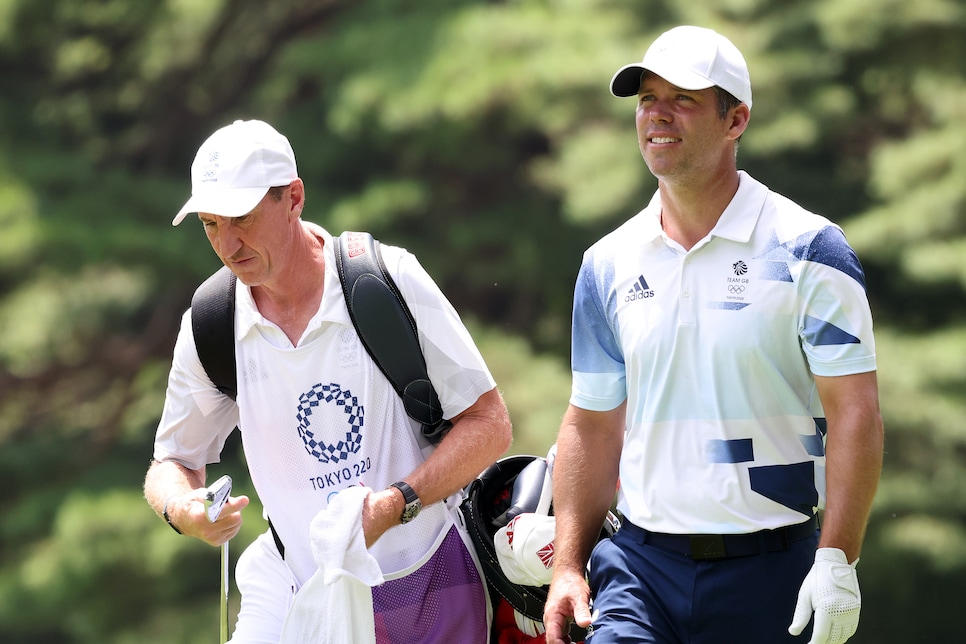 Paul Casey and caddie John McLaren walk the fifth hole during the third round.
Chris TROTMAN
As an oldster in the field, Casey has embraced all that the Games have to offer. He's stayed at the Olympic Village and gone on bike rides to soak up the atmosphere. It's been refreshing to see, when so many of the players in and around his era seem a bit jaded about the importance of the competition.
All the better, Casey has a chance to deliver on what could be considered the greatest victory of his career. After a 66 in the third round, he's only two shots back and can match his longtime friend and rival Rose as Great Britain Olympic champs. And unlike Rose, Casey doesn't have a major triumph on an otherwise distinguished résumé.
Casey recalled on Saturday that Rose's former caddie, Mark "Fooch" Fulcher, was tearful when he called to congratulate him on making the Olympics—that's how much it meant to him.
"He might say it's the greatest thing he's ever done with Justin ahead of [winning] the U.S. Open," Casey said. "I don't want to put words in his mouth, but that's something he said on the phone.
"Tomorrow's a big deal. I think it gets knocked quite a bit, doesn't it? It's like why do we need [Olympic golf], all this kind of stuff. But the guys that are here are very aware what this means. … To the gold medalist [on Sunday], it's massive."
Not to be counted out is Englishman Tommy Fleetwood, who is four back and could win if he somehow duplicates the day's best 64 that he fired on Saturday.
If not for Schauffele, golf could be another sport in which Americans have been more disappointing that inspiring in these Games. Patrick Reed was the top U.S. finisher in 2016 with a T-11, and that might be the best an American besides Schauffele can hope for.
Reigning Open Championship winner Collin Morikawa bounced back with his best score of the week in the third round (67), but he's tied for 17th, seven shots off the lead. Reed, who became a participant when Bryson DeChambeau tested positive for COVID-19, is tied for 38th, as is Justin Thomas.
The trailing American pair are 10 shots back, but somebody actually asked Thomas if he thought he still had a shot. He delivered the bemused answer that it deserved.
"I shouldn't say I don't have a shot," he said. "I'll have to shoot something in the 50s, but, no, the damage has already been done."