As you wake up on Thursday, here's everything you need to know about the second round of the women's Olympic golf tournament
Say what you will about Nelly Korda "disappointing" nine-under 62 on Thursday during the second round of the women's Olympic competition. Yes, a double bogey on the last hole hurts when a birdie could have given the 23-year-old American just the second 59 in women's pro golf history.
Even so, Korda's still impressive performance—nine birdies and an eagle in an 11-hole stretch—left the World No. 1 with a commanding four-stroke lead over a trio of golfers after 36 holes.
Just how commanding is the question that lingers at Kasumigaseki Country Club, where it's unclear whether the tournament has two rounds remaining (as scheduled) or one.
A tropical storm is forecasted to hit the eastern coast of Japan on Saturday during the scheduled final round, bringing with it scattered thunderstorms and a 70 percent chance of rain. The forecast calls for the storm to linger on Sunday, with 100 percent chance of rain as well as sustained winds of 30 miles per hour.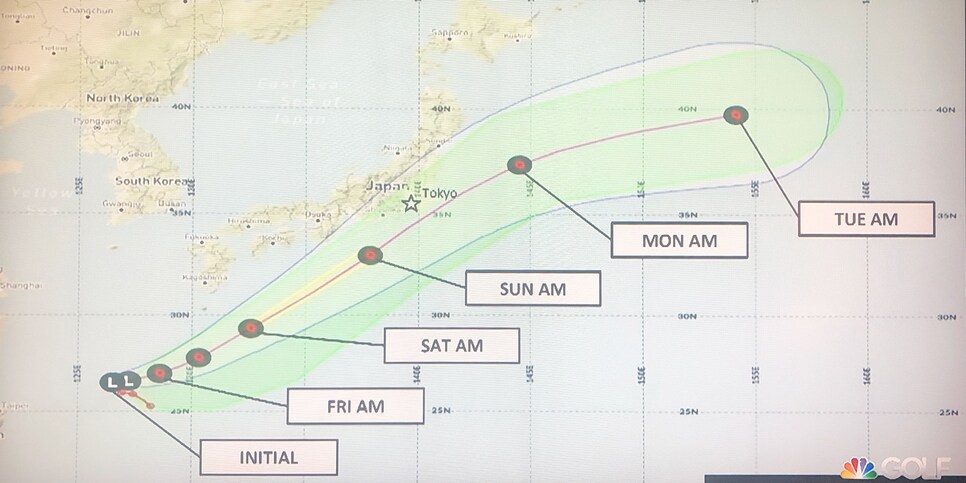 Despite the projected weather, tournament officials are hoping to play all 72 holes and have set up a schedule that attempts to accomplish that task (per Olympics rules the tournament has to be completed before Sunday's closing ceremonies). On Thursday, they released this notice to players:
"We continue to track the tropical storm which is expected to affect this area beginning Saturday through Sunday. If weather permits Saturday, we plan to start the final round, the fourth round off split tees on one and 10 at 6:30 in the morning here in Japan with leaders going off last off No. 1. If we do not complete 72 holes on Saturday, we do have the option to finish 72 holes if weather permits on Sunday. If we are unable to start or complete 72 holes, this competition will revert to a 54-hole event."
A week ago, another storm threatened the men's tournament only to push off the coast and cause no interruptions. That said, the predictions for this weekend are more ominous.
So it is that players will start Friday's round (where split tees will be used to try to help players start earlier and beat the predicted 96-degree heat) with the uncertainty as to whether it will be the third round or potentially the final round. It's as if the players are in the Olympic pool set to swim the 1,600-meter freestyle only to be told mid-race whether the final four laps will happen or not.
"I'm going to have the mindset that it's going to be a 72-hole [event] and whatever happens, happens," Korda said. "I'm not going to set my mind on that, it's just going to be less than 72 because right now it is [72 holes]."
While that ultimate question will linger, here are four other takeaways from the second round.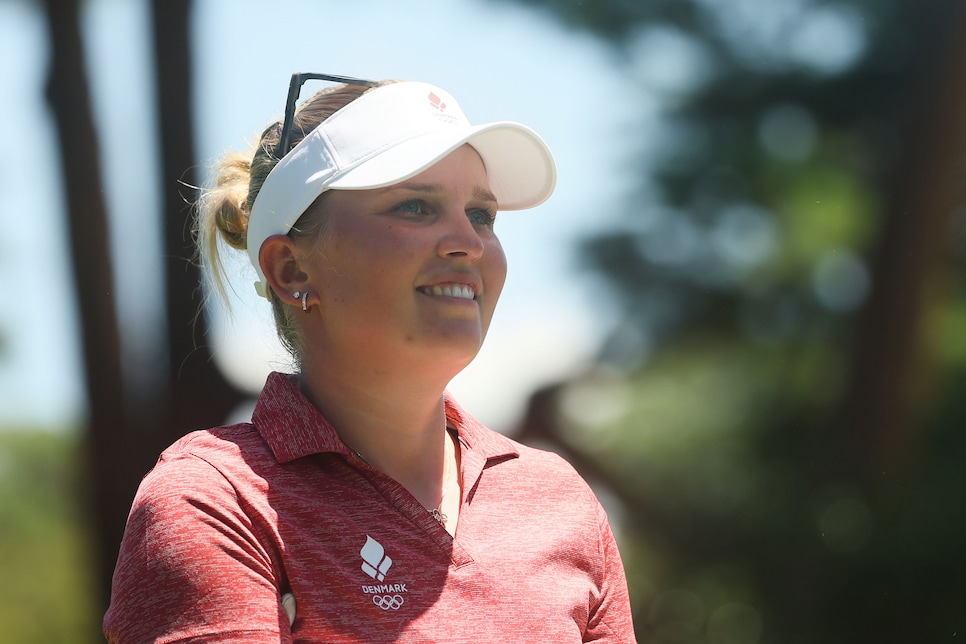 Nanna Koerstz Madsen smiles after posting a second-round 63 to move into a tie for second, four shots back of leader Nelly Korda.
Mike Ehrmann
The foursome of golfers from South Korea and the United States received the majority of the hype heading into Tokyo, and understandably so. Four of the top six players in the world are South Korean and the Korda sisters alongside Danielle Kang and Lexi Thompson provide a lot of firepower for Team USA.
Yet the best country through 36 holes is Denmark, with Nanna Koerstz Madsen (63 in the second round) and Emily Kristine Pedersen (64) combining for 15 under Thursday with both players tied for second heading into the third round.
"It's amazing that two Danes are at the top," Pedersen said. "I think it's a really good showcase of golf for Denmark and for women's golf in Denmark and super happy that we're both up there."
Koerstz Madsen did most of her damage on the front nine, breaking out to six under through eight thanks an impressive display of putting. "I knew I had the game," said the 26-year-old. "I knew my putting was good if I just trusted it. So it just all depends that it all adds up at once and it kind of did today."
Koerstz Madsen played in the Rio Olympics with a strong T-13 finish. Pedersen, though, is making her Olympic debut, relying on her experience competing with her countrywoman to help her climb near the top of the leader board.
"We kind of always have been pushing each other competing," Pedersen said of her relationship with Koerstz Madsen. "I think that's one of the reasons we're both so good and it's been a good environment to grow up in, having someone to push you a lot."
No one from Denmark has ever won on the LPGA Tour. An Olympic medal might be the confidence boost for one of the two to change that.
The medal race is a doozy
While Korda is out front, and the threesome of Pedersen, Koerstz Madsen and India's Aditi Ashok are in second at nine under, 23 players are within five shots of that threesome as the race for silver and bronze medals starts to play out.
First-round leader Madelene Sagstrom, sitting at eight-under overall and in solo fifth place after a shooting a 68 to follow up her opening 66, is the only player in the top five with a victory on the LPGA.
Mone Inami of Japan is T-6 with World No. 2 Jin Young Ko of South Korea at seven under. Ko played with Korda over the first two rounds and enjoyed seeing the record performance in person. "It looks easy," Ko said. "I mean she's playing like birdie, birdie, eagle, birdie, birdie."
In the chase pack are some prominent players in the women's game. They include past LPGA winners Hannah Green (six under); Lydia Ko (five under); Jessica Korda, Hyo-Joo Kim, Danielle Kang, Sei Young Kim, Matilda Castren, Wei-Ling Hsu, Nasa Hataoka, and Shanshan Feng (four under). Again, given the uncertainty as to whether there are just 18 holes left to play or 36, look for some of these veteran players to be fairly aggressive on Friday in case that's the last round of the tournament.
No longer the dominant weather-related storyline, the heat still impacted play in Round 2. Lexi Thompson's original caddie, Jack Fulghum, withdrew after the 15th on the first round and did not return to the bag Wednesday. Instead, former PGA Tour caddie Drew Hinesley, on-site in Tokyo working for NBC this week, picked up the bag.
Lexi Thompson and caddie Drew Hinesley walk up the 17th hole during the second round on Thursday. Hinesley replaced Jack Fulghum, Thompson's regular caddie, who suffered from heat exhaustion on Wednesday.
Mike Ehrmann
Thompson shot even-par Thursday and is T-39 at one over.
The Olympic committee discussed trying to play 27 holes over the second and third days of the Olympics to squeeze in 72 holes before any potential weather delay. However, that was shot down quickly from the unrelenting heat at Kasumigaseki Country Club, with the heat index getting up to 110 degrees for a second straight day.
"I think they made the right decision because it is way too hot," Sagstrom said. "I would have been fine with it if it was cooler, but it's just, everyone's health is more important than playing golf."
Friday's forecast calls once more for temperatures in the high 90s with the heat index pushing into triple digits. As a concession, players will play off the first and 10th tees in the third round to try to get their rounds finished as early as possible.
Past medalists lurk near podium position
Rio's top trio, Inbee Park, Lydia Ko and Shanshan Feng, played together in the opening two rounds in Japan and hoped to relive their successes from 2016. And each has done so to varying degrees. Park sits tied for 24th, while Ko (T-9) and Feng (T-11) have a more realistic chance to grab another medal.
Feng shot the low round of the group on Thursday, celebrating her 32nd birthday with a bogey-free seven-under 64. "I knew that I would have to make something happen," Feng said, knowing the tournament might get reduced to 54 holes. "I would have to go low to try to make something happen."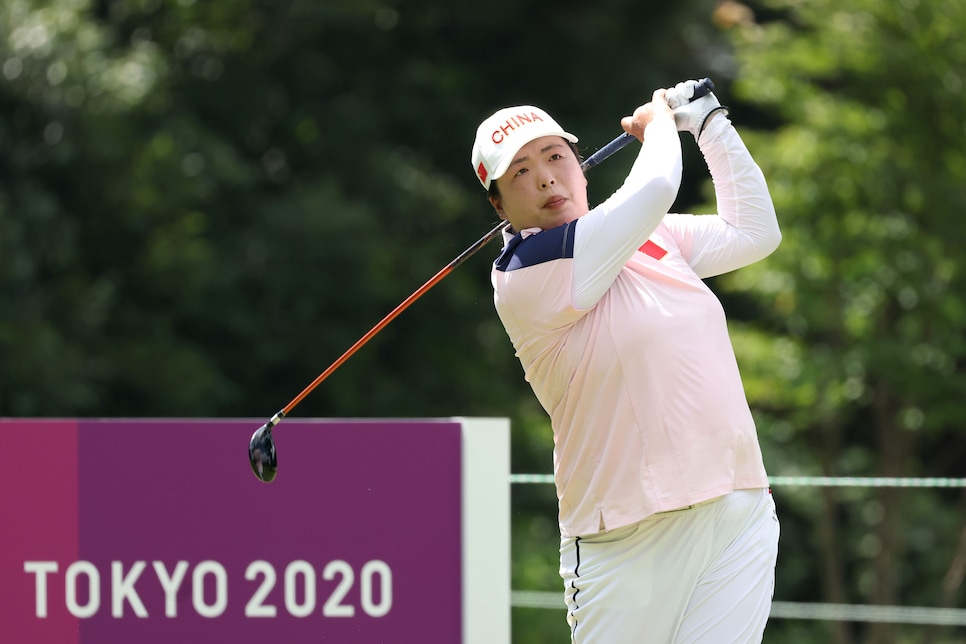 China's Shanshan Feng shot a 64 on Thursday as she celebrated her 32nd birthday.
Chris Trotman
Ko is in the best position of the previous medalists, shooting a four-under 67 to move into the top 10. Park shot a one-under 70 for her sixth consecutive round under par in the Olympics. The LPGA Hall of Famer is 10 back of Korda but only six outside a medal spot.
Like everyone in the field, Park's chances to medal vary significantly if the tournament heads to its final round tomorrow or if another 36 awaits the field.