RYAN LOCHTE & CULLEN JONES
Lochte, 31 (above), and Jones, 32, are swimming gold medalists who are lured by golf when they're not training in the pool. Lochte, of Daytona Beach, has won 11 medals (five gold) in three Olympics, including gold in the 400-meter individual medley and the 4 x 200 freestyle relay at London in 2012. Jones, (below) of Charlotte, has four medals, including a gold in the 4 x 100 freestyle relay at Beijing in 2008. Lochte plays more golf than Jones, but both see the game occupying bigger parts of their lives once the Summer Games in Brazil are over.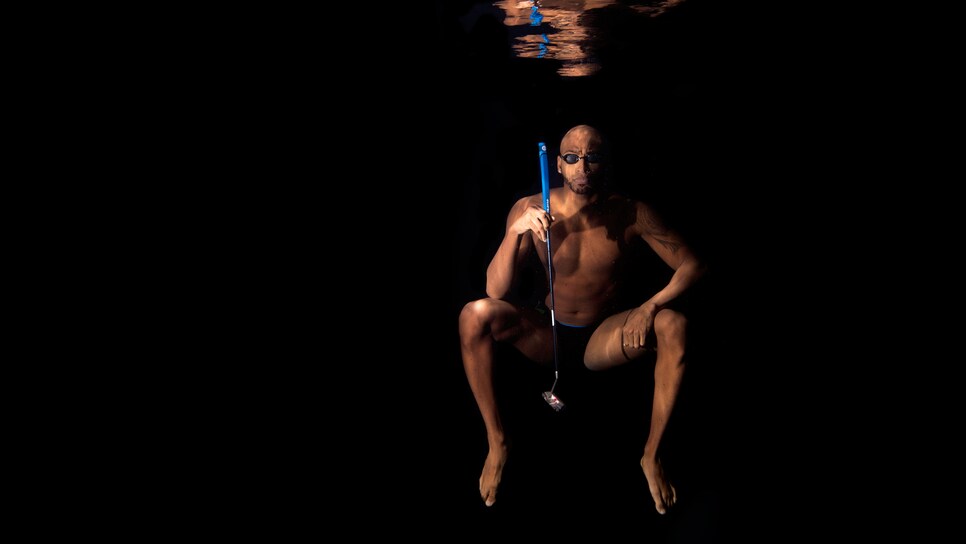 LOCHTE: I'd rather shoot an even-par round than win a bronze medal.
JONES: There's no such thing as bronze medals. We don't like those.
JONES: The U.S. Olympic Training Center is in Colorado Springs, but the two of us train in Charlotte. There are pods around the country where swimmers come together to train. We work with David Marsh, who actually is the coach of the U.S. women's Olympic swimming team. He makes fun of us because his ticket is already stamped for Rio, but we've still got to make the team.
LOCHTE: I was always around golf but didn't start playing until college [University of Florida]. In the summer, when I wasn't training, my roommates and I would play once or twice a week. I can break 100 on a good day. When it comes to other sports, most swimmers really aren't athletic.
JONES: On land we really struggle to do anything coordinated. I play about a dozen times a year but want to play more. It's like swimming­: You've got to get out there and do it. Of all the components, I've probably picked up putting the quickest.
LOCHTE: That's because putting is the easiest. All that miniature golf you play had to pay off sometime.
JONES: Honestly, what got me interested in golf was the frustration. I know that sounds funny, but as an athlete, you always expect to be good at something. My one claim to fame: One of the sport psychologists I work with worked with Tiger Woods. And on my 27th birthday, I got a signed hat from Tiger.
LOCHTE: Golf is definitely a sport and should be in the Olympics.
JONES: The amount of patience and time and practice—if that's not a sport, I don't know what is. lochte: Back to putting. Just so you know, I once made like a 45-foot putt. jones We're done talking about putting, Ryan.
—Interview By Ron Kaspriske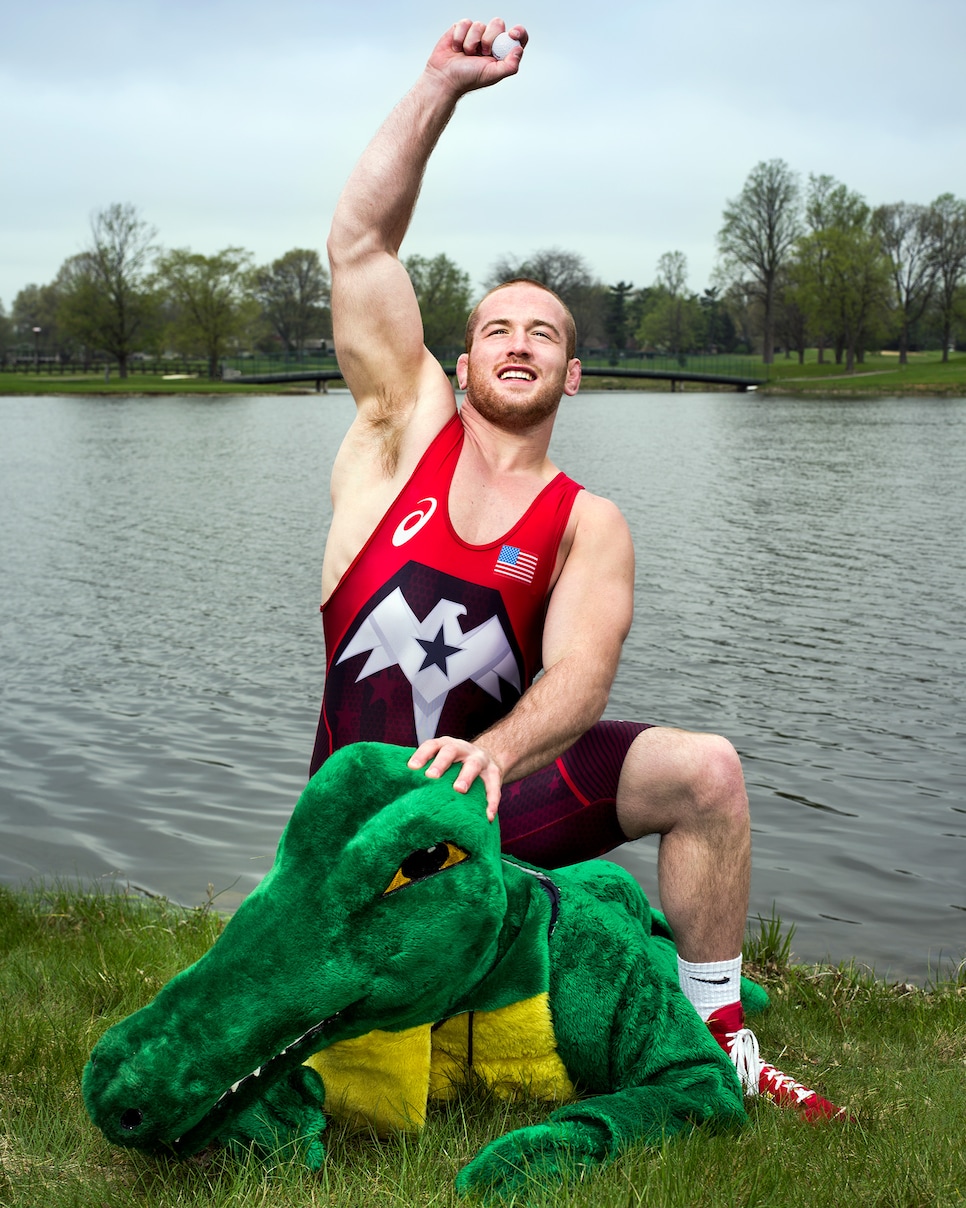 Snyder, 20, had a 179-0 record as a high school wrestler and is a member of the Ohio State team. The Woodbine, Md., native won the Olympic Trials at 97 kilograms (213 pounds) and captured the 2016 NCAA Championship at heavyweight (285 pounds) despite being the lightest wrestler in the division. He comes from a large family of golfers. Uncle Timmy, a lifelong caddie, is the one who got him hooked.
'When we play, a typical bet is a thousand push-ups.'
I can hit the ball pretty far, but my best attribute as a golfer is shaking off bad shots. In a wrestling match, you have only six minutes, so if something goes wrong you need to get past it and move on, or you're done.
Our wrestling team hosts a golf-outing fundraiser every year, and during the summer a few guys work at the university course, in the pro shop or on the grounds crew. When we play, a typical bet is a thousand push-ups. That's 500 each for you and your partner. If I do sets of 50, it'll take me half an hour to pay up.
Of all the tour players, Rickie Fowler might make the best wrestler. He's an Okie [State], a school that has a big grappling tradition. He also seems to have that crazy side and intensity.
I don't get too nervous anymore. If you only value the win and the accolades, then when somebody—your competition—threatens to take them away, you're going to get nervous. I try to value scoring points and becoming better. When somebody tries to take those things away, that's just wrestling. That mind-set helps me open up and perform to my full potential. Golfers should just value hitting good shots.
On the day of a match I have a hard time eating. Usually I just try to get some eggs, fruit and water in my system. Post-match? I downed pancakes, chicken tenders and a big milkshake after the World Championships last year.
I can walk on my hands as far as I can hit a lob wedge.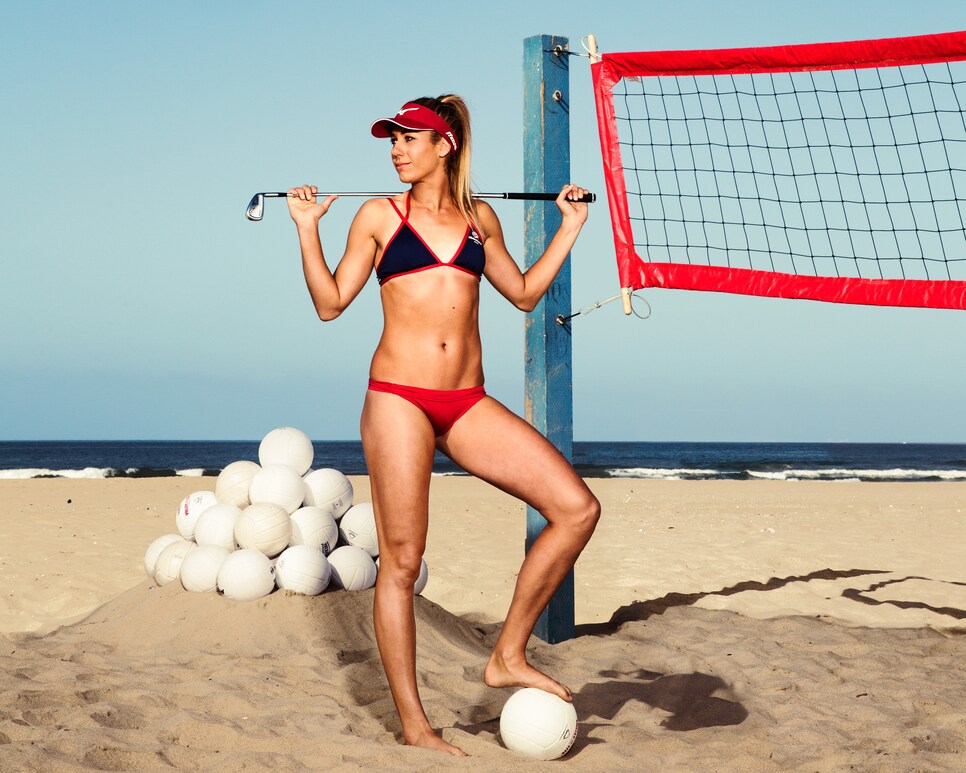 Ross, 34, won a silver medal in the 2012 Olympics with beach volleyball partner Jennifer Kessy. This year, Ross is teaming with Kerri Walsh Jennings, who with Misty May-Treanor won the gold medal in 2012. Ross grew up in Newport Beach, Calif., and was a star for the University of Southern California women's team before starting her professional career. She says she's a pretty good putter and is comfortable, not surprisingly, in the sand.
'I get mad at myself. and I'm vocal about it.'
My first golf experience was in Norway. I was new on tour, and Todd Rogers, who organized the Norwegian tournament, got players together to play with some VIPs. I told Todd, "I've never golfed before, but if you want me to, I'll do it." They gave me my own cart, and I didn't know where to drive. And I just made the biggest fool of myself. They were filming a promotional video, and on camera I drove over a green. Everybody was making fun of me. I thought, I'm never golfing again. It took a couple of years after that to start playing.
I thought golf would be a good focus-based kind of training tool. Also, my husband [Bradley Keenan, a pro beach volleyball player] is a big golfer. I thought it'd be something fun we could do together. He's brought it to my attention that I get really upset and intense. "We're playing golf. We're outside. We're on this beautiful course. Just enjoy it and focus on staying in the present," he says.
On the court, I get mad at myself. And I'm vocal about it. Our coach has been trying to get us to not show frustration. You want to focus on the positives, not the negatives, and that will reinforce your confidence.
I have tightness in my right shoulder, and swinging a golf club stresses it. And I have a lot of golfer friends who have bad backs. But it motivates me to strengthen my stabilizing muscles so I won't hurt myself playing golf. I'm known for my serve, and for many years I tried to hit the crap out of the ball. I'd either get the ace or miss badly. I think it's a sign of evolving that I can now hit a great shot, a tough shot, on my serve, without going for it 100 percent. Same as golf, sometimes less is more.
I haven't met any pro golfers, but I hope I can run into some in Rio. I roomed with a golfer in college, Anna Rawson, but I wasn't into it then.
—Interview By John Strege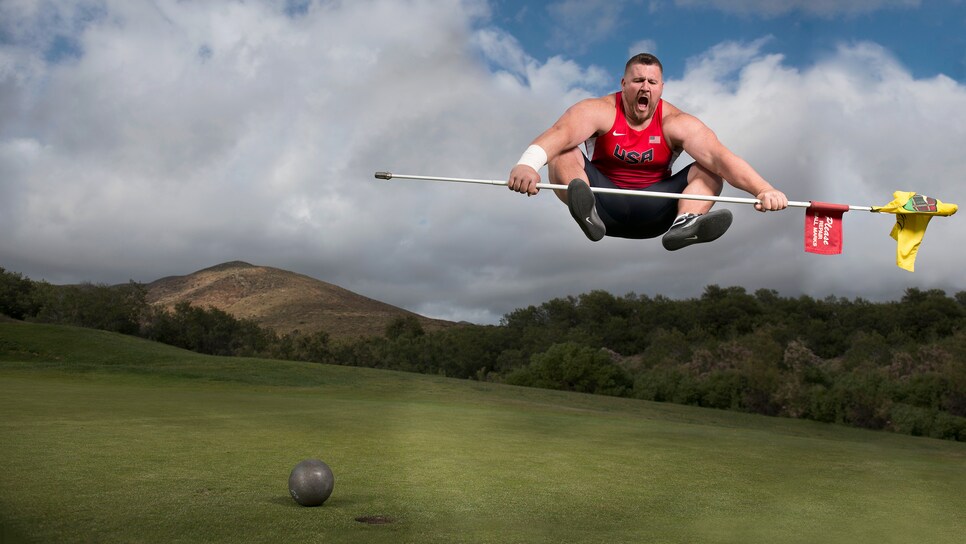 Kovacs, 26, won the World Championship in the shot put in 2015 with a throw of 71 feet, 11½ inches and ended the year ranked No. 1 in the world. The two-time U.S. champion has been preparing at the United States Olympic Training Center in Chula Vista, Calif. His mother, Joanna (his father, Joseph, died of cancer when he was 7), is a track-and-field throws coach and a strong golfer.
'I turn it into more of a long-drive contest than I should.'
My college [Penn State] training partner and I watched a lot of Golf Channel. Every time they had a tip, we'd sit there and talk about it. Same thing we do in throwing. At the end of the day, tiny tweaks make the difference.
Being a big guy [6-feet, 276 pounds], everybody wants me to hit the ball far. I'm comfortable going with the driver 310, 320. When I'm really warmed up, I turn it into more of a long-drive contest than I should. I've seen 360 yards with the driver. But the short game is the fun part for me.
It used to be that leaving the course with one ball was an accomplishment. Now I can shoot in the mid-80s.
When I'm in my heavy-lifting cycle, my backswing can't go as far. I'm doing heavy bench presses, heavy squats, and my range of motion gets tighter. Then the miss is always to the right.
Our full movement is more of a Happy Gilmore run-up-to-it. Our stand throw, the main part of our practice, is almost exactly in tune as to how you would approach a golf swing. You want to be as fluid as possible. You don't want any jerky motions.
If a golfer really wants big distance—that's what we're masters of—firing that right hip is key. It all comes from the right side.
I use a Trackman built specifically for the shot put. It tells the velocity on the ball, the height and angle of release, which are the factors you need. you put your mind on nothing else but getting to Rio. Golf is a nice diversion. Hopefully everything goes as planned, and after Rio I can take a breath and celebrate my season. I'm going to take a little golf vacation, go somewhere hot and warm. I love it. —Interview By John Strege