The Loop
Old Macdonald Update . . .
Bandon Dunes is the combination of three wishes from a genie, a pot of gold at the end of a rainbow and Natalie Gulbis in need of a playing partner all rolled into one perfectly pure golf destination. And it's only getting better.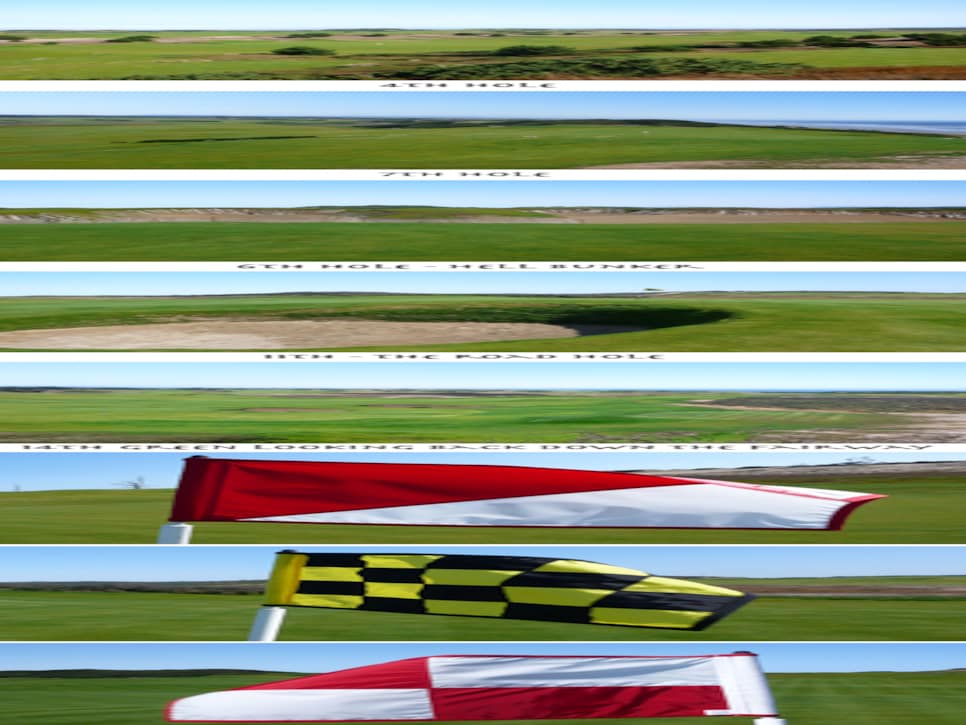 Last week I flew from New York to Dallas, Dallas to Portland, and Portland to Eugene. From there I rented a car and drove two hours to Bandon Dunes. I left early in the day, arrived late at night and I did it all with a perma-smile, knowing that this was a pilgrimage with plenty of payoff. I met up with 11 other, we'll say, fellow golf enthusiasts. In four days we played two rounds on each course--Bandon Dunes, Pacific Dunes and Bandon Trails.
I stayed a night at the new hotel just off the eighteenth green at Bandon Dunes before I moved into a four-man cottage in the "Grove." The new hotel has rooms with all you need (bed, bathroom, wireless and a flatscreen TV) but nothing tops the cottages. I had a martini (they filled the olives with blue cheese) on the back deck of the brand new clubhouse and pro shop behind the first tee of Pacific Dunes. And then Jeff Brinegar, the new head pro at Bandon Trails, took me on a tour of Old Macdonald, the fourth course being built by Jim Urbina and Tom Doak.
The quick back-story: Mike Keiser, who owns Bandon, loves the National Golf Links on Long Island. C.B. Macdonald designed the National. Macdonald is widely considered the grandfather of American golf, founded the USGA and won the first U.S. Amateur golf tournament. Keiser hired Doak (who designed Pacific Dunes) and his partner, Urbina, to create a course as if they were Macdonald.
Old Macdonald will be east of Pacific Dunes and you'll get to the small clubhouse by driving past the current practice facility. There are portions of the new course that are still just gravel and tall dry grass. But the 12 holes that are located in the open bowl of the course, and can be seen by the four corners of the property, look like they're playable. They're not, but they'll start playing preview rounds in the fall.
Pacific Dunes and Bandon Dunes feel similar to me. They're both rolling links style courses with a few holes along the coast, both have some holes that play into the wind and some play down wind. Bandon Trails is inland and cut through trees so it feels different. Old Macdonald, which will look like and play like the Old Course at St. Andrews, will also feel and look different than Bandon and Pacific Dunes. It will play roughly 7,100 yards. It might be a par 71 or a par 73. According to Brinegar, the sixth, fifteenth and seventeenth will be par 5s. The second, fifth, eighth and twelfth will be par 3s. The fifth hole has a green that is 18,000 square feet, and that's not even the biggest green on the course--the eighth hole has a green that is 20,000 square feet.
The big greens and the wind-swept open course with very little protection is only some of the similarities to the Old Course. There's a bunker on the sixth hole that looks a lot like the "Hell Bunker" on the fourteenth hole at St. Andrews. The eleventh hole at Old Macdonald is a lot like the "Road Hole" seventeenth at St. Andrews (a pot bunker in front of the green with trouble down the right side of the fairway).
So Keiser has tapped into some proven success to complete this project. He's using the same designers that he used for Pacific Dunes (this will be Urbina's first official co-design with Doak). Ken Nice, who grew in Pacific Dunes and Bandon Trails, is currently growing in Old Macdonald and has experience with the turf and weather conditions. When they put in the irrigation system for Pacific Dunes in 2001, they did so with the knowledge that in the future they're would be a fourth course, so the water lines were already in place. It's no wonder why it looks so good so fast.
Keiser walked the course with Urbina two days before I was there. In addition to monitoring the progress, he's testing out various flags at Old Macdonald to see which one is pleasing to his eye. By the end of the year you should be able to book a tee time to try 10 holes for yourself. You'll play 6, 7, 8, 9, 10, 11, 14, 3, 4 and 5. There will be limited spots per day and the fee is still being discussed.
They broke ground on Old Macdonald in February. They've stopped building the last six holes until spring of 2009, but the plan is still set to open all 18 holes in July of 2010. "We're right on schedule," says Brinegar. "Mr. Keiser wanted a beautiful but robust golf course that pays tribute to Macdonald--this is it."
In the next two weeks I'll be blogging more about my trip to Bandon Dunes, one of my annual buddies trips to the Baywood Pro-Am in Arcata, Calif., a Nicklaus Signature Course in my hometown of Santa Rosa, Calif. and Ambush No. 8 in St. George, Utah.*