The Loop
Obama, Boehner complete 'Golf Summit'
President Barack Obama and Speaker of the House John Boehner on Saturday dispelled the notion that they can't agree on anything. They agreed to play a round of golf together.
Two of Washington's most avid golfers, they were joined by Vice President Joe Biden and Ohio Governor John Kasich for 18 holes on the East Course at Andrews Air Force Base in Maryland, outside Washington, D.C. The idea of an Obama-Boehner golf date was first suggested in the June issue of Golf Digest, where Contributing Editor Steve Rushin wrote, "There is no better way to bring these two parties together--and their two parties together--than to have O&B go O.B. at the nearest goat track, at the earliest opportunity."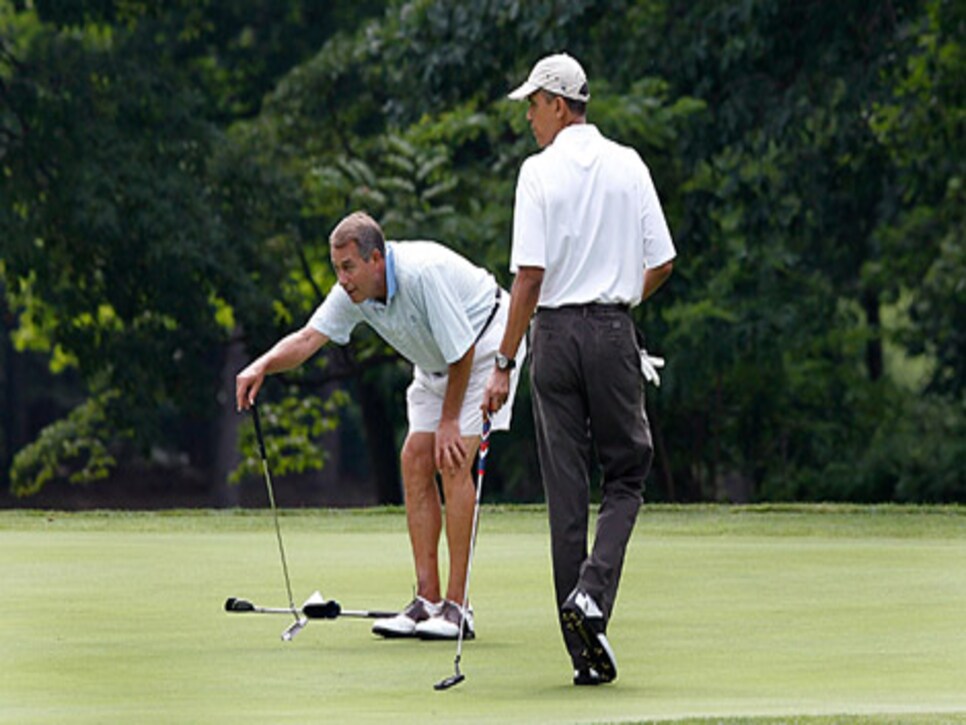 (Obama and Boehner at least appeared to enjoy their time together. Photo by AP)
How the round went is anyone's guess. By mutual agreement, no one is talking (not yet, anyway; leaks to come, surely). It probably will solve little, least of all who the better golfer is. That was already apparent.
(Update, 4:54 p.m.: A White House pool report says that Obama and Boehner beat Biden and Kasich on the 18th hole. The win was worth a whopping $2)
At any rate, the War Powers Act and the debt ceiling formed an odd backdrop for a Saturday morning round of golf. And whether either topic was broached over the course of about four hours they spent together on the course and in the golf cart they shared (Obama driving) is among the missing details.
Then again the object of the round wasn't to arrive at solutions, but possibly to facilitate them, with its "potential for a better atmosphere in the room when important things are discussed and negotiated," Carney said.
The Beltway media nonetheless labeled it a Golf Summit (did the players repair to the 19th hole afterward for another Obama Beer Summit?). The New York Times even had its reporter Don Van Natta Jr, author of the book, "First Off the Tee: Presidential Hackers, Duffers, and Cheaters From Taft To Bush," analyze the match in advance ("Handicapping the Obama-Boehner 'Golf Summit'").
There wasn't much to analyze post round. Sam Youngman of The Hill provided this pool report from the first hole, the only one the media was allowed to see:
"On the first green, Gov. Kasich, wearing long pants and an Ohio State University (shirt), missed a 30-foot putt but tapped in for par (scores are unconfirmed but an official's estimation).
"Next up, VPOTUS drained a 15-footer to make what we believe is bogey on the par 5 first hole.
"POTUS putted next. Wearing long pants and a white polo, he crouched down to line up his shot before just missing a 12-footer. He tapped in for par.
"The Speaker, who apparently hit a nice approach shot, putted last, hitting a short putt for par.
"After holing out, the foursome walked back to their carts with POTUS patting Boehner on the back. They are riding together while VPOTUS and Kasich ride in the other cart."
At least they found common ground, all of it green. Is it a start? Can golf between them possibly help bridge the gulf between them? It's asking a lot from a game not known for its benevolence.