The Loop
Nothing's easy at Pinehurst
So much for favorable draws.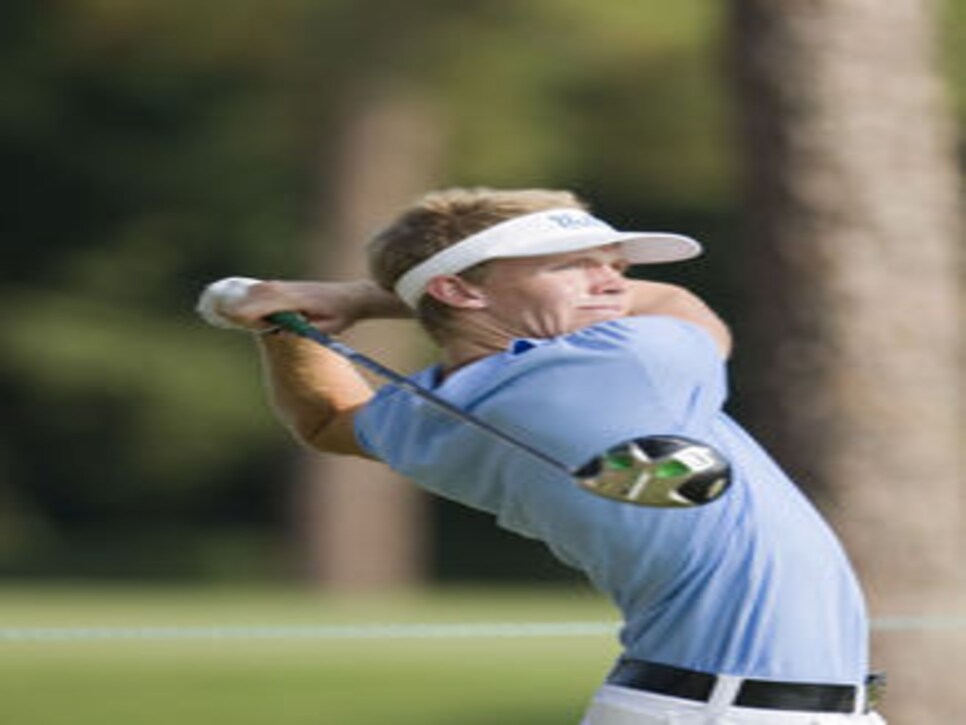 Francis had plenty of company in the tough opening-round opponent department as there were several showdowns featuring top level players.
Or how about Trent Leon, a two-time honorable mention All-American at Oklahoma State, who after got to match play for the first time in three U.S. Amateurs, only to run up against his future teammate, the top incoming-freshman in the country,Peter Uihlein?
"It makes it tough, playing against somebody you know pretty well not to mention who is a pretty strong player," said Uihlein, who beat Leon, 1 up. "Trent's a senior and our leader, and I'm an incoming freshman. But I snuck away with one. Neither of us played too well."
Three other first-round pairings pitted collegiate All-Americans that just as likely could have been quarterfinal tilts:
"You play your best and you hope it's good enough," noted Vegas. "I played good golf. I can't complain. That's how golf is."
On paper, at least, Thursday's second-round showdowns don't seem quite as difficult as Wednesday's matches, with the exception of the Uihlein squaring off against Fathauer at 7:40 a.m. and UCLA's Erik Flores against Texas' Charlie Holland, both second-team All-Americans last year, at 8:30 a.m.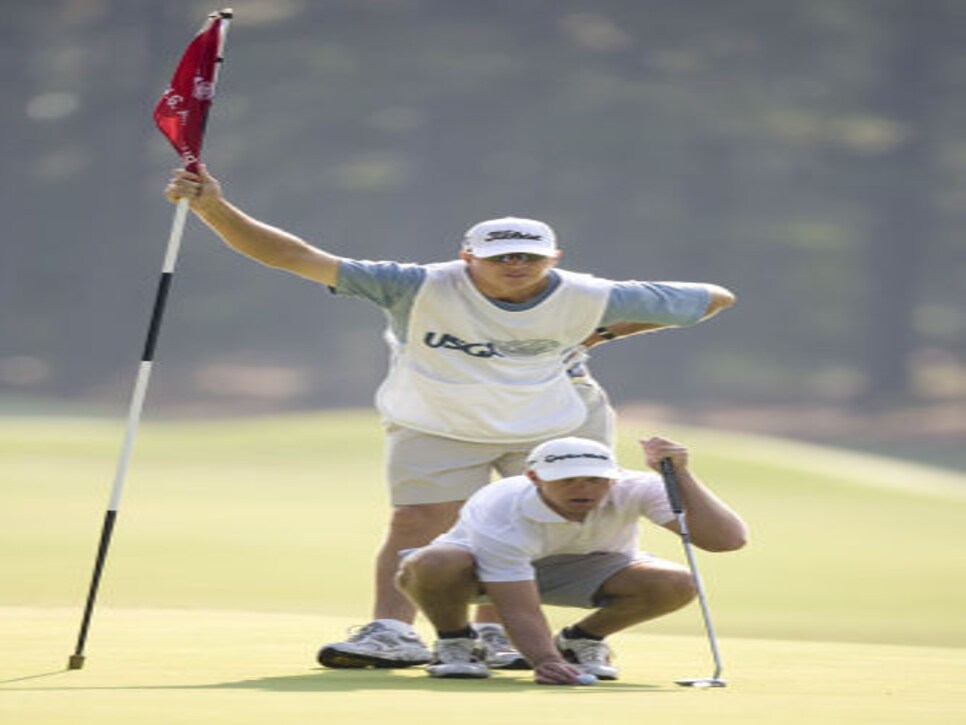 As was the case at Torrey Pines for the U.S. Open, PGA Tour veteran Bob Tway was on the bag for his son Kevin at Pinehurst No. 2, serving as a calming presence for the young player. Said Kevin: "He's been through everything and he can help me out when I get nervous. â¿¿  I can talk to him about the shots and what went right and what went wrong."
Papa Tway's influence may well have come through during Kevin's match with Francis, considering Tway hit just two fairways during the round. "My dad's making me play real smart," Kevin Tway said. "My lag putts are pretty good and I hit the ball pretty far so it's pretty good."
Interestingly enough, Bob Tway is skipping this week's Barclays Classic, despite being No. 119 on the FedEx Cup points list, to caddie for his son.
It's already been a pretty solid week for Oklahoma State here in Pinehurst. In addition to Tway and Uihlein advancing to the second round, sophomore Rickie Fowler and incoming freshman Morgan Hoffmann also won their Wednesday afternoon matches.
"The best we could do is have four of five advance because Peter played Trent," noted Fowler, a 4-and-2 winner over Isaiah Telles. "I think it says a lot for the program and the potential we've come for the coming season."
There was actually a sixth Cowboy in the field this week: OSU assistant coach Alan Bratton, who failed to get out of stroke-play qualifying. Bratton stuck around Pinehurst Wednesday, keeping an eye on his polks.
Meanwhile, classes began at OSU on Monday, causing everyone to miss the first few days of school. "I had a quiz that I've already missed," Uihlein said. "But it's OK. Hopefully I'll play well enough to miss my whole first week."
The turning point in the Fathauer/Vegas match came when Fathauer made a 30-foot birdie putt on the 17th hole to take the lead after Vegas squared the match with a birdie on the par-4 16th. "I wanted to make that putt so bad," Fathauer said afterward, noting an interesting motivation.
"On 16 [Vegas] made a putt ... I don't know if I should tell you this ... but I hate when people fist pump, get all pumped up. I just don't think it was called for. But, so I kind of, that got me going. Got me a little upset."
"Nothing felt right over the ball," said Lovemark, who bogeyed the 17th and 18th holes to lose the match. "I had no idea where the ball was going. I've never hit the ball this bad in my life. I've just got to take some time off, kind of regroup and start fresh [for the college season]."
There's often talk at USGA events about a medalist jinx, but that doesn't seem to be the case of late at the U.S. Amateur. With BYU junior Robbie Fillmore winning his opening match versus__Ross Beal, 3 and 2__, it makes seven straight years that the medalist has at lead won in the first round. The last one to lose was Chris Mundorf in 2001 at Atlanta's East Lake GC.
Fillmore faces Tway in the second round Thursday morning.
All photos: John Mummert/USGA