The Loop
Not always pretty but always exciting, Mickelson managed to hang around
KIAWAH ISLAND, S.C. - "Just tired," Phil Mickelson said to an associate after taking a while to exit the scoring trailer Friday afternoon. "You would be too if you were out there playing."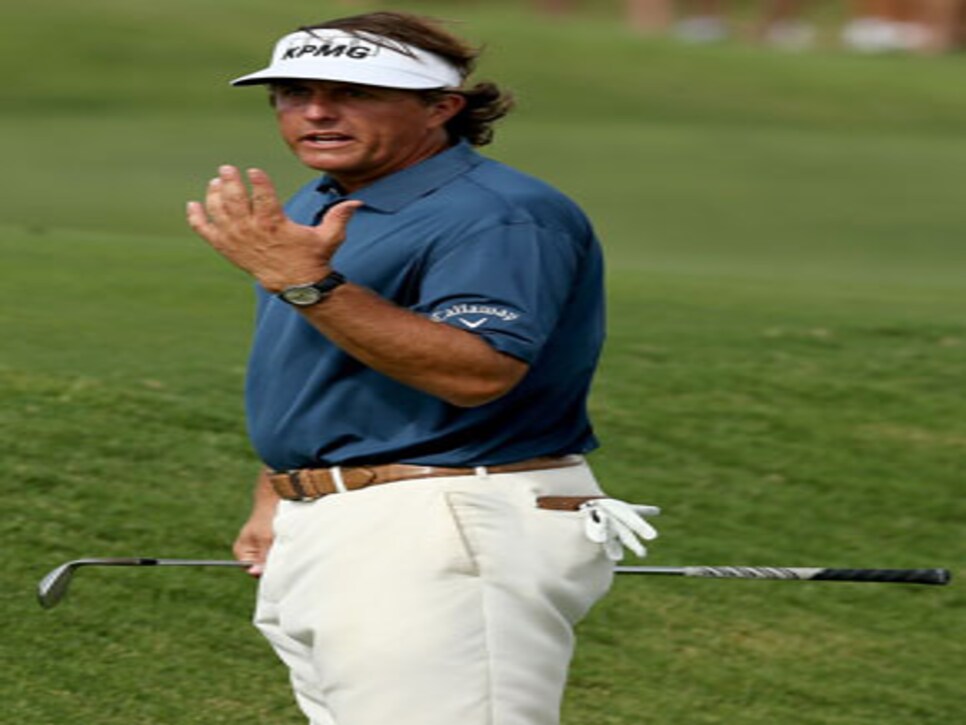 The way Mickelson made his way around the Ocean Course, where it was a better day for kites than golf, it was understandable why he was bushed following the second round of the 94th PGA Championship.
For the second straight day, he taxed the short game that has helped him to the World Golf Hall of Fame.
For the second straight day, it came through.
For the second straight day, he had 11 one-putt greens.
For the first time since the Masters, following a T-65 at the U.S. Open and a missed cut at the British Open, Mickelson has reason for a little optimism on the weekend of a major championship.
Mickelson's one-under 71 left him at even-par 144 through 36 holes, in T-24, six shots out of the lead after moving up 42 spots on the leader board when he left the windblown course early in the afternoon.
While his play wasn't flawless, it was effective, especially given the challenging conditions.
"I feel like I'm slowly getting better and my touch and feel and shotmaking are slowly coming back," said Mickelson, who has had only one top-10 finish since his strong run (T-3) at the Masters. "Even though I missed some shots today, I missed it on the side I needed to miss it. Although I didn't drive it well, I was able to advance it up by the green, and my short game saved me on a number of shots. To shoot under par today was a success."
Hitting five fairways Thursday and six Friday, Mickelson often was not off by that much. Around the greens, he has been magical, getting up and down 7-of-11 times in the first round and 8-of-10 times Friday.
He is a fan of the Pete Dye design. "I think the great thing about this course is if you play well and you hit good shots, you can make pars, you can make some birdies," Mickelson said. "And if you don't, you're going to make some big numbers, because it really does reward good shots and it penalizes bad ones.
"That's just not been the case these last couple of majors. You've hit great shots that have been brutally penalized, and here it is a wonderful set-up. The PGA of America really has it dialed in. There's plenty of room to play on this course. There's plenty of room to miss it and still have a shot."
Thanks to some creative, resourceful golf, Mickelson still has a shot at the Wanamaker Trophy.