The Loop
Norman's appearance in desert a testament to Clinton
LA QUINTA, Calif. - As Greg Norman walked into the interview room Wednesday at the Humana Challenge, he was kidded by a long-time acquaintance who asked what he was doing there. With that trademark smile, Norman tapped the logo of the Clinton Foundation on the microphone he was holding and said, "That right there, you see?"
Indeed, that is the message of the week here at the revived tournament once known as the Bob Hope Desert Classic. Humana, the health benefits provider, and the William J. Clinton Foundation have breathed new financial life into an event on the endangered species list a year ago.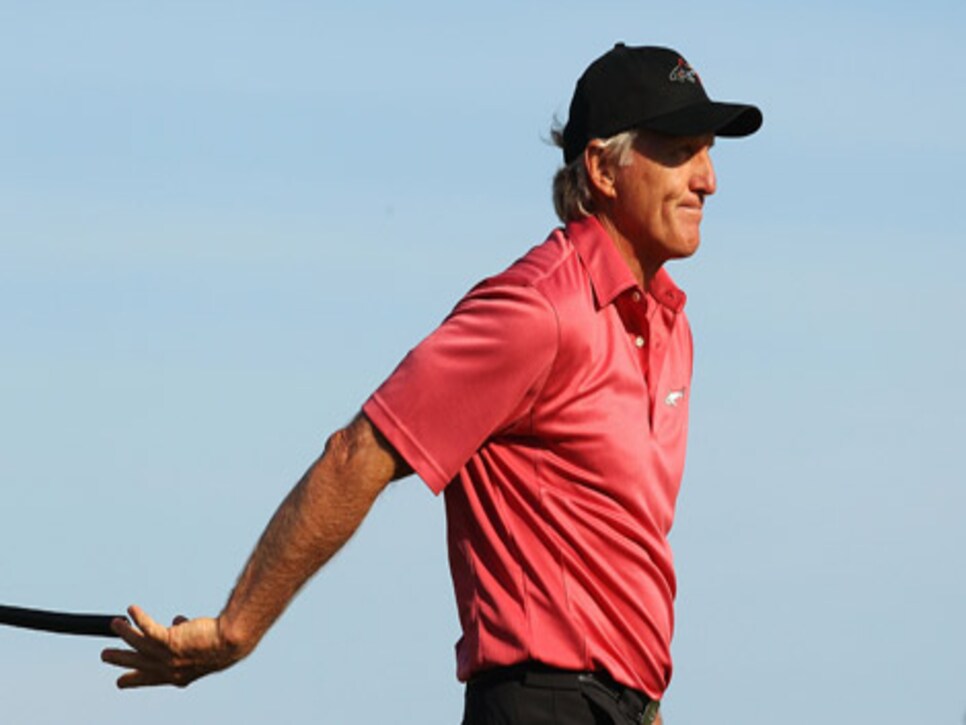 *Even if he isn't expected to contend, Norman remains a draw. Photo by Getty Images.
And, oh yes, having a former President of the United States as the face of the tournament doesn't hurt, either. "I'm here for one reason," said Norman, whose only previous appearance at the Hope was in 1986. "I got a phone call I could never say no to."
That's a far cry from Norman's reaction the first time Clinton asked him to play golf. That call came in 1994 when the President asked to get together with the Shark while Clinton was on a state visit to Australia. The immediate reaction from Greg, a self-described Republican despite the fact he is not an American citizen, was to turn down the invitation.
"I didn't really feel comfortable with his political positions," Norman said. "But I asked President George H.W. Bush and he said, 'I have a piece of advice for you. Respect the office.'" Clinton and Norman played at New South Wales GC while Greg was back home for the Australian Open. The course was closed, they played as a twosome and they hit it off.
"I became very good friends with the person I pre-judged in an unfair way," said Norman, who says he speaks with Clinton a couple times a year on the phone and says, "I have never called him Bill. Remember, respect the office."
On Saturday at the Humana Challenge, Norman and Clinton will play again for the first time since 1994, being joined by Scott McCarron and Humana chairman and CEO Mike McCallister.  The President and the Shark were to play in the member-guest at the Medalist Cub in 1997, but while staying at Greg's house Clinton fell down some steps and ended up needing knee surgery.
"The Bob Hope is such an iconic event," Norman said, "and I'd hate to see an event like that disappear. It's very difficult to replace Bob Hope, but to replace him with Bill Clinton is a win."
The tournament, which begins Thursday, has been cut from five rounds to four and from four courses to three. "They've picked the three best courses they could possibly play," Norman said about La Quinta CC and the Palmer and Nicklaus Private Courses at PGA West.
The change in format, and Clinton's involvement, was also a factor in luring Phil Mickelson back to the desert. He's a two-time winner here, but Norman knows he and Lefty alone won't turn around this tounament.
"You need Phil Mickelson plus eight of the next 14 [in the World Ranking]," Norman said about hopes the format changes, Clinton's involvement and the healthy lifestyle message will improve the quality of the field, which has been dismal in recent years. "You can't expect the event to go from down here to up there overnight," Norman said. "It's going to take a few years."
But it is off to a good start. On Tuesday Clinton hosted a day-long "Health Matters" conference that was both inspiring and informative. And while Norman's presence here is more window dressing than substance -- no one expects him to contend -- it does add star power. If President Clinton is the new Bob Hope -- who will be remembered with a trophy named in his honor going to the winner -- Norman is playing the role of Frank Sinatra - a celebrity for fans to gawk at.
And that's not a bad way to kick off the first installment of the eight-year contract Humana has with a tournament that once seemed doomed for the dustbin of history.  Just as Norman revised his assessment of Clinton after getting to know him, maybe the big names will now change their thinking about playing the Humana Challenge.