News
No Victory Hangover For Wie
According to Christina Kim's twitter page, nine of the players who participated in last week's Solheim Cup are battling illness this week as they launch into the Safeway Classic Presented by Coca Cola at Pumpkin Ridge GC in North Plains, Ore. (Paula Creamer, for one, is so sick that she had to withdraw from the tournament early this morning; Juli Inkster withdrew earlier in the week.) But judging by the first-round leaderboard, others are feeling just fine. Including Michelle Wie.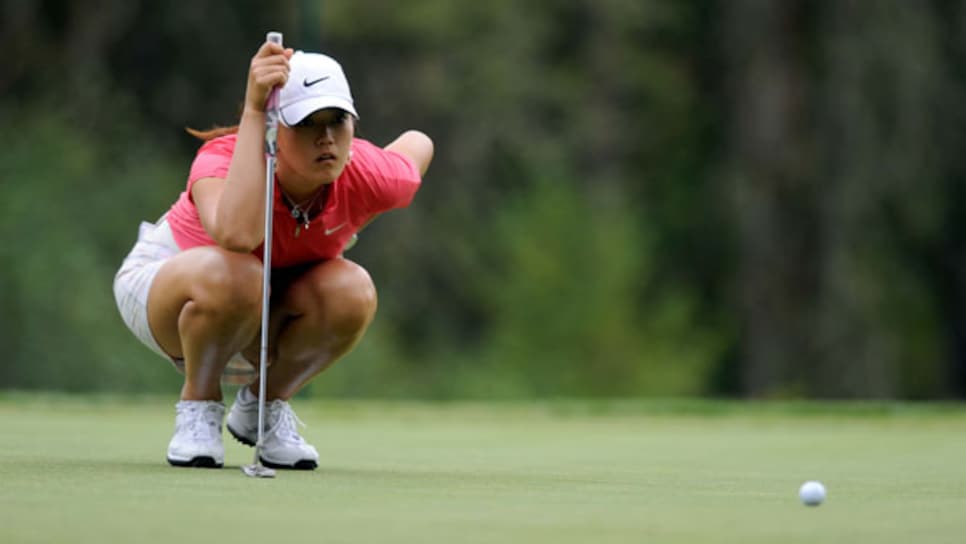 All eyes are on Wie at this, the first regular LPGA Tour event on American soil since the Corning Classic eight weeks ago, as she goes back to being her former teammates' fellow-competitor, with her parents and handlers back at her side. Will her breakout performance and  newfound bond with fellow tour players at last week's Solheim Cup prove to be the turning point we all hope? Or will it end up a footnote in the history books, a detour on her path to "Where Are They Now" obscurity? Perhaps that's putting too much importance on one event. Nevertheless, it's what everybody is wondering.
So far, there's no reason to be concerned. Despite a sprained ankle, Wie put up a solid first-round score of 4-under 68 today at Pumpkin Ridge's Ghost Creek Golf Course, and she continued her Solheim Cup trend of producing miraculous iron shots and performing well with her putter. She also seemed relaxed and comfortable while interacting with the other two players in her marquee pairing, defending champ Cristie Kerr and world no. 1 Lorena Ochoa.Â
As for mom and dad, it's too soon to tell whether last week's turn of events has had any effect on their way of "handling" their daughter. We can only hope that they, too, saw the benefits of loosening her leash.Â
A few of Wie's fellow Solheim Cup alumni also had a good day today: European rookie and McDonald's LPGA champion Anna Nordquist shot a bogey-free 7-under 65 and sits one shot behind leader Beth Bader; Janice Moodie and Angela Stanford are at -6.
--Stina Sternberg (Photo by Steve Dykes, Getty Images)