PGA TOUR'S TOP ROOKIE
To the surprise of no one, Cameron Young captures the PGA Tour's top rookie award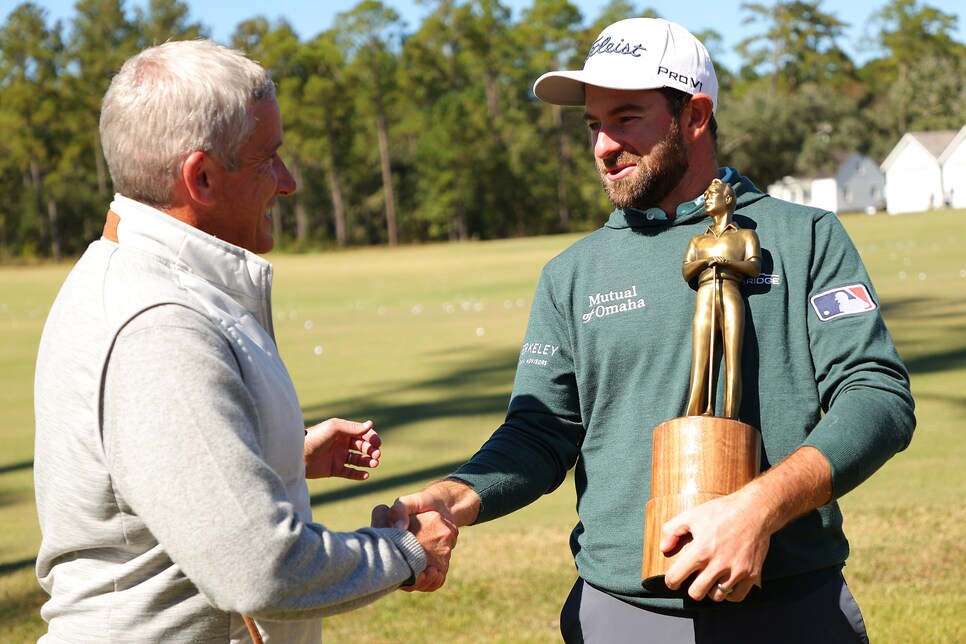 RIDGELAND, S.C. — One of the worst kept secrets in golf was confirmed Wednesday. Cameron Young was confirmed as the PGA Tour's 2022 Rookie of the Year by way of fellow Wake Forest alum Webb Simpson walking the Arnold Palmer Trophy into the media center and interrupting Young's press conference ahead of the CJ Cup at Congaree Golf Club.
"From one Deacon to another, congratulations Cam," Simpson said as he handed the bronze trophy to the 25-year-old Young. Like Simpson and Young—and last year's Rookie of the Year, Will Zalatoris—Palmer attended Wake Forest.
"Well, it's very special," Young said. "I know the namesake, Arnold Palmer, was a giant in the game of golf and we have him to thank for a lot of what we do today, what the PGA Tour is. Just to be related to that in some small way is very cool. I know we had a very strong rookie class and I know it's voted by my peers, so it's a huge honor to be thought of in that way."
New York-native Young enjoyed seven top-three results on the PGA Tour last season, including five runner-ups. Of those second places, Young said the standout was finishing second to Cameron Smith at the Open Championship at St. Andrews in July. Young played with Smith for both weekend rounds at the Old Course and put legitimate pressure on Smith on the 72nd hole, when he drove the Old Course's par-4 18th and drained the short eagle putt to edge ahead of Rory McIlroy.
"Probably St. Andrews," Young said when asked what moment stood out from 2022. "[An Open at St. Andrews] is just a different experience. The Open is about the most fans we see all year, maybe with the exception of Waste Management [Phoenix Open]. They love golf over there [in Scotland]. To walk into town center to play the 18th hole at St. Andrews is different than anything you find anywhere else. So just knowing the history there and to play well that week was very cool."
For Young, there's only one way to make this season better—capture his maiden PGA Tour victory. The milestone eluded him during the many Sundays he was in contention during the 2021-22 campaign.
Winning won't be any easier to accomplish at the CJ Cup this week, despite a 78-man field and no 36-hole cut. The names in the field at Congaree include World No. 1 Scottie Scheffler, defending CJ Cup champion Rory McIlroy, Tom Kim, Jordan Spieth, Jon Rahm and Justin Thomas, among others.
While Young joked about what a first PGA Tour win would feel like, the fire is clearly there to break through.
"Yeah, that'd be awesome. Anytime you win out here … well, I don't know, but supposedly it's very special," he said through laughter. "Obviously I had my fair share of chances and I would hope one of them is coming at some point. It would be great just to finish out the year on a high note and [Congaree] would be a great place to do it."