The Loop
Nicklaus and Woods share greatness, but little else
AUGUSTA, Ga. - When Tianlang Guan, the 14-year-old Asian Amateur champion, sought an audience with Jack Nicklaus earlier this week at Augusta National GC, the six-time Masters champion was happy to oblige. After all, it was not an unusual request.
Rory McIlroy, Luke Donald and Keegan Bradley all have solicited advice from the Golden Bear in recent months. Prior to the 2011 Masters, Nicklaus provided an Augusta tutorial to Charl Schwartzel, and six days later the lanky South African won the green jacket.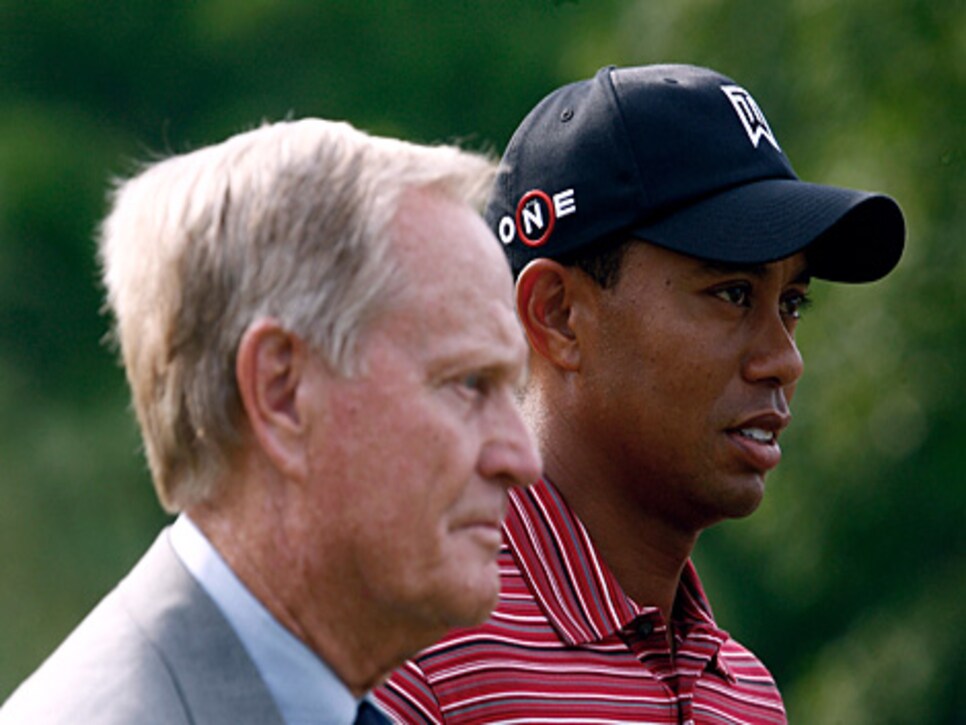 But the player with whom Nicklaus is most closely tied -- the player who since boyhood has aspired to break Nicklaus' monumental major championship record -- never once has sought his advice, never once picked his brain. They've never shared anything more substantial than a passing conversation.
Granted, Tiger Woods has done just fine relying on his own resources. Though stuck on 14 major championships since the 2008 U.S. Open -- four behind Nicklaus -- Woods has sped past the Golden Bear on the PGA Tour career victory list, having recently won his 77th at the Arnold Palmer Invitational, second all-time behind Sam Snead. Nicklaus won 73 times, his last in the 1986 Masters.
"He's never asked me about golf or anything else," Nicklaus said Thursday morning after joining Arnold Palmer and Gary Player in hitting ceremonial tee shots to start the 77th Masters. "I wouldn't tell him anything anyway. Maybe tell him he's got a great record and a great chance to make a lot of history. And I wish him well. That's all I would say to him."
The revelation proved an intriguing insight into the relationship between the two men who are separated by an era but tied at the hip historically, two golfing giants cordial and friendly to each other and complimentary of each other's accomplishments but never confidants.
And they've certainly been afforded chances to chat, be it at the Presidents Cup -- Nicklaus captained four teams in which Woods was a member -- or at the Memorial Tournament, the event Nicklaus hosts and which Woods has won a record five times, including the 2012 edition.
In contrast, a half-century ago a young Nicklaus didn't hesitate to sit down and seek advice from Palmer -- this when their rivalry was starting to blossom into one of the fiercest in the annals of golf.
"I've never really had a conversation with Tiger that lasted more than a minute or two -- ever," Nicklaus, 73, said. "He's stayed away from me from a conversation standpoint. Never had a conversation on the Masters in general. I've said, 'Hello, how are you doing? Nice playing this year. You've played very well.' Thanks. End of conversation. People ask me, 'Has Tiger ever talked to you about his records?' Never one word."
Said Woods, the four-time Masters winner who on Thursday opened with a 2-under-par 70: "We've actually had more conversations in the years at the President's Cups when he was captain. We talked quite a bit then. But I see him at Memorial and we'll have chitchat here and there. We have a few conversations, but he's right, we haven't spent that much time.
"Here's a totally different week," Woods, 37, added. "When it's a major championship, we're all very busy, and we're all in our own little worlds. And he gets it; he was there himself."
The Golden Bear absolutely gets it.
"He's got his own focus and what he does, and I respect that," said Nicklaus, who along with Palmer played a practice round with Woods in his first Masters appearance in 1995. "I respect when somebody is involved in their own deal. They concentrate on what they do and not what you did -- though maybe relative to what you did. That's OK. It's not my position to go talk to him about it. I wouldn't intrude on that."
Perhaps the feeling is mutual. When Woods moved from Orlando, Fla., to Jupiter Island, Fla., last year, Nicklaus offered him the opportunity to become a member at The Bear's Club. Instead, he joined The Medalist.
"He stayed away from it," Nicklaus said. "He didn't want to intrude where I was. He never told me why, but other people told me, 'He says he didn't feel comfortable being there where I was because of my record he was trying to break.' I said, 'I don't care about that. We'd like to have you if you want to play and be part of it.' He comes out and plays quite often. I'd include him in anything. But everybody has their own personality. That's not a fault. It's not a criticism. It's just what it is.
"I get along fine with Tiger. I like Tiger," added Nicklaus, who earlier in the week reiterated that he believes Woods will break his major championship mark. "There's always pleasantries and so forth. But, look, what is Tiger, 35 years younger than I am? So, you know . . . but I'm available to him anytime he wants something."
The only thing Tiger apparently wants from Jack is his record. And that he will have to get on his own. When he reaches it, or when he's through trying, perhaps then the two men can compare notes.
What a conversation that should be.