Equipment
Nick Faldo's new irons for the Masters (sort of)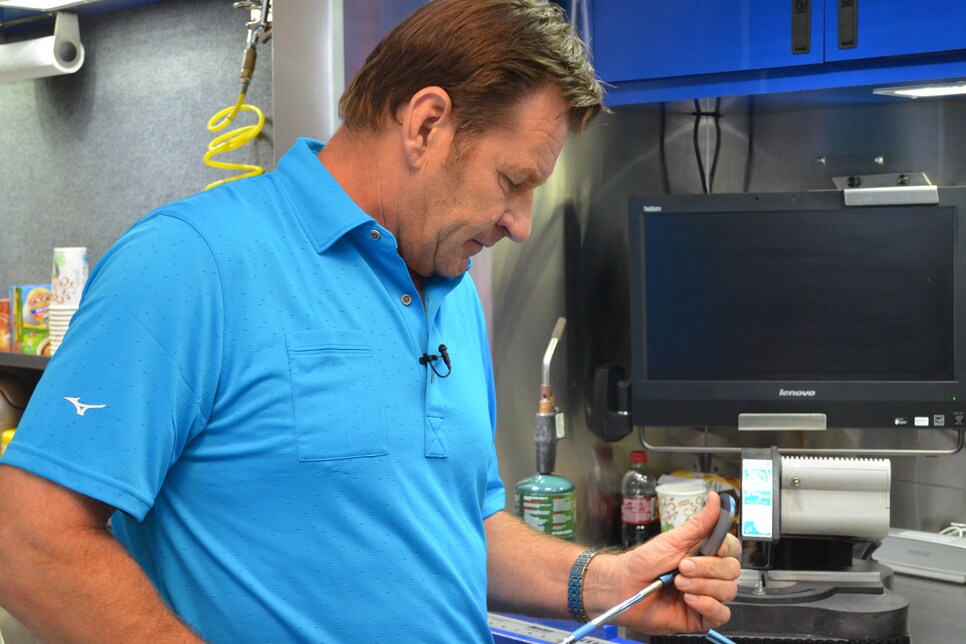 Three-time Masters champion Nick Faldo was back in Augusta, Ga., yesterday spending time at Mizuno's tour van working with the company's technicians on a set of irons the hall of famer will put in play during Wednesday's Par 3 Contest. Faldo is rejoining the company as brand ambassador and it is a homecoming for Faldo, who won all six of his majors with four different sets of Mizuno irons. "I have all of them at home, which is pretty cool," said Faldo.
Faldo's relationship with Mizuno actually began when he was with Wilson. "They were struggling with the transition of trying to go from old school to new school and they hadn't got it right," Faldo said. "The head of Wilson knew that and gave me a break. He said if I got a set of clubs from another manufacturer that was blank with no name on them, I could play them. Mizuno said they could do that. I got them at Greensboro the week before the Masters in 1987. The difference was amazing. It was like hitting butter. I won the Open Championship later that year with them."
Unlike today, when players have substantial technology available to assist them in getting into the right clubs and tour techs who are akin to personal equipment valets, it was more of a do-it-yourself job in Faldo's heyday. "Back then my clubs were hand-finished by me. I actually put my irons together. I fitted all the shafts, I cut them all to length. I frequency matched them as well. I weighed my grips. Back in those days grips used to take two days to put on because it was hard work to get them right. Once I got a set of grips I liked, I hated it when you had to take them off.
"Early in my career I had 12 different clubs in my bag. Even though they had same brand name, they weren't the same. I'll never forget I was in Spain and I took three or four sets of Mizuno's there pre-season and I'm hitting these 4-irons and I would swap clubs and then they'd go straight right. Little did we know how bad the shafts were matched back then. I'd have four sets of clubs and then I'd mix and match with the shafts that worked to get a full set. I went more than a dozen years with the same shafts, because if it worked you didn't want to mess with the feel back then."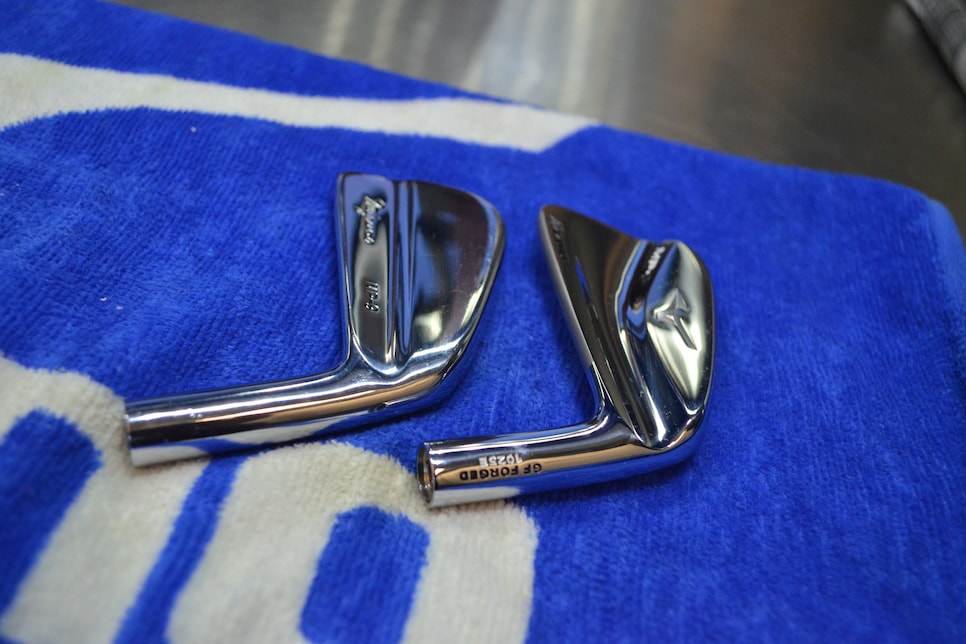 For this week, Faldo (who brought the Mizuno MP-9 irons he won the 1996 Masters with along with him for comparison purposes) walked away from the Mizuno van with a split set of irons (Mizuno H5 3- through 5-irons and MP-5 in the 6-iron through pitching wedge. His wedges are the company's S5 model in 51, 55 and 60 degrees). "People tweet to me that the have the MP this or MP that," said Faldo. "I'm looking forward to re-telling that story. I'm coming back to the brand that I did my best work with."