FALDO LOOKS BACK
Nick Faldo reminisces about the Open, Ryder Cup and Seve as he's set to host British Masters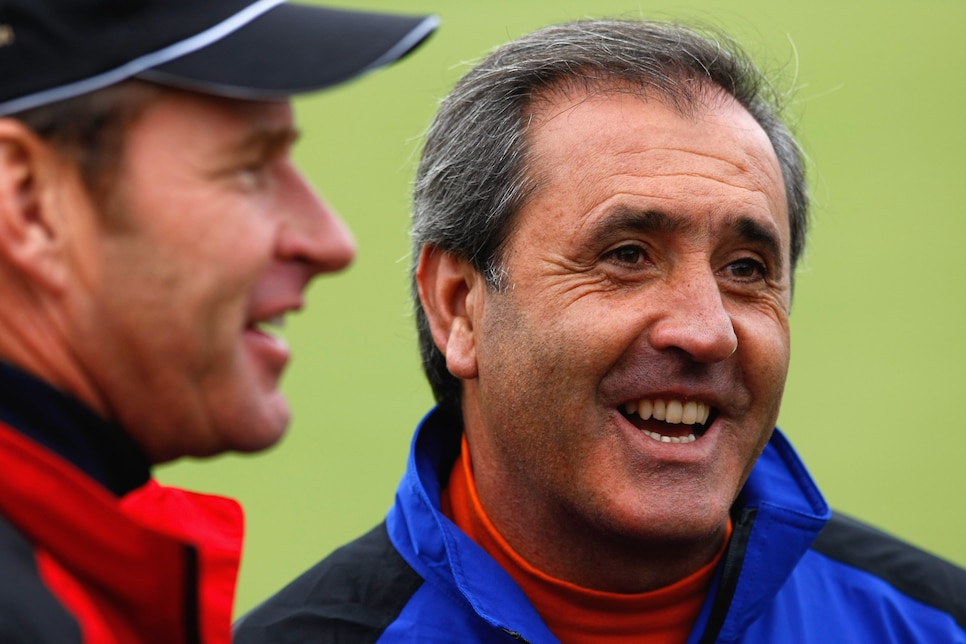 Nick Faldo and Seve Ballesteros talk during the 2007 Seve Trophy at The Heritage Golf and Spa Resort in Ireland.
Stuart Franklin
SUTTON COLDFIELD, England — In 1985, Golf Digest contributor Tom Callahan, in his guise as the sports guy for Time Magazine, wrote a profile of Boston Celtics legend Larry Bird and Edmonton Oiler Wayne Gretzky. In the piece Callahan told the remarkable tale of how both men, when shown a picture from the previous night's game, could relate where the ball/puck and every other player was at that moment, where they had just been and where they were about to go.
Well, Nick Faldo can do that too. Mostly. On the eve of his hosting of this week's Betfred British Masters, the six-time major champion's attention was drawn to a photograph of himself on the wall. "Royal Birkdale 1983" came the reply. "I was leading the Open with nine holes to play and blew up. That was one of the big reasons why I decided to change my swing. That guy wasn't going to win six majors."
Faldo's trip down memory lane was appropriate given where he is this week. The soon-to-be 66-year-old and The Belfry go back 45 years. Long before Faldo would play in three Ryder Cups in the English Midlands, he was part of the Great Britain & Ireland team that took on the Continent of Europe in something called the Hennessy Cup. Playing Seve Ballesteros, Faldo witnessed first-hand the historic moment when the Spaniard—armed with a persimmon driver and a balata ball—drove the green at the 311-yard 10th hole.
Today a plaque marks that spot, not far from another. On The Belfry's 14th tee a marker records the fact that, using a 6-iron, Faldo made an ace during the 1993 Ryder Cup matches.
All of which got the man who was World No. 1 for 97 weeks marching further down recollection road. Yes, his game is suffering from what looked like terminal neglect—the turn isn't quite as full and the backswing definitely not as long—over the nine holes he played in the pre-tournament pro-am. But no matter. Almost a year after his retirement from commentating on CBS and more than 20 summers since he played regularly on the PGA Tour, the last Englishman to win the Open Championship was just getting going.
"I'm fortunate," he says of a playing career that boasted more than 40 victories worldwide. "I'm not carrying any scars. I did miss out on a couple of U.S. Opens. And I've hit the odd bad shot here and there. But nothing is really bugging me. I came close to throwing the Open away at Muirfield in 1992. I had a four-shot lead, lost it, then got it back. That would have lived on in my head had I lost that day. It must be a horrible thing to carry in your mind. I think Jean van de Velde must wake up in the night screaming. He has to.
"His situation is interesting though. If you know you have to make, say, a 3 to tie, you immediately have a picture of that in your mind. But how do you picture making a 6 to win? I can't see that one. Which makes it tricky and interesting psychologically. Maybe you should always think '3 to win' no matter what. That gives you a focus. Hitting shots without that is asking for trouble, as Jean showed."
Pressed to compare the style of play when he was at the pinnacle of golf and the power-dominated game on display these days, Faldo wasn't slow to emphasize the nuance and subtlety of his approach. Often enough labelled "robotic," he was actually anything but.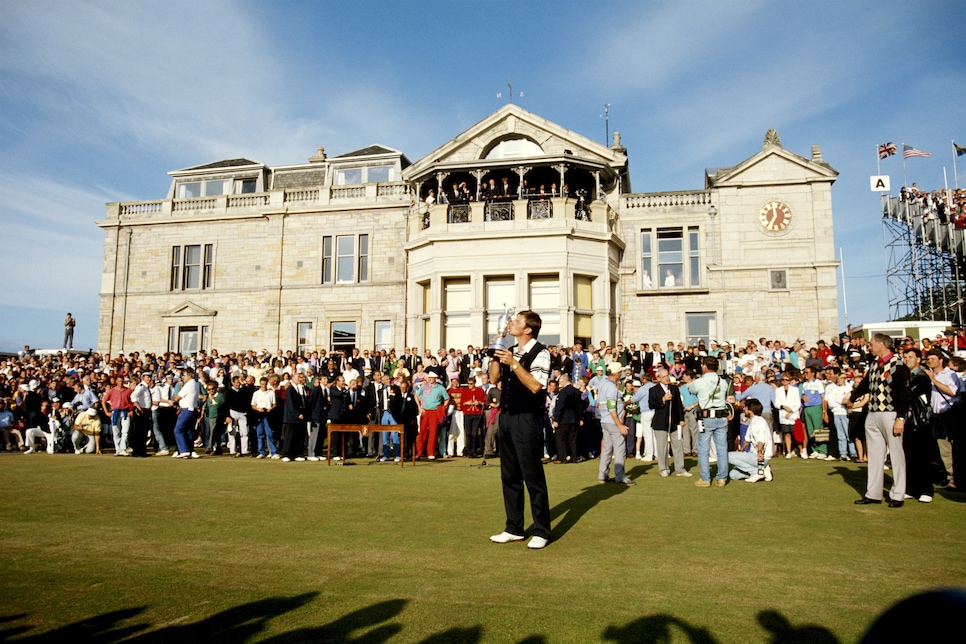 Nick Faldo holds the trophy after winning the 1990 Open Championship at the Old Course at St Andrews.
David Cannon
"Nick is a perfectionist," points out his former caddie, Fanny Sunesson. "He was so focused. There wasn't a part of the game where he was weak. But his distance control always stood out. He was so good with that. And that made him really strong on difficult courses. His half-shot was amazing. He was so good at eliminating spin, which requires so much feel and he had so much of that. He could hit so many different shots using a balata ball and the old clubs. And he was great in the wind."
In turn, Faldo wasn't denying the love of control he brought to the game en route to his three Masters titles and three Open wins.
"Back in the day, Fanny and I were working to a yard with the wedges," he says. "She would put a ball down every yard and I would try to hit them. On a good day I'd be plus or minus a yard on almost every shot. It was a great feeling to hit one 99, then the next one 100, then one after that 101. With enough practice you get that good.
"I don't think you can do that with the modern ball. I spoke to Bryson [DeChambeau] three years ago. He told me he couldn't feel a wedge shot within 10 yards. I can't either with the balls they use now. It is just so difficult to 'call a number' with a wedge now. Which is the reason behind some of [Rory McIlroy's] issues. He might be better to sacrifice 20 yards with the driver and use a ball he can really trust."
And he laments the shift in emphasis in today's game at the elite level. Distance control has given way to a simple search for pure distance.
"I stand on the range watching guys hit balls and I see 15-20-yard differences in where they are landing," says Faldo. "That would have driven me nuts. I was never robotic though. I used to hit little fades and draws all the time. I had the hold off. I had the chicken wing. I had the bunt. And I had the rotate. I don't see that level of subtlety anymore. But the ball doesn't help. I remember Lee Trevino saying he tried to keep the ball on the clubface for a foot of his swing. That was his feeling. Now it's the opposite. Now they want to keep the ball on the face for a millisecond and explode off the clubface."
Moving right along, Faldo, like everyone else with even a passing interest in the game, has watched as the LIV Golf saga has unfolded. Previously on record as describing the LIV Golf League as "meaningless," he now subscribes to the common view that there are many decisions ahead before a final resolution can be reached.
"I stand by what I said already," he maintains. "I wouldn't want to play it. I honestly don't think 54 holes feels like real golf. Going to the first tee in a London taxi. Then you've got somebody on a violin before you tee off. I'm not sure that would have been Faldo back in the day. To be honest there's only half a dozen [players] who are current. You don't really know half the field who are there because it's very nice last-place money. If you shoot 20 over you still get that rather than going home. So nothing feels competitive. I think they all suffer with atmosphere, and you have to tell the players that only 20,000 people saw them. People would rather watch Penn and Teller doing magic tricks."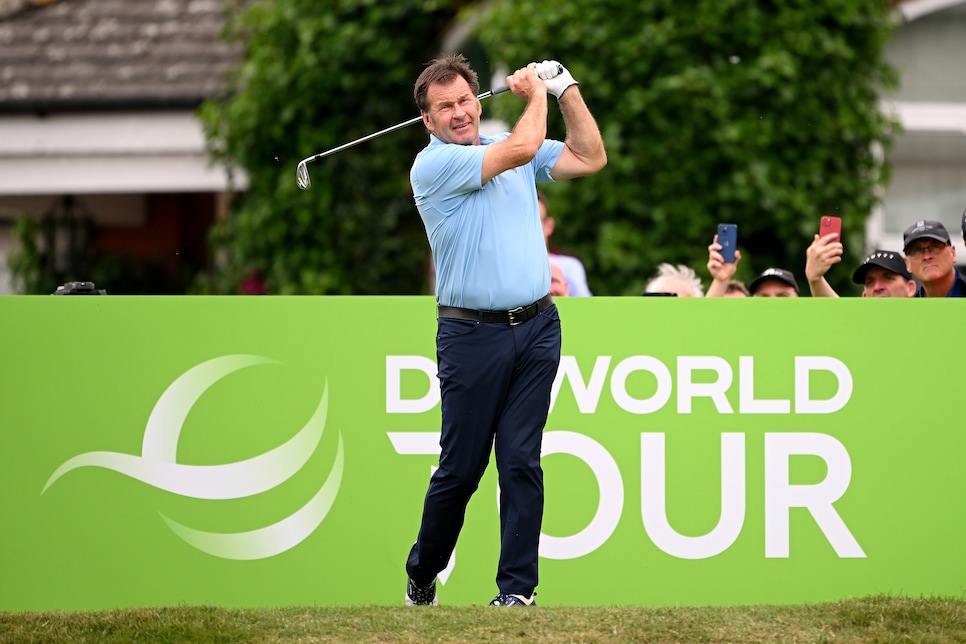 Nick Faldo on the 10th hole during the pro-am prior to the British Masters at The Belfry in Endland.
Ross Kinnaird
Then there is how the DP World Tour handles the possible return of renegades like Ian Poulter, Henrik Stenson and Sergio Garcia. Each case, says Faldo, is different, depending on the attitude and public utterances of each player.
"There will be guys who went to LIV for nothing, how much can you fine them?" he asks. "Then there's the guy who was paid $100 million. It will depend too on how much they have spoken out. There have been some seriously different attitudes. I shook my head when I heard Sergio saying he was finally being paid what he is worth, which is a bit rich when no one really cares about the results on the LIV tour.
"I look at it this way: 'OK, you went to your little bubble but the little bubble didn't quite turn out the way you expected. It just wasn't as big as you thought it was going to be.' I can't believe they get much satisfaction out of playing in those LIV events."
Inevitably, the conversation turned to the Ryder Cup, an event where Faldo won 25 points in his career, in addition to his admittedly controversial captaining of the losing European squad in 2008. Scorning any suggestion that the event needs a close result after a series of blowouts on both sides, he will be rooting strongly for an Old World victory in Italy come September.
"I have to go for Europe," he predicts. "I really like the character of the team. We have a backbone of eight, maybe nine. And three of those—McIlroy, [Jon] Rahm and [Viktor] Hovland—are really outstanding. Tyrrell [Hatton] can play. So can [Shane] Lowry. So can [Tommy] Fleetwood. Throw in [Matt] Fitzpatrick too, although he has had a rough time with match play. He's a better player now than he was even two years ago though. On top of all that, give me one rookie who gets 2 points and they are going to be really hard to beat."
Speaking of which, Faldo was finally able to identify one big regret from his playing career. The premature death of his great rival, Ballesteros, robbed the pair of a friendship that was in its infancy and what could have been an opportunity to hit the road together.
"The hug I got from Seve behind the 18th green at Oak Hill at the end of the 1995 Ryder Cup is still one of the best moments of my career," says Faldo. "Thinking of it still makes me cry. Imagine me and Seve playing exhibition matches in our mid-60s. We'd take anyone on, after negotiating how many shots we would get and which tees we would play from of course. It would be hilarious. We would have been booked every week. So that is my only regret. When we played the Seve Trophy he came to me and said we had to be friends after being such fierce competitors. He told me he was going to send me a ham. But he never did. He is such a loss to the game."
The same could be said of the retired Faldo.
"Look at Nick's record," points out 2013 U.S. Open champion Justin Rose. "It is unbelievable. I've always had aspirations to be as good as he was and I haven't managed it yet. So I know how tough it is to do what he did. He committed his life to the game, which is even more impressive. Nick's work ethic is the standard everyone aims for."