The Loop
Next job for players on Ryder Cup Task Force: 'Repair damage to their tour'
Stories of interest you might have missed…
"Now that players on the task force have solved their Ryder Cup problems, the next job is to repair damage to their own tour," Doug Ferguson of the Associated Press writes in this story on how the PGA Tour's fall events won't count toward earning Ryder Cup points. "If you count money for those last three or four months, you're giving the bottom half of the tour a three-month head start over ultimately the top guys," [Phil] Mickelson said. "Never mind that these top guys' have failed to win the Ryder Cup seven of the last nine times. Two of those fall events had fields that were as strong or stronger than five tournaments in the regular' part of the season last year. Mickelson probably didn't realize this because he has never played in any of them."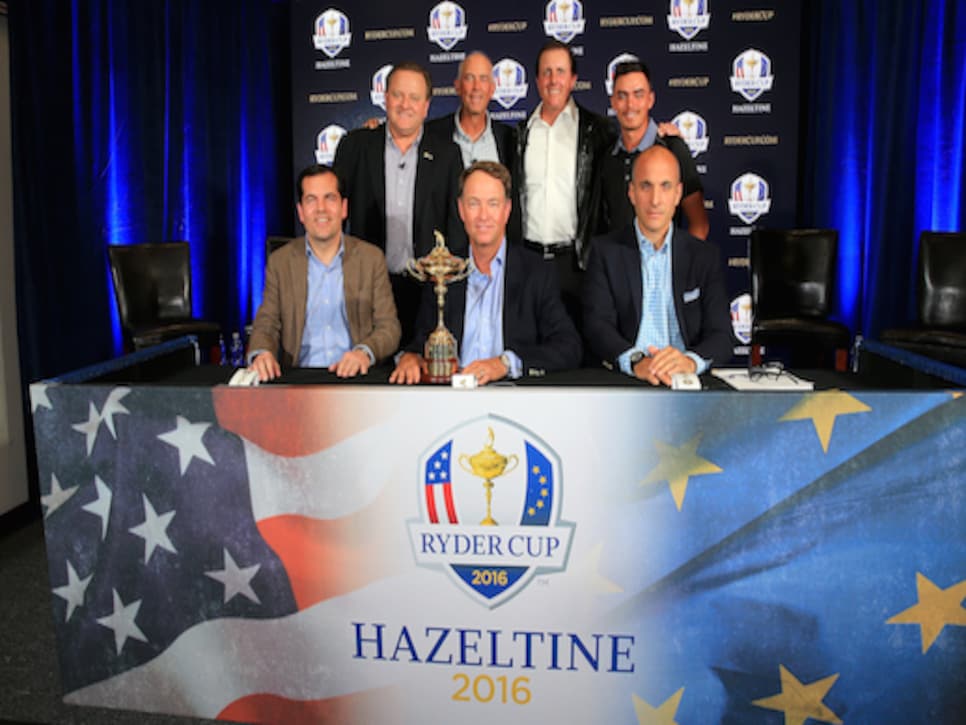 Ryder Cup Task Force (Getty Images)
Rory McIlroy deposited his 3-iron in a pond off the eighth fairway at Doral on Friday, a heave of some 50 yards. "Many won't be comfortable with McIlroy hurling a club into the water, and chances are you won't see that type of action from him anytime soon. But if it happens? Chalk it up to an enormously maddening game, one that has confounded its participants forever," ESPN's Bob Harig writes in this look at tour temper tantrums.
Royal St. George's voting to admit women members "leaves the Honourable Company of Edinburgh Golfers at Muirfield and Royal Troon as the only male-only clubs on the list used by the R&A for [the British Open]," Martin Dempster of the Scotsman writes. "A leading bookmaker has made Royal Troon the more likely of the two to be next to admit women members, with the Ayrshire club being offered at 1/10 to no longer be a men-only bastion by the end of the year compared to 8/15 for Muirfield."