Equipment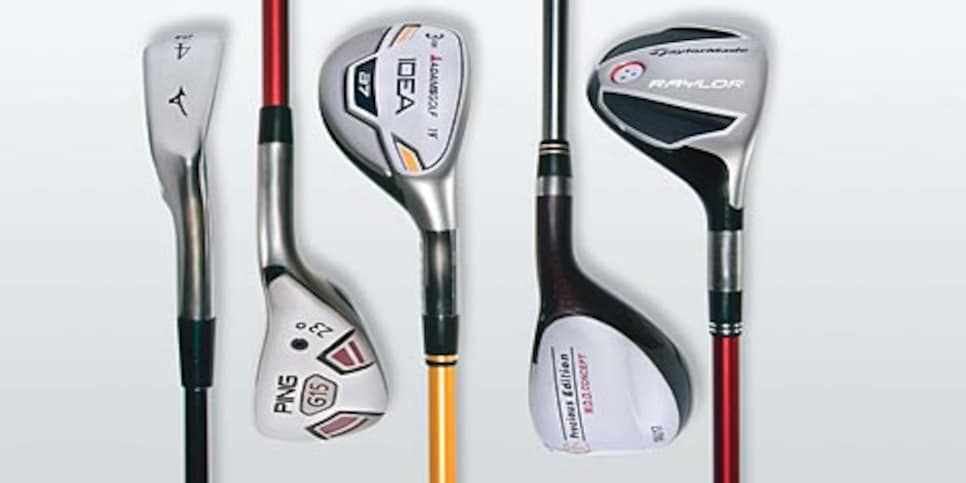 By its nature, the hybrid club emphasizes form over function. It's not a long iron, it's not a high-lofted fairway wood. It's something in between. Which of course means it can look like just about anything.
Options include hollow, flat-face iron-like designs; mini-fairway woods with curved faces and longer shafts; and half metal-wood designs that most of us would now call traditional hybrids. So which is best?
One idea is to choose a design that eases your transition from regular irons to utility clubs.
"Iron-type hybrids should have the same specs as the irons they replace so that distance gaps are easily understood," says David Llewellyn, manager of research and development for Mizuno. Llewellyn says the company's MP Fli-Hi is easier to hit than a typical long iron because it features hollow construction for forgiveness and a thin face for better ball speed.
However, hybrids that are shaped more like fairway woods hit the ball farther and higher than irons. That's because average golfers often hit low-lofted irons a lot worse than they hit middle and short irons, and wood-like hybrids with larger heads and longer shafts can mitigate this falloff.
"The differences between a utility wood and a utility iron of equivalent lofts is about 5 degrees in launch angle, 1,000 rpm of spin and three miles per hour of ball speed," says Bret Wahl, senior director of iron development at TaylorMade. "Our Rescue hybrid is somewhere in between but closer to the wood. This makes a huge difference in playability."
That's provided you need that difference. Although wood-like hybrids and mini-fairway woods generate more spin than an iron, they can also produce a not-so-desirable "ballooning" trajectory for some players with high swing speeds. Traditionally shaped hybrids with flatter faces might not cause that problem.
"The trade-off has always been 'Where does a hybrid start to spin too much for me?' " says Ping's design manager Brad Schweigert. "We've created a structure that doesn't spin as much, so we don't have to use all our extra mass to locate the center of gravity for better spin. Instead, we use it to increase the forgiveness."
One thought still seems to hold true: The higher your handicap and slower your swing speed, the bigger the head and longer and lighter the shaft of your utility club should be. A curious exception was Kenny Perry's decision to use TaylorMade's fairway-wood-like Raylor as his utility club during the U.S. Open, despite a swing speed of 111 miles per hour.
But as Ping's Schweigert explains: "In our testing, it differs for player type, but generally it's more of an emotional decision than a functional decision."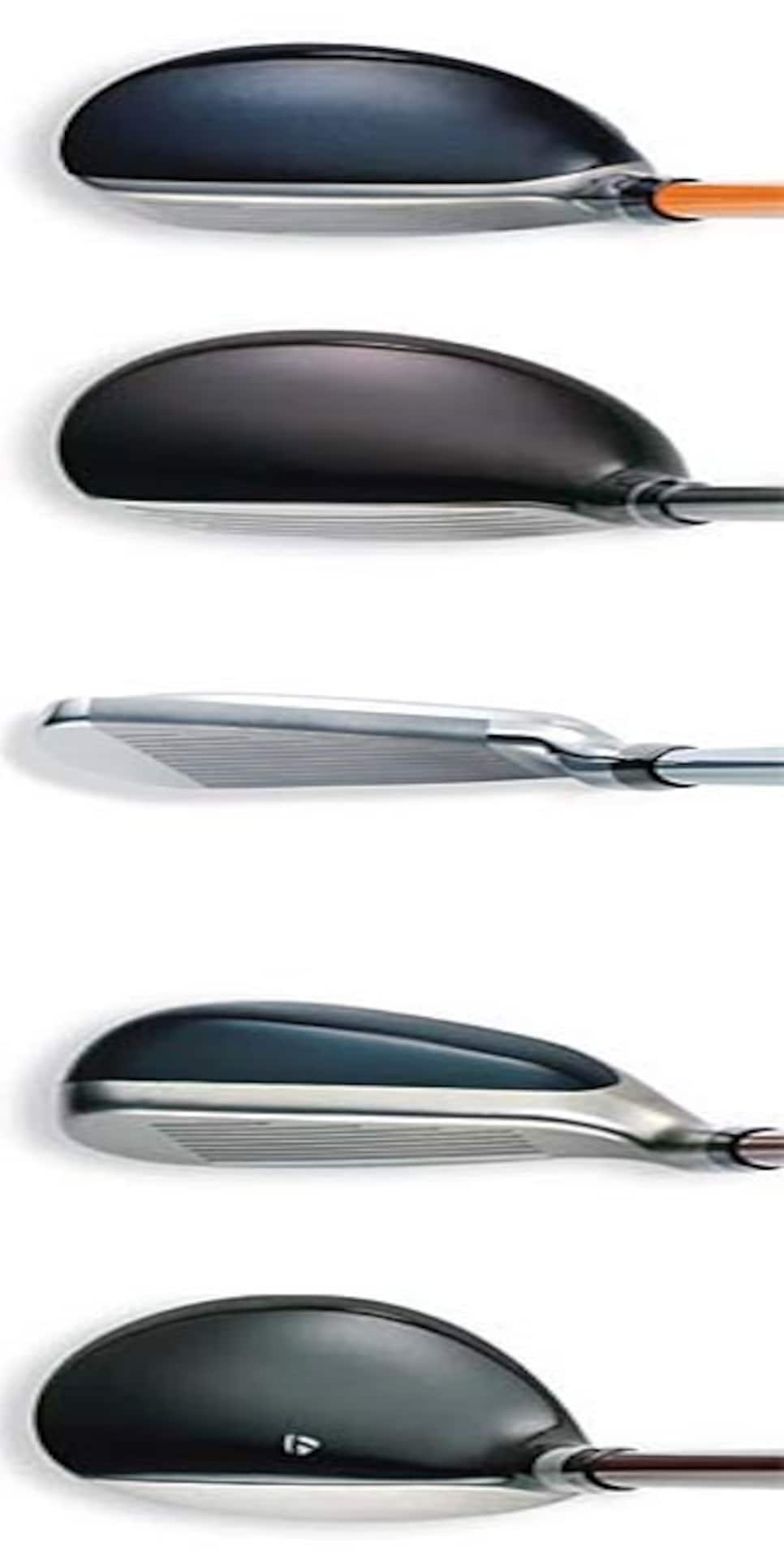 (17, 19, 22, 25 degrees, $150, www.adamsgolf.com). The head features slightly more heel-to-toe and front-to-back camber than past models to enhance playability from various lies. The A7 uses extra weighting in the back of the sole to increase the launch angle.
MU Utility Club (17, 20, 23 degrees, $240 steel, www.miuragolf.com). The compact head (120-130 cubic centimeters) has a light carbon-composite crown plate that allows saved weight to be redistributed to lower the center of gravity.
(18, 21, 24 degrees, $130 steel, www.mizunousa.com). The multiple- material construction features an ES230 maraging-steel face that is plasma-welded to a 431 stainless-steel traditional iron frame. A forged- titanium plug has been pressed into the rear cavity to improve feel without adding excessive weight.
(17, 20, 23, 27, 31 degrees, $160, www.pinggolf.com). Developed as a replacement for irons with similar lofts, the iron-style face and hosel help position the center of gravity closer to the face. A large internal pad near the rear toe keeps the CG low to improve the launch angle.
(19, 22 degrees, $200, www.taylormadegolf.com). Built with a compact fairway-wood-style head, the pointed leading edge and angled sole are designed to work better in the rough. The longer shaft (one inch more than typical hybrids) helps increase ball speed.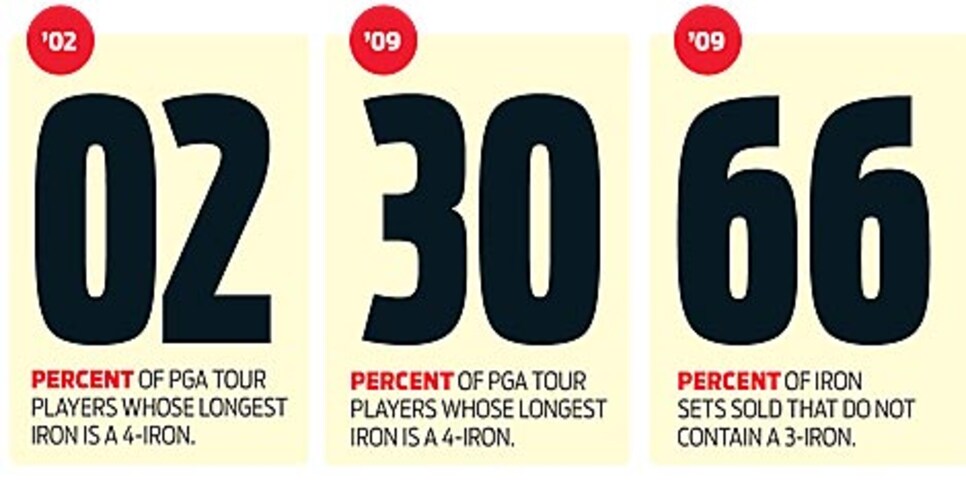 Usually, the PGA Tour leads equipment trends, but when it comes to replacing the 3-iron with a utility club or hybrid, tour players aren't nearly as committed as average golfers. Though the number of sets on tour that start at the 4-iron has increased the past seven years, it hasn't matched sales figures (above). According to retail giant Golfsmith, two-thirds of all iron sets it sells no longer include a traditional 3-iron.