The Loop
Mets GM Brodie Van Wagenen places both feet in mouth, pisses off all his bosses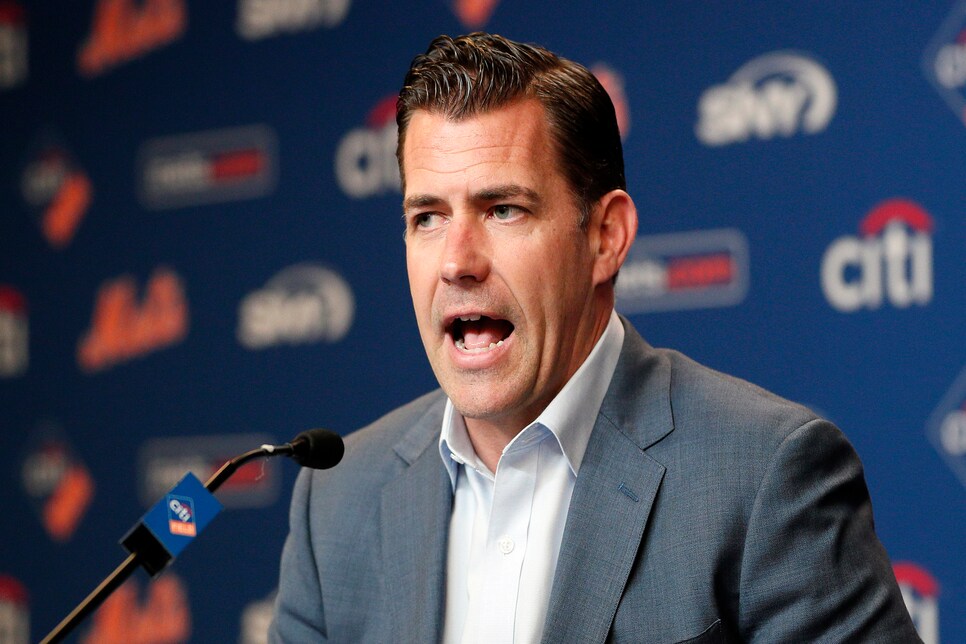 There are a lot of very serious things happening in sports, but let's take a quick comment to laugh at Brodie Van Wagenen, who just staged his own personal clusterf***y Veep episode and managed to blunder his way into angering just about everyone who has any professional power over him. While speaking in the Mets interview room to a small group on Thursday evening, and asking them to keep his remarks off the record (not realizing he was being filmed), Van Wagenen brutally questioned MLB commissioner Rob Manfred's leadership skills. Watch the exchange here:
"On a leadership level, he just doesn't get it," Van Wagenan said of Manfred, referencing the commissioner's apparent idea to have the Mets and Marlins walk off the field only to return an hour later. (The two teams eventually staged a full walk-off.) In the course of his conversation, it was clear that Van Wagenan had spoken to these same people before about his lack of faith in Manfred.
Two big problems. First, as mentioned, he was being recorded, and the footage spread like wildfire on social media. Second, it turns out that the hour delay wasn't Manfred's idea at all—it was Jeff Wilpon's. Wilpon is the Mets chief operating officer, and, of course, the son of principle team owner Fred Wilpon. Worse, it wasn't even a concrete proposal, just part of a conversation in which various ideas were exchanged in a noncommittal way.
Which means that in one fell swoop, he somehow managed to insult the commissioner of the sport, and then accidentally call the team COO and the son of the owner an idiot.
You won't be shocked to know that the Wilpons were incensed, and last night Van Wagenen came back with a statement essentially saying, "I'm wrong, it was Jeff Wilpon's idea, and they were just riffing. Sorry!"
He then had to apologize to Manfred on the phone, and watch as Fred Wilpon did the same thing while throwing him under the bus, calling his remarks "disrespectful" and "inaccurate." And then Jeff Wilpon chimed in, saying that Van Wagenen's "misunderstanding of a private conversation was an is inexcusable."
And it's not like Van Wagenen is particularly beloved in the Mets universe right now. As ESPN charitably described his work since taking over in 2018, "a number of bold trades have backfired during his tenure."
In short, his performance as GM is under question, and now the family that controls his professional destiny is clearly enraged, and also he insulted the commissioner. The humiliation is complete, but the humiliation might not be the worst part . . . if you calculated his current job security as a batting average, it would be well below the Mendoza line. How many times do we have to learn the lesson? The mic is always hot.