The Loop
New report confirms the 2020 college football season is going to be absolute chaos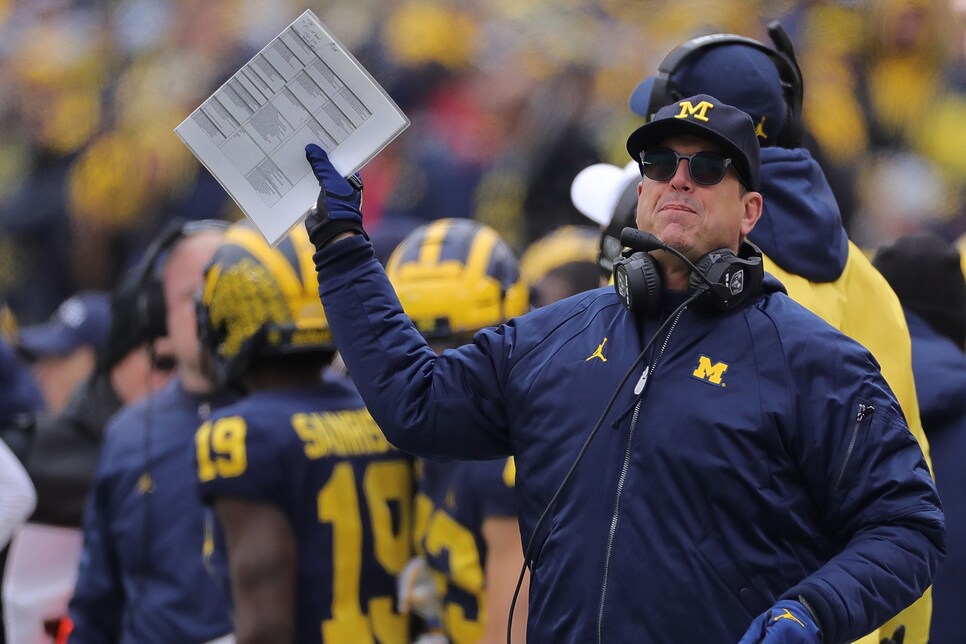 Let's get this out of the way right from the jump: College football isn't going to look like college football this season. That's the best case scenario. You might be a naturally optimistic person. The glass might always be half full and the linings silver. You might be so desperate for something "normal" to look forward to that it's compromised your basic grasp on reason. But if this new report by Sports Illustrated's Michael Spath—culled from numerous conversations with faculty, coaches and the athletic department at the University of Michigan—is to be believed, then you better recalibrate your expectations and recalibrate them fast.
According to Spath and his sources, here are some of the very likely changes we'll be seeing across the Big Ten and college football as a whole.
Regional schedules. According to insiders, at least one Big Ten West program already has a contingency regional schedule filled out with multiple games against FCS teams. So much for that big neutral siter you were looking forward to.
Cancelled games. The U-M insider believes the Washington and Arkansas State games are all but cancelled already and that any matchup that cannot be reached by bus on game is likely to go as well.
Huge schedule inequity. Remember when we used to argue about strength of schedule and FPI? That's about to seem quaint. "It's going to be the wild, wild west pretty soon," one prominent coach is quoted as saying. "At some point, more schools will start announcing they will not play this season and we could be left with eight games on our schedule while Ohio State has 11 and Indiana has 10."
Home-and-homes. That same coach believes one realistic solution to filling out the schedule could be home-and-homes with conference opponents. Could you imagine Michigan vs. Ohio State twice in the same year? Harbaugh might finally win one.
Multiple teams cancelling their season entirely. The Big Ten might actually have 10 teams this season, with one insider saying, "Trust me, there are at least three to four schools that are definitely considering not playing but they want to be the third or fourth school to announce that, not the first." Finally some good news for Rutgers fans.
If that sounds like pure, band-on-the-field anarchy to you, that's because it is. Allegedly, with less than a month until players are scheduled to report for preseason, leadership at both the conference and NCAA levels remain paralyzed with fear. Here's what one Michigan coach had to say . . .
"The most disappointing thing is the complete lack of leadership from the Big Ten and NCAA - I think the leaders are scared to death about taking responsibility and so it's every school president and athletic director for themselves. From what I understand, we'll have a football season this year if President Schlissel [University of Michigan's president] says 'Ok' and we're permitted by our state's governor. But he's making the call unilaterally [with significant input from the advising committee and coaches], and every school president is in the same position."
Every school operating by their own rules? What could possibly go wrong!
And this is just the Big Ten. Spath also reports concern growing in God's football country known as the SEC, where coronavirus cases have spiked in the tens of thousands in recent weeks.
"One coach I spoke to noted that in discussing the upcoming season with a former colleague in the SEC," Spath writes. "He was surprised to hear that a straw poll among the staff of that southern school had overwhelming expressed concern about moving forward with workouts and (soon-to-be) team practices."
Depending on your worldview, all of this represents either a reality check or a step backward. A month ago we were debating whether or not college football would happen without or without fans. Now we're asking whether or not it's going to happen at all. Maybe that should have been the question all along. Maybe we should all put our masks back on. If staying alive isn't motivation enough for you, is college football?