The Loop
New details emerge from cyanide threat at New Zealand Open in which Tiger Woods played in 02
Anonymous threats to poison milk formula in an apparent protest over the use of an agricultural pesticide in New Zealand has brought out new details of a cyanide threat at the New Zealand Open in which Tiger Woods played in 2002.
The New Zealand Herald reports that "the cyanide sent to the US Embassy was contained in sealed sugar sachets," according to Labour MP Trevor Mallard, then the duty minister.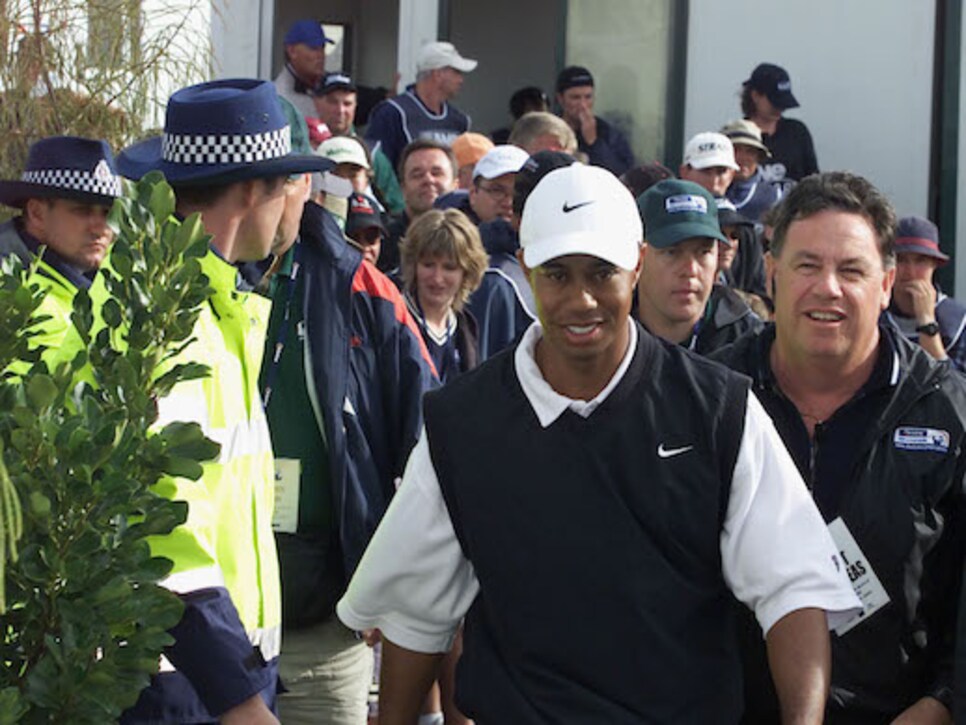 Woods surrounded by security at New Zealand Open (Getty Images)
"It resulted in a pretty major alert," Mallard told the newspaper. "Much heavier both plain and uniformed police presence, and significant army presence at the golf but also on routes to the golf. It's different to the current one [poison threat], because the threat was more limited. It was limited to an event, and there was very close monitoring of the particular product [sugar] at the event."
Woods, who played the tournament as a favor to his caddie, New Zealand native Steve Williams, was aware of the threat. He finished sixth.
"Things like this do happen," Woods said before leaving for New Zealand. "You have to go on living your life. It's unfortunate that people have these types of views and do these types of acts. I'm going to go down there and enjoy myself."
Jon White, assistant police commissioner in Wellington, New Zealand, said that the threats weren't directed specifically at Woods, but that "it was clear that the threats had been made because Woods, the world's number one golfer, was playing."
The recent threat to poison milk formula came via anonymous letters to a national farming body, Federated Farmers, as well as dairy concern Fonterra, in November. They included sachets of contaminated product, the BBC reported on Tuesday. "The letters appeared to be a protest over the use of the pesticide 1080 in agriculture."