Meijer LPGA Classic
Nelly Korda shoots a career-low 62, says she has Bubba Watson to thank for it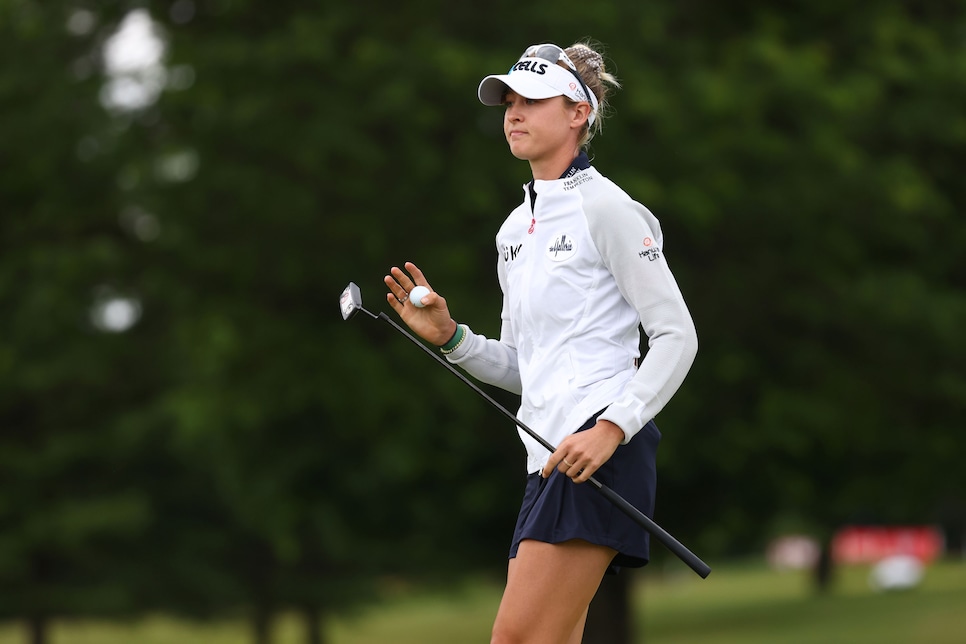 Nelly Korda reacts to her birdie on the 17th green during Saturday's third round at the Meijer LPGA Classic. She finished the day with a career-low 62 and a three-shot lead.
Gregory Shamus
On Friday afternoon at the U.S. Open, Bubba Watson spoke openly about the newfound perspective he has with the game of golf that resonated once more after speaking this week with Matthew Wolff. Wolff was returning to play at Torrey Pines after taking eight weeks off to help him mentally recharge.
"Gosh, talking to people, talking about my mental struggles, and everyday life," Watson said, explaining the priorities he's been working on. "Forget golf. Just everyday life. Trying to be the husband I need to be, trying to be the parent I need to be, the friend I need to be, to so many people."
Those words had some of their biggest impact 1,850 miles away at Michigan's Blythefield Country Club. It was just what Nelly Korda, 20 years Watson's junior, didn't know she needed to hear but used to bounce back after missing the cut at the U.S. Women's Open two weeks ago.
Korda proceeded to shoot a career-low 62 with 11 birdies in the third round of the Meijer LPGA Classic to take a three-shot lead at 20 under par after processing Watson's words.
"It makes so much sense what they say," Korda said. "We take golf so seriously when you're out here. You love it so much and you may say, Oh, like it's just golf, but, I mean, definitely their words struck deep [with me] after missing the U.S. Open last week. I just have to realize it's golf. There is going to be a lot more tournaments ahead of me and I'm going to miss a lot more cuts, I bet you that. But as long as I'm learning from each situation, I think that's the most important."
Korda went back to the drawing board after shooting 11 over par at The Olympic Club two weeks ago. Missing her first cut of the 2021 season provided her the time to work on all aspects of her game, including returning to a left-hand low putting grip that results in a efficient 25-putt showing on Saturday.
Her most elaborate change, however, was on the mental side, which clicked into perspective for the 22-year-old this week. "It takes someone to say it out loud for you to realize it deep down inside," Korda explained.
Part of the enjoyment for Korda is relearning to stay in the moment. She's had multiple opportunities to stay in the present already this week. On Tuesday, Korda and her older sister Jessica hosted Sophia Howard, a 14-year old who was born without her right hand and views the Kordas as her idols, during their practice round. They talked about anything and everything, ranging from golf to Tik Toks they watched. While the trio maintains contact with a group chat, the professional advice Nelly shared as they parted ways is a lesson she's still processing herself.
"Never lose the love," Korda said. Howard continued following her idol Saturday outside the ropes, providing a smile Korda could always turn to during play.
"You put so much pressure on yourself when you're playing well that you just forget to be in the moment," Korda explained. "I think I'm going to struggle with that throughout my whole career. You know, today it went well. It doesn't have to go well tomorrow. I mean, your emotions are kind of like a rollercoaster. So just trying to manage them in a sense is a new part to what I'm looking at in the game."