LPGA
With LPGA player of the year on the line, Nelly Korda outpaces Jin Young Ko on Day 1 at the CME Globe Tour Championship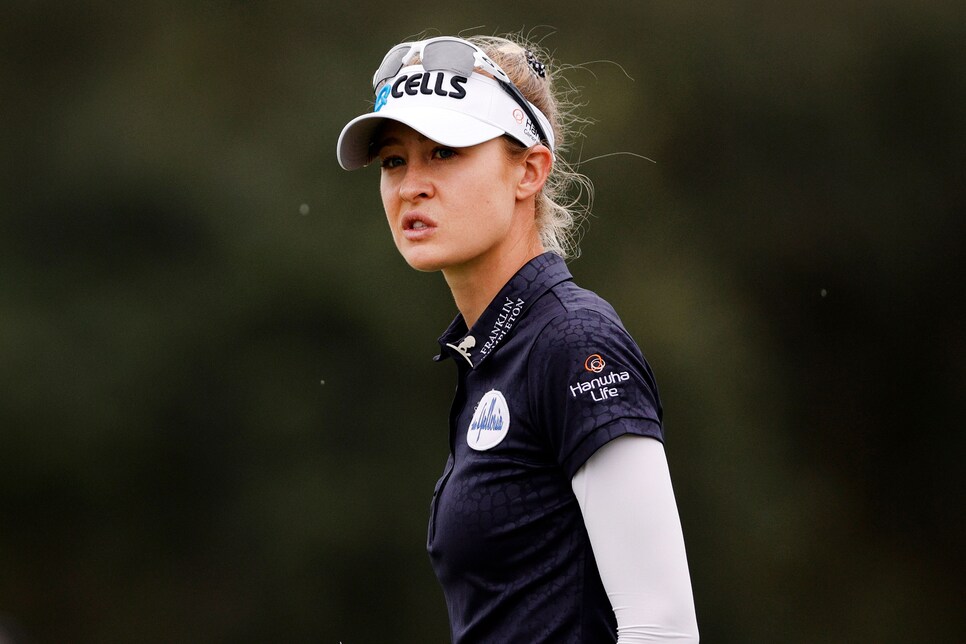 Nelly Korda walks on the ninth green during the first round of the CME Group Tour Championship.
Douglas P. DeFelice
NAPLES, Fla. — The steps at the end of a close race come with magnitudes more pressure than at the opening gun. On the first tee at the CME Group Tour Championship Thursday, Nelly Korda and Jin Young Ko waited around as the dark Florida sky loomed. Rain drizzled as they began their opening round of the final event of the 2021 LPGA calendar with the Player of the Year award on the line.
Korda, who has emerged as one of the faces of women's golf in 2021, paid no mind to the added stakes. She finished Thursday at Tiburon Golf Club with six-under 66 to sit just two shots behind Day 1 leader Jeongeun Lee6 in a tie for sixth. Korda's round was also three shots better than Ko's.
"I don't really look at the rankings like that," said Korda, who started the tournament with a 191-181 lead in POY race, forcing Ko to have to beat her head-to-head this week to take the season-long title. "If you want to know my honest opinion, I look at the money list and that's all I look at. And then obviously World Rankings. But, I mean, we're here. Everyone has a chance to win $1.5 [million]."
In her post-round press conference, Korda emphasized having fun while she played, which was apparent on the par 3 fifth. Korda was walking with Lydia Ko (who rounded out the threesome) down the dirt path off the tee, and they abruptly stopped to point at the ground. Then, they broke out laughing as they struggled to identify what dead animal they nearly stumbled across.
"I thought it was a tentacle," Ko quipped. Jason McDede, Korda's caddie, thought it was a decapitated squirrel or rabbit.
Having those fun moments doesn't distract Korda from her craft. On the par-4 ninth, the 23-year-old pushed her driver right. She paid no price, ending up two yards away from the dirt path in the fairway, but had to pull a fairway-rope stake out to keep her swing path clear. Fans converged around Korda, creating a wall of phones taking pictures of the reigning Olympic gold medalist as she lined up her second shot. While Korda talked with McDede about how to hit her approach, a Florida police officer stood five paces behind helping with crowd control. Korda hit a soaring iron onto the green, then put the stake back, oblivious to the activity around her.
"I was just zoned in," Korda said of the fans around her. "Honestly, I live in a bubble when I'm out there. I don't hear bags drop, anything. I'm just like in my own bubble."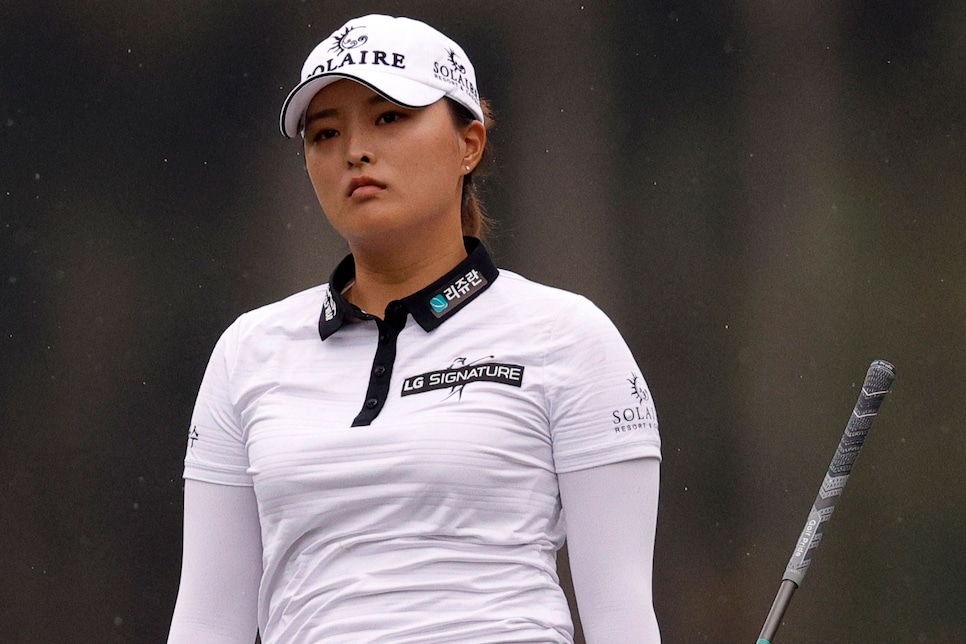 Jin Young Ko finished with a three-under 69 and is three shots back of Korda after Day 1 of the LPGA's 2021 finale.
Douglas P. DeFelice
Korda birdied the ninth and finished Thursday birdieing three of her final four holes. Afterward, she calmed spoke about a litany of topics in her post-round press conference, from discussing the forward placement of the tees ("I would love to know how far we were playing it today," Korda said, "Because I think they were anticipating a lot of rain, all of us were.") to whether or not the LPGA should create a playoff system ("I think it would be cool to have kind of playoff," Korda said. "I would think it would be really interesting and exciting. I think it would be cool if they kind of looked into it.") and what it means to be the face of women's golf.
"I feel like a lot of people want to put a lot of pressure on you," Korda said. "It comes with its pros and cons. I feel like if you keep your head down and you kind of do your work, stick to the game plan and stay focused and humble, I think kind of everything turns out good."
Executing the game plan has put her in prime position tocap a year highlighted by four LPGA wins (including her first major title) with Player of the Year—and further strengthening her place as the one of the faces of women's golf.