The Loop
NCAA Women's Championship: 24 hours later
ALBUQUERQUE--That huge gust of air coming from the University of New Mexico Championship Course late Friday night wasn't another powerful desert breeze. It was the sigh of relief collectively expelled by the members of NCAA Women's Division I Golf Committee after somehow getting the 26th NCAA Women's Championship done before sundown Friday night.
It is pretty amazing given the half dozen stoppages in play during the week due to wind, rain, hail, lightning, darkness--an alien sighting seemed to be the only thing that didn't delay the tournament--that they got everything completed.
I commend the committee for handling the various adverse weather conditions as well as it did. Still Nancy Cross and her group needs to consider more flexible scheduling (pushing up tee times to 7 a.m., adding a 54-hole cut, etc.) to prevent some worst-case scenarios from even possibly coming true. If, heaven forbid, there had been one more weather delay Friday afternoon we all would have been back to the course Saturday morning.
Or would we? All you heard from NCAA officials was how going into Saturday was the ABSOLUTE LAST RESORT, despite the fact that the day has been purposely built into the schedule for just such weather problems. Of course this year we had six players competing in next week's Curtis Cup who had Saturday flights to catch to get to Scotland. That's all fine and dandy, but the NCAA Championship is about more than those six players.
The even more embarrassing outcome would have been this: say the final weather delay lasts 25 minutes longer and the final threesome of Azahara Munoz, Tiffany Joh and Belen Mozo are on the 18th tee when darkness finally falls and play must stop. Now what? You keep them all around Saturday for one hole? Ugh!!! Meanwhile, Joh is one of the six who's got a plane to Scotland to catch. Would she have stayed? I'm guessing yes, but it would have be an interesting call.
Another fun hypothetical: suppose USC and UCLA had tied in the team competition. There wouldn't have been enough light to conduct the playoff, so again do we all come back Saturday morning for the one hole? Or do we have co-champions? And would Joh have been back for the playoff? (In 1995, the Oklahoma State men won a playoff over Stanford with only four players when Leif Westerberg had already left to catch a plane back to Europe.)
I think I felt another breeze coming from the committee headquarters.
Meanwhile, here are some other random thoughts from women's nationals:
1.) Congrats to Southern California for claiming the team title. The Trojans were certainly the hottest team coming into the NCAA Women's Championship, winning their final three tournaments by an average of more than 17 strokes, but they also handled the pressure of being the actual favorites with great ease. Say what you will about senior __Dewi Claire Schreefel __being an all or nothing kind of player; she certainly stepped up with her final-round 69 to help seal the deal for USC. Her T-8 finish was her third top-10 at nationals in her career.
2.) Do you know how close we were to saying that the 2008 medalist was Georgia's Garrett Phillips? While eventual champion Munoz of Arizona State and UCLA's__ Joh__ were duking it out on the back nine, Phillips was never more than two shots off the lead as she teed off at the same 2 p.m. time slot but on the 10th tee, and even held a brief share of first place early in the round.
After a birdie on her 16th hole (No. 7), Phillips stood at even par, one stroke back of Munoz and Joh. She had an uphill birdie putt on No. 8 come just short of the hole. Than on the par-5 ninth hole, Phillips had a 12-footer for an eagle that, as it turns out, could have won the tournament for the 21-year-old from St. Simons Island, Ga. She missed the putt, then missed a three-footer for birdie that would have gotten her in the Munoz/Joh playoff. Unbelievable she then missed the par putt as well, eventually putting her two shots back in solo third place.
"She nearly walked away with the title and nobody would have known," said Georgia coach Kelley Hester via phone the day after the tournament.
You've got to feel for Phillips, though, as the senior's last moment in her college career is a four-putt on a hole that could have won her the NCAA title.
3.) Given just how competitive the women's game has become, I don't think we'll see another team equal Duke's three straight NCAA championships, let alone achieve the four-peat that the Blue Devils couldn't accomplish this past week. It's going to be more and more like the men's game, where we haven't had a repeat champion in two decades.
4.) Great call by the NCAA committee to change its mind and have the fourth-round tee times be reflective of the results at the end of the completed third round. Originally, because darkness kept 21 players from finishing the third round on Thursday night, the fourth-round tee times were going to be determined by how teams stood Thursday night rather than at the end of the completed third round Friday morning.
What's the big deal? Arizona State moved into third place early Friday morning when the third round was completed, allowing Munoz to be paired with Joh and USC's__ __Mozo in the final threesome. Without the late switch of tee times Friday morning, Munoz instead would have been teeing off at 1:10 p.m., five groups ahead of the final threesome. We would have lost a lot of drama if this had been the case.
"I'm happy it got switched," ASU coach Melissa Luellen said late Friday night. "I wanted Aza to have that experience of being in the last group."
5.) Will Florida women's coach Jill Briles-Hinton ever catch a break? Following Friday's final round, 16-year-old freshman Hannah Yun apparently let it be known that she was not coming back to play for the Gators next fall (kudos to my competitors at Golfweek for learning of this first). I'm not sure if Briles-Hinton had heard this a while eariler or if it was news to her, but seriously now, I'd be developing a complex with all these odd defections. After losing the Song sisters a few years back when they turned pro rather than play for the Gators, then seeing Mallory Blackwelder leave to play for her mom at Kentucky, then having Sandra Gal turn pro mid-way through the 2007-08 season, seeing Yun leave seems like it's piling on.
6.) Then Briles-Hinton loses out on national coach of the year honors to USC's Andrea Gaston Friday night at the NGCA award banquet. All due respect to Gaston and her national champion Trojans, but for everything that Briles-Hinton has endured this season, I would have given her the nod.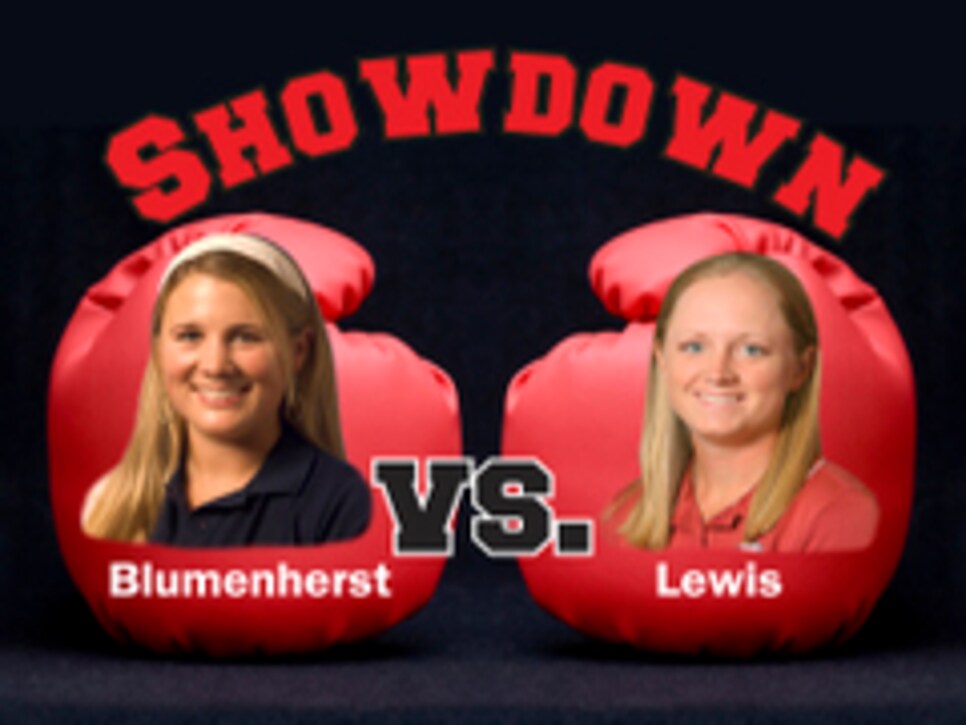 7.) The Stacy Lewis v. Amanda Blumenherst clash that I've been promoting this spring (I promise, this is the last time I'll run the boxing-gloves graphic) came to an end last night when Blumenherst won the national player-of-the-year award for a record third time. The Duke junior was one shot better than Lewis at the NCAA Championship, finishing T-5 to Lewis' T-8. I'm usually not a fan of co-honorees, but this might have been one instance where it made sense. Duke's schedule might have been a bit tougher, but six victories by Lewis is still six victories.
8.) Blumenherst's final-round 68, which pushed her from T-14 to her share of fifth place, also allowed her to maintain her streak of tournaments where she's finished in the top 10. The number is now 32 ... and counting.
10.) I'm guessing Jaclyn Sweeney of Oklahoma State learned a painful lesson, literally and figuratively, when she broke her left index finger during the second round after slamming her golf club in her bag in an apparent bit of anger. While Sweeney tried playing two more holes, she had to withdraw from the tournament, leaving her Cowgirl teammates to play with just four players. While a bit of a darkhorse entering the tournament, OSU finished T-19. As one person familiar with the program said to me, for as bad as you feel for Sweeney you've got to feel even worse for her teammates who put in all that effort during the season only to be short-handed in the year's biggest event.