News
NCAA redemption is something Texas' Taylor Funk will have to learn to live without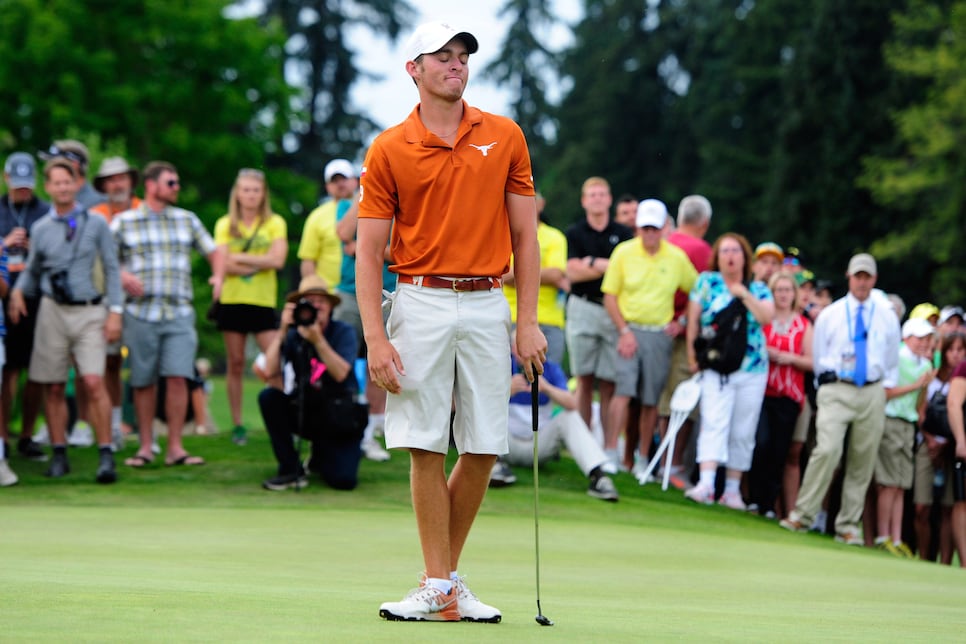 Taylor Funk picked a bad time to go into a funk. The University of Texas junior, son of tour pro Fred Funk, was hoping for a shot at NCAA Championship redemption. Instead, he finds himself with a degree in finance and some lessons learned about time investment.
No. 1, don't make four coaching changes in two months. No. 2, don't cram back-to-back 15-credit semesters trying to graduate early. No. 3, don't look back on last year's deciding match in the NCAA Finals between Texas and Oregon.
"I've thought about that putt on 18 to win it many times," Funk said from his home in Ponte Vedra Beach. "I'm wishing I read it a little differently, but I gave it my all. Everyone saw that."
What Funk took from that pivotal loss to Oregon's Sulman Raza in the deciding match of last year's national championship is that he was able to handle his nerves when he was under the most pressure he's ever felt in his life. With his teammates leaning on him to pick up the slack created by the loss of Beau Hossler to a shoulder injury, and Longhorn nation watching on national TV, Funk's only regret (other than the mis-read) was a poor tee shot on the 16th hole of his match with Raza. But that's being hard on himself. Neither player led by more than one hole.
"So much was riding on those two kids. It was suffocating to watch," said Fred, a college coach at Maryland in the 1980s. "It was something how they both handled it and how Taylor handled defeat. He grew up before my eyes."
The growing pains didn't end at Eugene Country Club. Funk changed his body and swing speed but wasn't able to control his misses—or his patience by leaving swing coach Cameron McCormick before returning to him in the fall. By then, it was too late. "There are so many voices in college telling you things," says Taylor's mother, Sharon. "It's hard to figure it out. It's all part of the journey and a lot harder than we all thought."
Coupled with the pressure of earning his degree, Funk didn't take advantage of the playing opportunities Texas men's coach John Fields gave him in several high-profile tournaments this spring. Funk acknowledges that Fields gave him every opportunity he could ask for.
"Mentally, I wasn't there yet, and when I finally found something it clicked just a little too late," he says. "My poor play was basically stupidity." Thus, he didn't make the travel team for this year's NCAAs at Rich Harvest Farms, a place where he showed good form early in the 2015 Western Amateur.
"He's our sixth man [in case of injury]," said Fields, whose squad plays the first round of nationals outside of Chicago on Friday. "He's on call."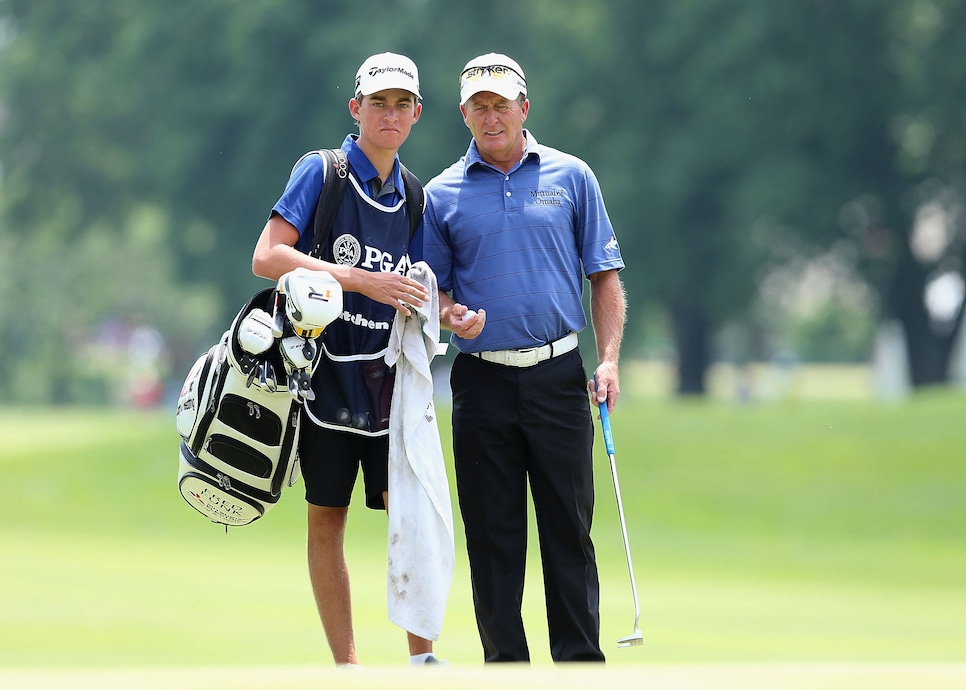 Funk's calling has always been to follow in father's footsteps, so he will turn pro this summer, play the mini-tours, try to qualify for the European Tour the way Brooks Koepka and Peter Uihlein did and, ultimately, compete against his contemporaries on the PGA Tour. Knowing how hard those goals and dreams are to fulfill, Fred made a deal after Taylor won the Florida High School Championship in 2013.
"My dad said get your degree first, and I'll support you in whatever you do," Funk said. "Golf is what I wanted to do, and somehow I [got my degree] in 3½ years. Now I'll do everything I can do to be the best I can be at golf, with no distractions."
As the Maryland golf coach, Fred was famous for hitting more balls than his players. He played the numbers game, "gave it a shot" and eventually made it on the PGA Tour. Taylor's got more physical talent than his father did, but does he have the patience, the drive "that edge," as Fred said before the Senior PGA Championship?
Now 60, Fred was a journeyman for many years before breaking through with a win in the 1992 Shell Houston Open. He went on to win seven more times, including the 2005 Players Championship at age 48.
"Taylor's just among the many, many thousands of kids, young kids that have incredible talent, that have got a lot of tools," Fred said. "How and if he breaks through, who knows? It's a very, very fine line between success and failure on any level."
Funk was actually cut from the Maryland golf team in 1975; now he's in the school's Hall of Fame. That wasn't the case with Taylor at Texas. With a year of eligibility remaining, Fields wanted him to return. The coach got emotional talking about Funk being a Longhorn for life and how much he will be missed.
"I love my players and I love Taylor Funk and I love that family," Fields said. "It's been an extraordinarily difficult. It's been difficult on Taylor, it's been difficult on me, and it's been difficult on mom and dad. I kept telling Taylor you're going to come out of this and when you do you'll be a better player and do great things. The story has yet to be written."
Unless he gets the call for Rich Harvest Farms, Taylor will be four-spotting as a pro on Monday for the Web.com Tour event in Raleigh.