College Golf
The NCAA Championship starts Friday. So how has one school already played the third round?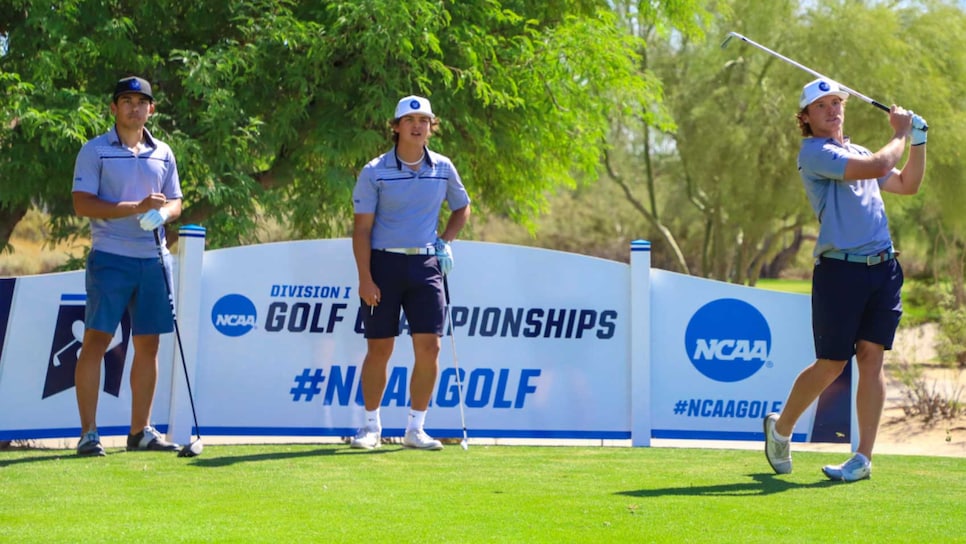 BYU players practice at Greyhawk Golf Club ahead of the NCAA Championship. (Photo courtesy of BYU)
With a forecast of sunny skies and warm but dry temperatures, the first round of stroke play at the NCAA Championship begins Friday for the 30 teams in the field at Grayhawk Golf Club in Scottsdale, Ariz. Yet one of those 30 teams has already played its third round of NCAAs.
Confused? Well, we'll explain.
BYU, ranked 41st in Golfstat, is among the schools that advanced to the 2022 national championship. But due to religious observances, the Cougars don't compete on Sundays, which is when the third round of the golf tournament is scheduled. To accommodate the school, the NCAA Division I men's golf committee allowed the team to play its third round after the other 29 teams playing practice rounds (which took upwards of 6½ hours) had teed off on Thursday at Grayhawk.
Each of the starting five for the Cougars played as a single, and unusual circumstance the team actually prepared during practice back in Provo, Utah. Cole Ponich, a junior, led the team with a one-under 69, while the team'which counted two 73s and a 75 from the team's top-ranked player, Carson Lundell, to post a 10-over 290.
"It's really hard to know how our scores today will stack up against the other teams rounds come Sunday," said BYU director of golf Todd Miller. "This is a resilient team and I expect to see great things out of them the next few days. I feel like our guys did a much better job handling the pressure of the opening round than we have in the past."
This isn't the first time that BYU is posted an early third round. When the school qualified for nationals in 2018 and 2019, the Cougars played the third round in advance as well. The team finished 24th and 30th, respectively.
"There's no way of really explaining it to people because like our coach said, there's no other tournament in the world that's going to allow people to play on a different day because of their religious beliefs like this," BYU junior Cole Ponich told Golfweek. "It just goes to show how good the NCAA is. They've all come up to us, they made us feel like we belong to be playing, you know what I mean? It's not like it's felt all weird and you've got people giving us dirty looks, everyone from the NCAA has come up to all of us and told us good luck. It's awesome."