television
NBC Sports adds two fan favorites to broadcast team for 2023 golf season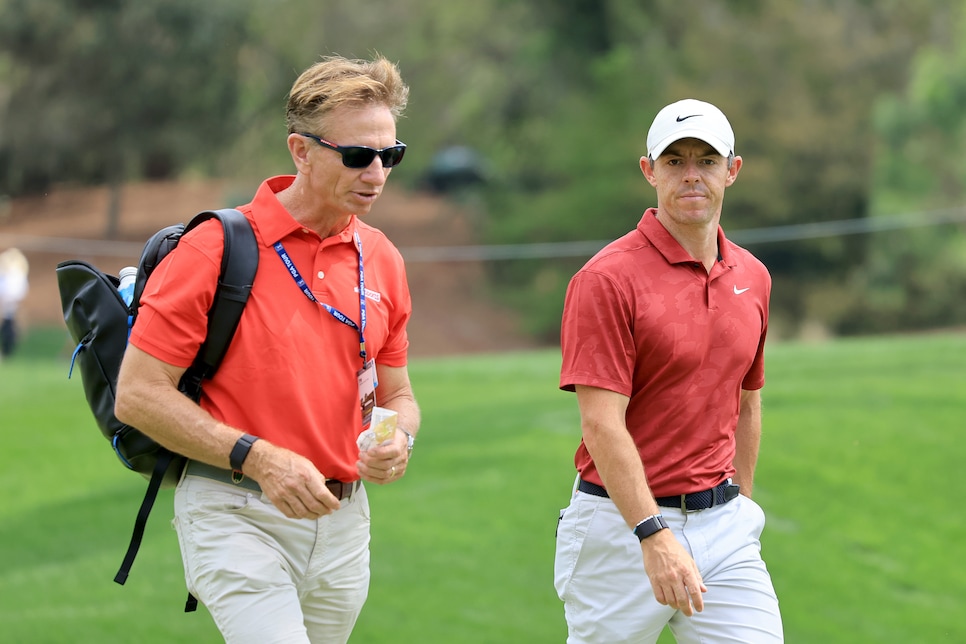 NBC Sports announced Tuesday that former PGA Tour players Brad Faxon and Smylie Kaufman are joining the network's golf broadcast team for the 2023 season.
The news, first reported in December by multiple outlets, comes after longtime voices Roger Maltbie and Gary Koch saw their extended runs with the NBC Sports come to an end.
Faxon, 61, is an eight-time winner on the PGA Tour and known as one of the best putters in the history of the game, serving as a short-game whisperer to a number of pros, including Rory McIlroy. He briefly worked for NBC Sports last decade and was the lead golf analyst for FOX Sports' U.S. Open coverage for five years. Faxon has also been an on-air contributor to Sky Sports' golf coverage in Europe and made a number of appearances last year on Golf Channel's "Live From" show during its major coverage. Faxon will take over a hole announcement during the broadcast and continue to be a part of "Live From."
Kaufman, 31, won the 2015 Shriners Open and is perhaps best known for playing in the final group at the 2016 Masters. The LSU product has transitioned into broadcasting more recently and worked for ESPN, Golf Channel and NBC's Peacock channel last season, earning rave reviews for his on-course reporting. Kaufman is expected to be an on-course reporter in his new role.
"We have the deepest roster in the game and are excited to showcase our new voices in Brad and Smylie as well as familiar faces in new roles as we start the 2023 PGA Tour season this week at Kapalua," said Molly Solomon, executive producer at Golf Channel.
From Golf Digest Architecture Editor emeritus Ron Whitten: Most golf fans are familiar with Kapalua Golf Club's Plantation Course, home of the PGA Tour's opening event each year. Located on the north shore of the Hawaiian island of Maui, the Plantation was built from open, windswept pineapple fields on the pronounced slope of a volcano and is irrigated by sprinklers pressured solely by gravity. As the first design collaboration by Bill Coore and Ben Crenshaw, it unveiled their joint admiration for old-style courses. The blind drive on the fourth, the cut-the-corner drives on the fifth and sixth are all based on tee shots found at National Golf Links. So, too, are its punchbowl green and strings of diagonal bunkers. It's also a massive course, built on a huge scale, Coore says, to accommodate the wind and the slope and the fact that it gets mostly resort play. So it's a big course.
But what sets it apart in my mind are the little things. When I played the course years ago with Coore, it took only one hole for me to appreciate one of its subtleties. We were on the tee of the par-3 second, an OK hole but nothing riveting, nothing like the canyon-carry par-3 eighth or the ocean-backdropped par-3 11th. The second sits on a rare flat portion of the property. The green sits at a diagonal, angling left to right, and there's a string of bunkers staggering up the right side of the green.  I suppose a lot of present-day architects would not have placed that forwardmost bunker on the hole, in the interests of playability for high-handicap resort golfers. But most of the old-time architects probably would have used such carry bunkers, especially in the days before irrigation, when greens were hard as a rock and every approach shot had to be bounced aboard. Another reason why studying the history of architecture might just help your score.
View Course
NBC also announced that Golf Channel contributors Damon Hack and Cara Banks will serve as interviewers for the upcoming season. They will replace Kathryn Tappen, who is not expected to return to NBC Sports' golf coverage in 2023. Dan Hicks and Paul Azinger are back for their fifth consecutive year as play-by-play commentator and lead analyst.
Kaufman is expected to work this week's Sentry Tournament of Champions in Maui, while Faxon will make his debut next month at the Honda Classic.