News
National Golf Day showcases how the industry is taking an active role promoting legislation to help the game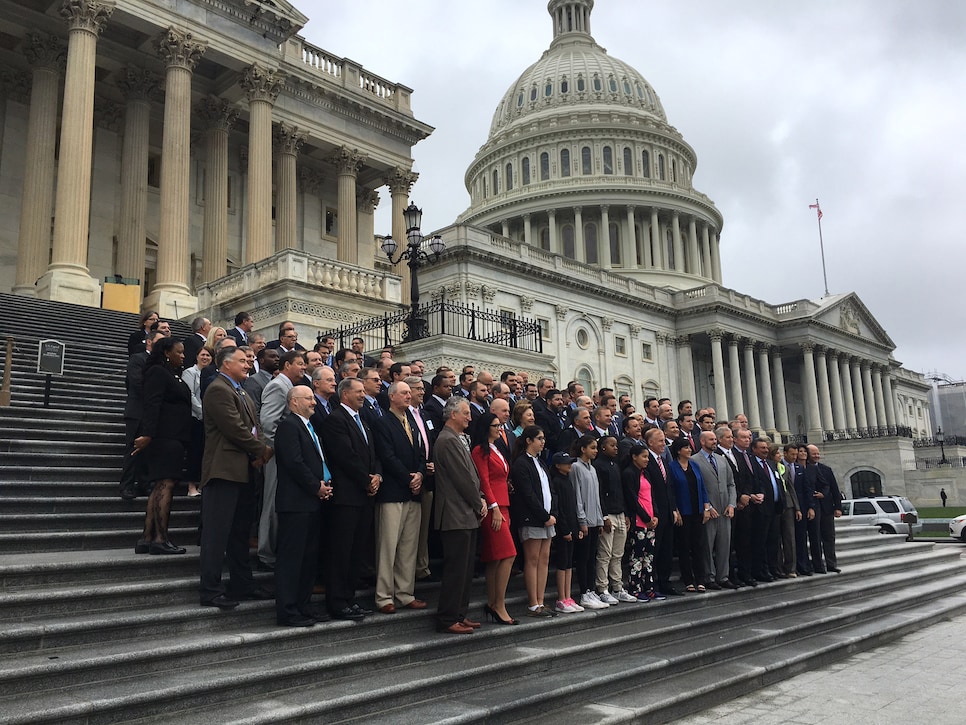 WASHINGTON, D.C.—Having attended National Golf Day every year since its inception in 2008, World Golf Foundation CEO Steve Mona doesn't hesitate in conveying how the event has evolved as it celebrated its 10th anniversary on Wednesday. Where once its purpose was primarily as an educational endeavor aimed at breaking down negative stereotypes about the sport, it is now used to provide an active voice in directing legislation to help the game.
Nearly 200 individuals from across the golf industry—course owners, superintendents, professionals, general managers and representatives of golf's governing bodies—came to the nation's capital as part of the "We Are Golf" coalition. Collectively, they drove home the message that golf provides vital economic and environmental benefits at the local, state and national levels.
"When we first came here, the perception of a lot of people here was that golf was somewhat of a cottage industry, and a pastime for the affluent," Mona said. "We've been able to completely change that, where people view it as an industry, a contributor to the economy."
This year's efforts focused on three specific areas: health, labor and the environment. Participants attended 175 meetings with members of the House of Representatives and Senate from their home states, passing along the industry's thoughts on these issues.
In each meeting, We Are Golf participants asked for support of specific bills already proposed in Congress (notably the PHIT Act, which would include physical activity, including golf lessons, green fees and camps/clinics, among tax-deductible medical expenses) or the repeal of current provisions (such as the Clean Water Act, which golf leaders says overregulates ponds and wetlands found on golf courses).
"I look forward to National Golf Day every year," said Congressman James E. Clyburn, a Democrat from South Carolina. "It's a chance to visit with the folks at We Are Golf here on Capitol Hill to talk about the positive impact the game has on our economy, worthy charities and personal fitness."
In addition to the individual meetings, the foyer of the Rayburn House Office Building, a block south of the U.S. Capitol, was transformed into an indoor golf training facility. A putting green was used for a Republican vs. Democrat challenge, and there was a full-size golf simulator available for Congressional members and staff to take lessons from instructor Michael Breed and LPGA teaching professional Karen Palacios-Jansen.
"There really are a number of wonderful stories to be told about the game of golf in the United States," said USGA executive director Mike Davis, among the more high-profile individuals in attendance along with PGA Tour commissioner Jay Monahan and The First Tee CEO Joe Louis Barrow.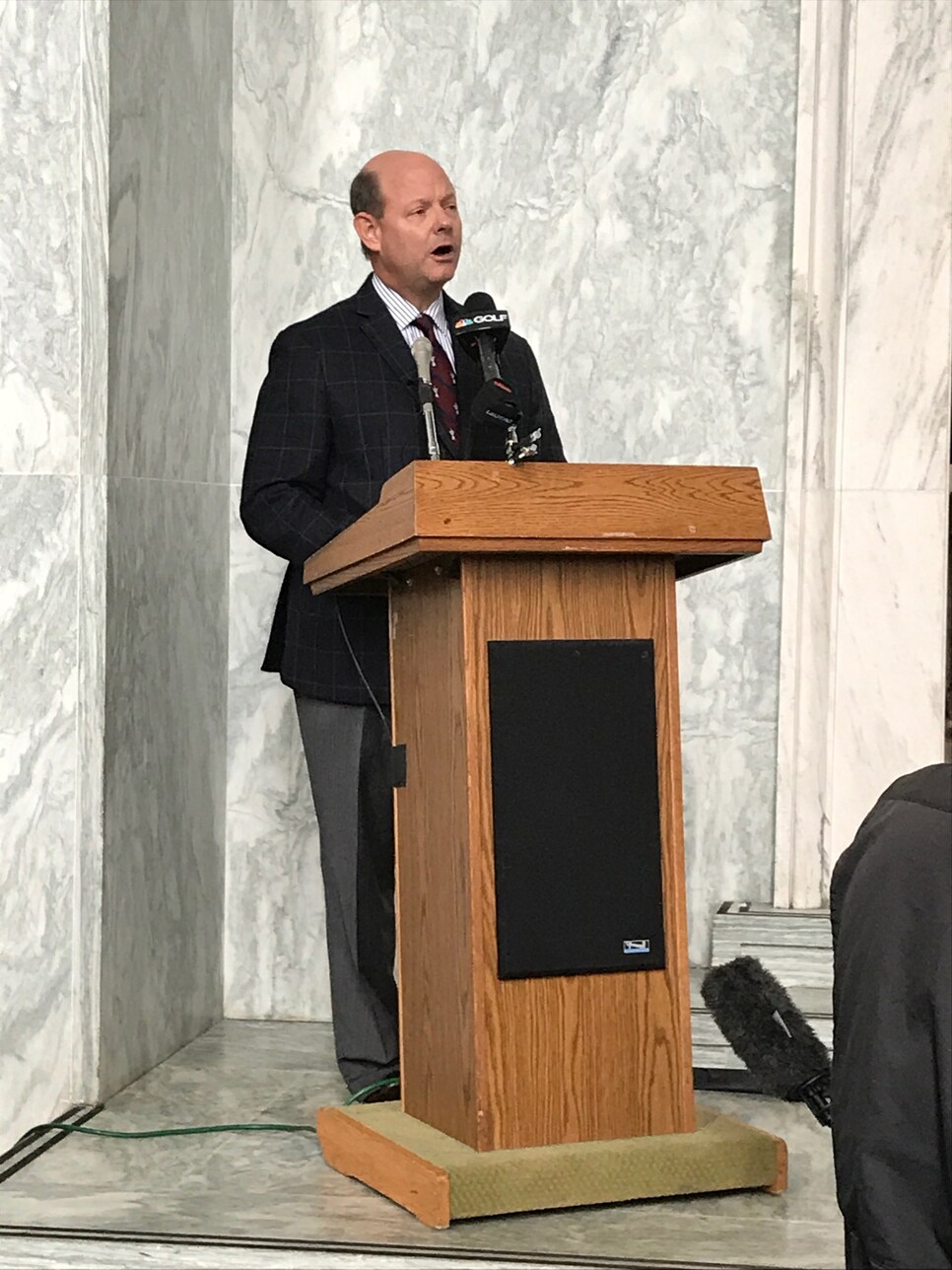 Davis cited We Are Golf figures that estimate that the sport has a $70 billion impact nationally and provides 2 million jobs around the country. Moreover, roughly $4 billion is raised through golf as a fundraising vehicle.
While for some the perception may remain that the game is for the wealthy, Mona notes that the average green fee paid is just $37 and that 75 percent of courses in the U.S. are open to the public with 80 percent of the people who play doing so at public facilities.
Although National Golf Day is the centerpiece for creating a presence for the golf industry on Capitol Hill, much of the work of the group is done throughout the year, according to J. Rhett Evans, executive director of the Golf Course Superintendents Association of America.
"We have over 280 grassroots ambassadors who are assigned to members of Congress," Evans said. "So throughout the entire year they're spending time in their own districts talking about these issues so when you get here, they're hopefully already aware of our issues. So now we can come and actually meet and try to move the needle on these items."
Close to Evans is a labor measure creating challenging H-2B visa requirements that makes hiring seasonal employees at courses difficult. This was another area in which We Are Golf representatives pressed government officials for their help.
"There have been some members of Congress we've been seeing now [since the start]," Mona said. "I joke with them you know the talking points better than us in some cases. So it's been great."
Yet how does Mona know that the government is really is listening? He goes back to 2005 and 2006, when Hurricane Katrina along the Gulf of Mexico and flooding in the Midwest caused extensive damage to golf courses, among a wide area of businesses. At the time, the government allowed individuals to deduct from their federal income taxes expenses associated with rebuilding businesses impacted by the natural disasters. However, golf courses were excluded from those provisions.
"This was kind of impetus for the We Are Golf group," Mona said. "We needed to have a voice to try and keep this from happening in the future. And since then, it hasn't happened again. Golf hasn't been excluded [from benefits provided by the government] since that day."